Kingdom Two Crowns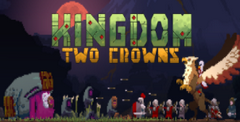 Download Kingdom Two Crowns and build your kingdom from the ground up! Defend your realm, recruit loyal subjects, and forge alliances in this captivating strategy game. Can you stand the test of time? Play now!
Developed by Fury Studios and released in December, 2018, Kingdom Two Crowns made a mark upon release. The third installment of the Kingdom series arrived at all major platforms, providing a two-dimensional, side-scrolling, micro-strategy game that bestows the players the title of monarch as he builds his empire.
While there are plenty of concepts and mechanics from its predecessor Kingdom Two Crowns, it is filled with new things for players to enjoy and explore. This is by far the biggest of the series, and also the most accessible and friendly one, especially since some of the roguelite traits that peppered the games before are gone.
Stone By Stone
The overall premise of the game is simple - and briefly explained by a ghost very early in the game - as a new monarch you are tasked with building, expanding, upgrading and defending your empire. That includes all your establishments, and your loyal subjects. The game delivers minor information about how to go about your expansion, but the information is effective in communicating exactly what you need to know. At a basic level you hire people, and assign them jobs.
Minimalism has its tropes in the gaming industry, particularly when it means not holding the hand of players through the game, still Kingdom Two Crowns does it beautifully. Designed to invite exploration, the game can feel confusing for those unwilling to explore, or accustomed to constant support and indicators of progression. Behind the retro visuals, there's beauty to be found through the exploration of the title's different lands and figuring out your own method of progression.
A Kingdom to Behold
Kingdom Two Crowns is very light on the narrative elements, it tells a simple story that overarches their three Kingdom Series games. But, in this version players are given more freedom, options and content than ever before. There are new mounts, NPC's, currencies, enemies, structures, playable characters, and most important of all co-op mode. Playing with a friend, brother or loved one adds a new layer to the game, which in all honesty is one of the main draws to the title.
The game is filled with twists and turns, and multiple layers of gameplay that slowly unfold as you expand throughout the islands. It even displays some metroidvania characteristics, mixed with some puzzles that when solved allow players to acquire unique pieces of technology that can be used to retroactively improve your earlier settlements.
The indie visuals can be stunning at times, even though its pixelated style may not appease everyone, the game is beautiful nonetheless. Ultimately, as you grow your influence through the lands, and expand your empire, the plot develops to a conclusion that encompasses all the stories told before this one.
Summary
At its core Kingdom Two Crowns is indistinguishable from its predecessors, which is a good thing for a game that had already found success. Yet, the game truly shines for all the new additions and the developers capacity to pick and choose what to keep, and what to drop. Dropping the roguelite elements surely makes this a more friendly game, and its absence doesn't take away from the experience in any manner.
8
If you are a fan of titles such as Per Aspera, Space Haven, or the earlier Kingdom Games, you will thoroughly enjoy this title.
PROS:
Easy to Play
Challenging Strategic Side
Beautiful Exploration
Stunning Visuals
Co-Op Mode
CONS:
No Holding Hands
Very Light on The Plot
Download Kingdom Two Crowns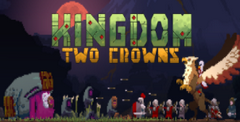 System requirements:
PC compatible
Operating systems: Windows 10/Windows 8/Windows 7/2000/Vista/WinXP
See Also
Viewing games 1 to 8