Mario & Luigi: Bowser's Inside Story + Bowser Jr.'s Journey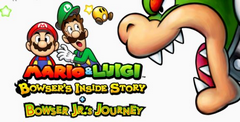 Click the "Install Game" button to initiate the file download and get compact download launcher. Locate the executable file in your local folder and begin the launcher to install your desired game.
The Mario series might be among the most important video game IPs ever developed. The sheer size of the Mario universe though, means that many games exist – both good and bad – that you might never have heard of. One title to have slipped the net for many would be the 2009 release of Mario & Luigi: Bowser's Inside Story + Bowser Jr.'s Journey. This title, developed by AlphaDream, was an interesting role playing adventure set in the Mario world. it is the third part of the series, and was somewhat well-regarded by the small(ish) audience who played it. What, though, are you getting if you tried out this 3DS title today?
An unlikely trio of heroes work together?
The main storyline loop of this title was that Bowser swallows Mario and Luigi, inhaling them into his large body. They are then asked to help fight back against a mutual enemy who could pose a threat to all of the Mushroom Kingdom. Fawful, the mutual foe, has become a major problem for both groups and now they want to work together – albeit tenuously – to find a solution and put an end to the enemy.
The gameplay is, like many Mario titles, built around co-operation and working as a team. All three of the player characters have specific abilities that allows them to solve puzzles and face off against the games enemies. It uses a turn-based battle system akin to something like Final Fantasy, which is a nice change up from the usual action adventure style of the Mario series.
An intriguing remix of the Mario formula (7.5/10)
From throwing Bowser and the two plumbers together for a change to having an interesting RPG style design, Mario & Luigi: Bowser's Inside Story + Bowser Jr.'s Journey was a bit of a hit for those who played it. Indeed, it sold more than four million copies in its first two years, and became a bit of a cult hit. Though many Mario classic fans would prefer a more typical adventure, the turn-based and RPG elements help to add something different to this title.
It is an intriguing story and one that should give you an interesting insight into Bowser. You get used to dealing with each character pretty quickly, with all three of the protagonists having differing skills and techniques. The end result is that you are left with a much more gratifying experience that really plays on the Mario formula in the most positive way possible. While it might lack the same energy as something like Super Mario Odyssey, for its time this was a very fun release. It takes the turn based RPG system and makes it work, pairing it up with interesting puzzle solving and typically upbeat and enjoyable Mario atmosphere.
7.5
Although it might not be very long, Mario & Luigi: Bowser's Inside Story + Bowser Jr.'s Journey is a game that helps to build on the Bowser storyline and adds a touch more depth to the character overall.
Pros
A good Mario title with some interesting gameplay quirks
All three heroes get to play with a bit of a difference in combat and puzzle solving
Good storyline that adds a bit more depth and lore to the Bowser character
Cons
Probably not long enough for some
RPG elements can take getting used to for non-RPG Mario fans
Download Mario & Luigi: Bowser's Inside Story + Bowser Jr.'s Journey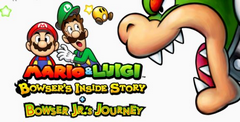 System requirements:
PC compatible
Operating systems: Windows 10/Windows 8/Windows 7/2000/Vista/WinXP
Similar Games
Viewing games 1 to 8