Mickey's Ultimate Challenge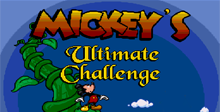 a game by
The Walt Disney Company, and Designer Software
Platforms:
Genesis SNES Sega Master System

GameBoy

GameGear
Genres:
Puzzles & Words, Strategy/War, Educational/Kids, Platformer
Rating:
8/10
See also:
Disney Games, Puzzle Games, Mickey Games, Mickey Mouse
People say:
8
This is one of the best Game Boy games I've played in a while. The puzzles are fun, albeit easy. The graphics are average, but the game play is there. I like the Disney elements a lot, and the story is neat the way it unravels. I liked it, so even those of you who feel too old for it should try it. Mickey's Ultimate Challenge may not be all that challenging, but when it comes to being fun, it's really a great game to play.
7
Mickey's Ultimate Challenge is an original game in the respect that it offers the younger audience a chance at some boggling puzzle games. Although not overly frustrating, in fact quite easy for an older audience, the game does have a certain appeal. You get to meet up with other Disney characters and solve problems they have. This game would make a great addition to a young one's video game library.
5
This game is obviously geared toward a very young game playing audience, because Mickey's Ultimate Challenge doesn't have any at all. Difficulty aside, I found the puzzles you must solve to be entertaining. There's also a bit of humor involved. The graphics, although 8-Bit, are decent and the sound is catchy. The music can get a bit annoying when you play a puzzle too long. This is a great mind-bender.
7
It may be a bit easy for the more experienced player, but even a veteran in my age group can appreciate the different puzzles. Sure it's Game Boy, but the version I played was colorized so it wasn't too bad The graphics are pretty cool yet the sounds are mediocre. I really enjoyed the variety of games but it seemed to end too quickly. Yet, the puzzles can get tough on Hard Mode. A neat little game to pass the time.
Download Mickey's Ultimate Challenge
Game Reviews
Mickey Mouse has fallen asleep read-I ing in bed. As he dreams, he finds aadl himself in a mystical land, troubled by an earth-rumbling disturbance. Now it's your job to help Mickey find out what is going on.
During your quest, you will meet many Disney characters who will ask for your assistance. Each predicament is actually a puzzle that you must solve for each area of the game. In return for your help, you will receive an item that is needed later in the game. Can you help Mickey in his time of need? He'll be ever so grateful!
Manufacturer: Hi Tech Expressions
Machine: SNES
A multi-level game that Mouseketeers of all ages can enjoy, although, considering the subject matter, it will probably be enjoyed most by the K through 3rd grade gang.
Sega Genesis/Mega Drive Screenshots
SNES/Super Nintendo/Super Famicom Screenshots
Sega Master System Screenshots
Other games by
The Walt Disney Company