Persona 2: Eternal Punishment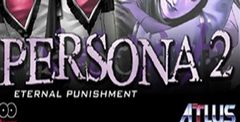 Download Persona 2: Eternal Punishment and dive into a captivating story of intrigue, mystery, and personal growth! Unravel the secrets of Sumaru City and face your inner demons in this unforgettable RPG. The truth awaits – play now!
Persona 2: Eternal Punishment is technically the third game in the series and it is one that I have a lot of great memories of. At the time this was first released on the original PlayStation I had never played anything like this. With a dark and brooding story, fantastic graphics, and a battle system that was fun and super challenging. It is so easy to see why I and many other fans still hold this game in such high regard all these years later.
I Will Find The Joker
The storytelling in Persona 2: Eternal Punishment is just pure awesomeness. One of the things that this series does better than most other RPGs is telling a great and more contemporary story. I do not want to spoil anything for you guys as the story is perhaps the best part of the game. However, I will give you the basics.
The main character is a high school girl called, Maya and her school is a messed up place where there has been a series of horrific murders linked to a mysterious person/entity called The Joker. Maya sets out to uncover what is going on, but before long she is pulled into this strange and creepy world and is ultimately the savior who can stop The Joker!
Great Sprite!
The presentation of the game is awesome. You do have to keep in mind that this is a game which was made for the original PlayStation so like most other games for the PS1 Persona 2: Eternal Punishment does show its age in places. Despite this, I still think this is a great looking game. It uses sprites for the characters, but most of the environments look like they have been pre-rendered, think something like what the Final Fantasy games did on the PlayStation and you will have an idea of what I am talking about.
Part of what brings the story to life is these epic CG cutscenes that look like they were taken right out of an anime! It is very high-quality stuff, but as good as the writing is, I do wish that the game was fully voice acted. There is some voice acting, but I do feel more would have really put this game over the edge.
Tough, But Fair
The gameplay of Persona 2: Eternal Punishment is that of an RPG. This is one very, very challenging game and like the other games before it, you need to get Personas to battle for you. These are given to you by talking to demons and it is these personas that you will be using in battles. There are many different ones that you can come across and while leveling up is a factor here. A huge part of making sure you are not destroyed in a battle is making sure that you have the right personas selected for what fight you are in.
Most of the other stuff that you will be doing in the game is traditional RPG stuff. Maya will be talking to many people, going on quests, trying to make friends, and above all else solve the mystery of what is going on. There is always something to keep you busy, but the game does have some very harsh difficulty spikes.
9
As you have probably guessed, I freaking love Persona 2: Eternal Punishment. This is a truly great game and one that I actually played through again quite recently and I still had a great time. I do feel that you are best playing the Persona games in order of their release so I would not recommend just jumping straight into this one, but for me, this is easily a game that would make my top 20, heck maybe even top 10 PlayStation one games of all time!
Final Score: 9/10
Pros:
A truly engrossing story
I loved Maya as a character
A fantastic mystery that you want to get to the bottom of
I liked the variety of personas
The CG and presentation is very well done
Cons:
The game may feel unfair to new players
I do wish that there was more voice acting
Download Persona 2: Eternal Punishment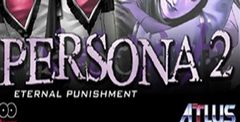 System requirements:
PC compatible
Operating systems: Windows 10/Windows 8/Windows 7/2000/Vista/WinXP
Game Reviews
The original Persona was a sleeper hit, lauded for its twisted, nonstandard story and battle system. This November, Atlus will release Persona 2: Eternal Punishment in the U.S. The follow-up to the Japan-only Persona 2: Innocent Sin, Eternal Punishment continues the story of a troupe of high school students that battle the forces of evil three years after the original Persona. A curse has befallen Sumaru City that turns rumor into reality. Players must use this curse to their advantage--manipulate the town's rumors and you'll change reality as well. As with the previous Persona games, players can negotiate with demons in order to summon them later. And, of course, Persona 2 features the dark, ultra-mod art of Kazuma Kaneko. We don't see too many RPGs like this in the U.S.--adult-themed games that take place in the modern-day world. Atlus has suggested that if there's enough demand, Innocent Sin may make it over here as well, so let's hope they sell some!
Similar Games
Viewing games 1 to 2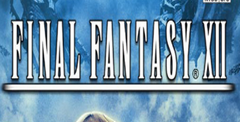 Final Fantasy XII
It's been 5 long years since we've received a new, full fledged chapter in the Final Fantasy series.