Puss in Boots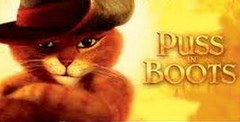 Download Puss in Boots and embark on a swashbuckling adventure with the legendary feline hero! Outwit enemies, overcome obstacles, and uncover hidden treasures in this action-packed game. Sharpen your claws and play now!
Puss In Boots is an action-adventure game based on the film of the same name and follows the same plot. The game was originally released on consoles in 2011. Although Puss In Boots is from the Shrek universe, the well-known ogre unfortunately doesn't make an appearance in the game, but it's still a fantastic gaming experience either way. An action-packed story full of twists and turns
As mentioned, the game follows the same plot as the Puss In Boots movie, with some very minor changes. Puss sets out on a quest to restore his lost honor following a bank robbery that he was tricked into committing, and chaos ensues along the way across 9 unique levels. You start in Santa Maria trying not to get caught as you making your way through bars and streets, before heading up a beanstalk to a giant's castle later in the story in an attempt to retrieve some golden eggs. There are plenty of fun environments and challenges to get through, so be sure to download Puss In Boots and give it a go!
Many familiar faces and a new one or two
Well-known fictional characters from children's stories such as Jack and Jill and Humpty Dumpty make an appearance in the game, with Humpty Dumpty being revealed early on as the one that tricked Puss into helping him commit a robbery. Alongside these characters, a female cat known as Kitty Softpaws makes an entrance early on too and acts as Puss's feline counterpart and love interest throughout the story. You'll have to play through the game yourself to find out if they end up together or not!
Never a boring moment
Puss In Boots is a game that doesn't get boring, as there's always something new to do in each of the levels. Whether it be fighting enemies with strategic movements and button presses or navigating the environment stealthily, every level is different and is sure to not disappoint.
It's also worth noting that the game is very linear and doesn't give much freedom to explore an open world like many modern games. This isn't a drawback at all though, it's just the style that the developers chose to go with.
In many ways, the gameplay and level structure in Puss In Boots is actually very similar to the Uncharted games, though obviously Puss In Boots' style is more cartoonish and less realistic.
8
Puss In Boots is a really enjoyable game that varies its gameplay throughout the story and keeps players excited for what's going to come next. If you enjoy the Shrek films you'll likely enjoy this game a lot too as the same style of humor is used throughout.
Pros:
Variety of activities throughout the game to keep things interesting
Both singleplayer and multiplayer options to choose from
Good humor and charming characters
Cons:
The graphics are a bit outdated seeing as the game was released back in 2011
Some of the sword fights can be a bit bland and repetitive
Download Puss in Boots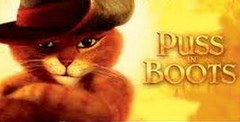 System requirements:
PC compatible
Operating systems: Windows 10/Windows 8/Windows 7/2000/Vista/WinXP
Playstation 3 Screenshots
See Also
Viewing games 1 to 8