Shadow Of The Tomb Raider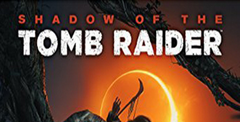 Download Shadow Of The Tomb Raider and uncover ancient secrets in this thrilling action-adventure! As Lara Croft, explore deadly jungles, solve cryptic puzzles, and save the world from apocalypse. Are you ready to become a legend? Play now!
Shadow of the Tomb Raider follows up and is the conclusion to the rebooted Tomb Raider series. Unfortunately despite some interesting moments, the game doesn't really feel very impressive and disappointingly features a relatively shallow and mundane plot. There are some highlights, particularly in the flashback sequence where we see Lara's roots as a child, but aside from that and some interesting conversations between her and her friend Jonah, there's not much going on here that will be remembered for too long after you finish it. This is undoubtedly Shadow's biggest weakness and failing.
Tools
Lara has a large arsenal of weapons and tools including her bow, pickaxe and basic guns from the first game Tomb Raider. She can use stealth, climb and do all manner of acrobatic moves to get from point A to point B. Overall the selection is pretty complete which mostly makes up for the real lack of any new additions. There wasn't much more they could've added, aside from her still absent ability to dual wield her iconic pistols, which is understandable if a bit bland overall.
Gameplay
Shadow of the Tomb Raider is a pseudo-open world game where you can explore large open environments while still being propelled from one place to another as you complete the main story. Aside from that though, there are a large number of tombs and optional side quests that you can explore for added fun and challenge. The tombs in particular are a welcome addition as they had been relatively ignored in the previous two entries. There's also some Uncharted style moments involving running and jumping out of danger in cinematic set pieces as well as the survival mechanics from the previous games. Gameplay is the game's biggest strength as the overall experience is very entertaining and very rarely devolves into frustration.
Sound & Atmosphere
The second greatest strength of Shadow of the Tomb Raider is its beautiful graphics and cool sound direction. Your journey through ancient Mayan ruins will be memorable in terms of the sights and sounds you can discover in every nook and cranny.
You will see luscious forests, breathtaking ruins and Mayan structures retaken by nature as well as some more modern sights as well for a nice bit of variety. Voice acting is very well done and will be sure make you feel closer to the characters when the plot fails to do so.
8
Shadow of the Tomb Raider is a very by the numbers sequel to a good trilogy that mirrors the series as a whole in many ways. It starts off well but ends up quickly becoming repetitive and lacking in long term vision. As a whole, the series started off with an innovative first game that has yet to be matched by any of the follow ups. If you like the series you are sure to enjoy this, otherwise your opinion will very likely remain unchanged.
Download Shadow Of The Tomb Raider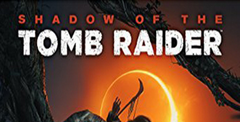 System requirements:
PC compatible
Operating systems: Windows 10/Windows 8/Windows 7/2000/Vista/WinXP
See Also
Viewing games 1 to 6