Steel Assault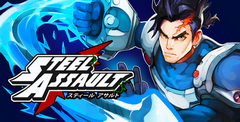 Click the "Install Game" button to initiate the free file download and get compact download launcher. Locate the executable file in your local folder and begin the launcher to install your desired game.
Now, this is cool, Steel Assault is one of if not my most wanted retro style video game for 2021. This game is something that I 100 percent could have played back in the day on the Super Nintendo or Sega Mega Drive. It is a balls to the wall action game and I am sure that it is going to be challenging, but a hell of a lot of fun to play.
Avenge The Past To Save The Future
As this is a retro inspired action game you are not getting a story in the vein of something like Mass Effect. Still, the premise of Steel Assault is something that I can certainly dig and find cool. The game is set in the USA, but a post-apocalyptic USA that is being ruled by a sadistic overlord that wants everything their own way. We play as Taro Takahashi who is a resistance fighter who is willing to stand up and do what is right to save the world!
Running And Gunning
In terms of the core platforming, shooting and action gameplay, I am getting some major Gunstar Heroes vibes from what Steel Assault is doing, add in a little Bionic Commando and you have a basic idea of what to expect here. It 100 percent is like a game that Treasure would have made back in the 90s. This game requires lightning like quick reflexes as the screen is always filled with stuff that wants you dead. You have this whip that serves as your weapon and it is going to be a lot of fun to slash away at enemies and bosses with it.
Grappling Your Way To Victory
One of the things that really sets Steel Assault apart from the other action platform shooters out there is the grappling mechanic. If you have played a game like Bionic Commando, you know how well this can work. This game has a new spin on that where you can use this to create makeshift platforms, things to swing on, a way to get to an enemy or item. This adds a whole new dimension to the gameplay and I am sure there will be a whole community on YouTube that loves to show off their stylish moves. There are tons of enemies to fight, but there are also some epic boss fights that require a lot of strategy.
Check Out These 16-Bit Pythons Brother!
Like that Hulk Hogan reference there? Well, Steel Assault is a great looking game. It is probably one of the best looking 16-bit style games to be released in a very long time.
This game just has so much style and pizzaz that you may die from taking your eye off the enemies to check out the background, the burning forest is my favorite stage, but the whole game looks great and there is a lot of variety to the areas in the game. The visuals are supported with a very cool retro-style soundtrack!
8
If you like action and platform games that have a very old school soul, Steel Assault is a game that you have to take seriously. This thing is just doing everything right and it is a great deal of fun and features fast and frantic gameplay that is truly going to test your reflexes and gaming skills. If you like indie retro games, this is going to be one of the best you play this year.
Pros:
I love the way this game looks, it really is great
The game is easy to pick up and play, but very hard to beat
The challenge it provides is fair
The whole grappling mechanic is fun and very cool
Cons:
This game is going to have a bit of trial and error
The story does not seem all that fleshed out
Download Steel Assault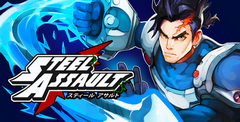 System requirements:
PC compatible
Operating systems: Windows 10/Windows 8/Windows 7/2000/Vista/WinXP
Similar Games
Viewing games 1 to 8