STORY OF SEASONS: Pioneers of Olive Town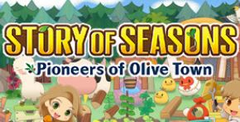 STORY OF SEASONS: Pioneers of Olive Town was one of those games that felt like it took forever to come out! It is a pretty notable game in the series as it is the first time the franchise would appear on the Nintendo Switch. One of the most interesting things about this game is that technically it is not a brand new game. What we have here is a remake, but this is not a normal remake, this is a remake of a remake!
Doing It For Your Grandpa
The main story that STORY OF SEASONS: Pioneers of Olive Town has going on is that you have moved to Olive Town to make a life for yourself and to take care of your grandpas' estate.
Your grandpa was one of the pioneers of this town so you moving here is a pretty big deal and one of the people who is in charge of the town was an old friend of your grandpa so he is there to help you out and make sure you are on the right path.
The whole game has a kind of kooky and lovely vibe about it and if you have played a [Story of Seasons or Harvest Moon game before, you will find the tone very fitting. Each of the townsfolk that you come across has their own personality and it is more the relationships between the characters that drives the story than anything else.
Working For The Weekend
The gameplay of STORY OF SEASONS: Pioneers of Olive Town is what you would expect from the series. You will start by creating your character and then you have to get to work. You need to bring your grandpa's property back to life and you need to clear out all the mess such as rocks, trees, and so on. You then get to build things like a chicken coop and other things, grow your own food and flowers, you know your typical stuff that you would expect to do in a Story of Seasons game.
Popping In For Supplies
The town is the real star of the game. When you pop into the town for some supplies or to start or finish a task. 99/100 you come across a town's person, end up chatting to them and onto another task. I found this so addictive and the fact that the majority of the townspeople had interesting personalities made me want to try and talk to as many as I could. There is a romance aspect in STORY OF SEASONS: Pioneers of Olive Town if you want and that was something I found a lot of fun too.
I do think that if you wanted, you could just be laser focused on fixing up your farm and making money, but that would probably be nowhere near as much fun. Taking part in the various festivals that happen and getting to know the other people is a huge part of what this game is all about.
8.5
I have to say that STORY OF SEASONS: Pioneers of Olive Town is not trying anything radically new, but it does what it does very well. It is one of the better Story of Seasons games I have played, even if I must admit it does play things very safe. If you are a fan of the series then I have no doubt you will become addicted to this game just as I did.
Pros:
I really liked the setting
The townspeople in this game have a ton of charm
I liked the cutesy art style of the game
It is the kind of game that is very easy to sink a ton of hours into
Cons:
I do feel they have played it very safe with the gameplay
I still think Stardew Valley is the gold standard for games like this
Download STORY OF SEASONS: Pioneers of Olive Town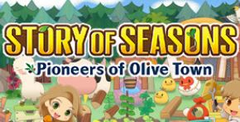 System requirements:
PC compatible
Operating systems: Windows 10/Windows 8/Windows 7/2000/Vista/WinXP
Similar Games
Viewing games 1 to 8