Super Ghouls 'n Ghosts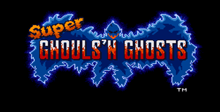 Click the "Install Game" button to initiate the free file download and get compact download launcher. Locate the executable file in your local folder and begin the launcher to install your desired game.
If you've played Ghouls and Ghosts on the Genesis, then you know why it was a hit. This game is not just a translation but instead a whole new adventure created just for the Super NES. All new levels and Bosses, complete with a mix of new and old, populate this cart. Scaling and rotation are also used to their full extent to send Sir Arthur the Knight on a quest to save the Princess that is filled with danger!
People say:
9
This is definitely the best version of Ghouls and Ghosts to date, with plenty of action, options, power-up and wicked Bosses. The adventure is long as well, so you're sure to get your money's worth. The lack of ver-ticle firepower is a nasty turn of events, but it's blue ribbon otherwise.
9
I never thought that I would look back and think theGenesis version of Ghouls and Ghosts was cheesy. After playing this cart from beginning to end the difference is like NES and Genesis. Great sights and sounds are backed by solid, super challenging game play.
9
Awesome, awesome, awesome! As the Genesis game did for its system, the SNES version is truely one of the most impressive carts to date! Everything from screen rotations to blizzard backgrounds to storms at sea are in this cart! A bit hard, but the challenge is welcome!
9
This has got to be one of the most awesome games you could ever buy for a home system. It takes a little while to get used to the fact that you can't fire up and down, and there is a fair level of challenge, but for the giant Bosses and great game play I can live with the minor drawbacks.
Download Super Ghouls 'n Ghosts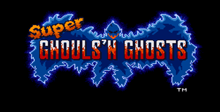 System requirements:
PC compatible
Operating systems: Windows 10/Windows 8/Windows 7/2000/Vista/WinXP
Pentium II (or equivalent) 266MHz (500MHz recommended), RAM: 64MB (128MB recommended), DirectX v8.0a or later must be installed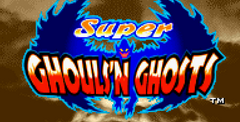 System requirements:
PC compatible
Operating systems: Windows 10/Windows 8/Windows 7/2000/Vista/WinXP
Game Reviews
Maximo players complained about the game's difficulty when it came out on the PS2. Those people should pick up Super Ghost House to learn what a really hard game is all about. At least they'd understand Maximo's roots.
Arthur's side-scrolling GBA quest to save his princess is a near-perfect conversion of the classic Super Nintendo game (except for less-impressive music). Plus this GBA incarnation includes an Arrange mode, featuring levels from earlier games in the series and a much needed save option.
Suit up for an all new Ghouls and Ghosts adventure!
Arthur's back and he's ready to do battle with a whole new crew of ghosts and goblins in all new adventure for the Super Famicom. The story is pretty much the same: defeat the minions of evil and rescue your main babe from the head bad guy, whoever he is. The graphics in this game totally blow the Genesis version of it's predecessor to pieces. The audio is also some of the best ever conceived on the Super Fami. The best thing about this game is the incredible game play. Challenging in every way but a game that can be mastered. The phenomenal graphics, sterling sound and gorgeous game play will keep you coming back again and again. Definitely a candidate for Game of the Year!
This is truly one of the most amazing games on the Super NES. Mind blowing graphics, sterling sound and game play with a high level of difficulty blew us away in every way.
ARTHUR'S BACK!!!
The princess has been captured once again in this sequel to the popular Ghouls and Ghosts. This time, however, Arthur has invaded 16-Bit in a big way on the new Super NES!
The evil Sardius has vowed revenge on Arthur for defeating Loki, and now the demon plans to exact his revenge by kidnapping the Arthur's love.The princess, it seems, is the only one who knows how to defeat this new evil, but she needs Arthur's help to get the job done. Only with her Goddess Bracelet will our hero be able to put an end to Sardius and his evil ways.
Arthur's precious princess has been kidnapped and taken to the dreaded Phantom Zone by hideous ghouls! Strap on some armor and it's off to the graveyard and other even more monstrous places to try and save her. Super Ghouls'N Ghosts is an exact port of the Super Nintendo classic based off of the arcade classic but with a few new extras.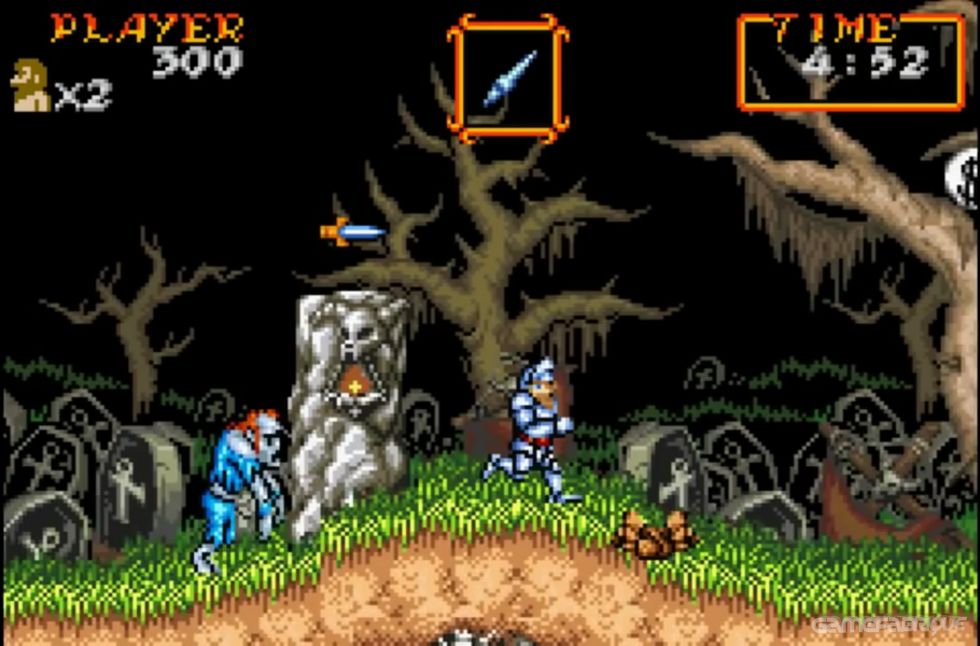 There isn't a whole lot to this game. It's you're basic arcade side-scrolling platform game. Run, jump, fire, defeat your enemies and their bosses, and try not to get killed and that's about it. It sounds easier than it is, though. This has got to be one of the hardest platform games ever created, even on easy difficulty. As you run through the levels you'll encounter all kinds of, well, ghouls and ghosts and other undead things. Most enemies aren't that difficult to kill but they like to gang up and corner or prevent you from getting past obstacles easily. Arthur has the unique ability to double-jump and you'll find that you need to master this quickly to get very far. In fact, the first obstacle in the game requires you to double jump over it. When wearing armor, Arthur can take a hit without dying. Some armor can enchant your weapon or allow you to use White Magic depending on the weapon you're holding. Shields can protect from a few projectiles. Aside from that, it's all up to your thumbs to do the fighting.
Good luck with those thumbs because controlling Arthur can get a bit frustrating at times since you can't control how high or far you'll jump. This is frustrating when you can't jump high enough to avoid death yet double jumping will probably get you killed too. Aside from that, the actual control isn't bad'it just requires some practice.
In addition to the original game, a couple of nice enhancements have been added. One is called 'Arranged Mode' where you can pick an alternate level after completing the one you're on which adds some replay value. The other, and most important as far as I'm concerned, is the ability to save your game.
With all the classic game remakes these days it's nice to see one that hasn't been resurrected a hundred times for every system. The game's graphics are left intact from the SNES version and look great on the GBA screen. Likewise the sounds are straight out of the SNES version. Fans of the original Super Ghouls'N Ghosts (or any of its sister games) won't be disappointed at all with this port. If you aren't familiar with the series, I definitely would only recommend this game to someone that's looking for a great challenge.
SNES/Super Nintendo/Super Famicom Screenshots
Similar Games
Viewing games 1 to 2