This Is The Police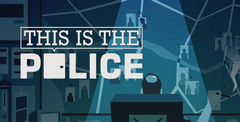 This is the Police is an indie strategy/time-management game from 2016 that puts the player in control of their very own corrupt police force. Set in the fictional suburban city of Freeburg in the mid-1980s, players must delegate officers to various emergency calls, all while making tough decisions along the way. In this unforgiving cop simulator, one false move can ruin your reputation, and each day is filled with surprising twists and turns. Through a unique visual style, This is the Police blends time-management game mechanics from titles like Diner Dash and 911 Operator with the bleak world of authority. IIf you think you have what it takes to command a force of loyal officers in the mean streets, this strategy game lets you go wild with opportunity.
Main Game Features
Intense time-management gameplay
Controversial decisions to make
A brutal look at corrupt police
Story
In This is the Police, you play as Jack Boyd, the police chief of Freeburg who has just handed in his resignation. Fueled by shady political movement, your job is to keep Freeburg clean and quiet for 180 days while the new mayor does some dirty work. However, Jack also aims to make $500,000 for his retirement, forcing him to make some corrupt decisions himself. The story plays out via dialogue sequences and animated cutscenes with a distinct visual style. Each day, Jack must do his job as police chief while also making decisions about the police force in general. While this might sound simple, many characters along the way make life tough for Jack, such as the mafia, violent gangs, and even serial killers. As the head honcho at the Freeburg police department, all decisions big and small are up to you.
Gameplay
There are a handful of main gameplay elements in This is the Police, mostly involving the strategic deployment of your available officers, on-the-fly decision making, and long-term strategies for earning money. Your overall goal is to keep the police department running smoothly for 180 days, while simultaneously making money on the side through a variety of illicit avenues. Every day, you'll sit in front of a stylized map of Freeburg as various emergency requests come in, picking certain officers to send out in response. Situations vary from car accidents and fistfights to murders and robberies, so you'll have to think carefully about what kind of back-up you send. Each officer has a loyalty rating that goes up or down as they succeed or fail at jobs, so your officers will be directly affected by your choices. In some cases, calls can go completely sideways, leaving unskilled officers injured, unable to work, or dead.
As you balance your roster of officers, detectives, and SWAT team members, you'll also have to make other decisions in Jack's personal interest. Certain characters might offer Jack a significant sum of money to ignore emergency calls, intentionally undercut police response, or even sacrifice officers. It's up to you as a player to decide how to react. Additionally, police officers might require assistance during calls, forcing you to make quick life-or-death decisions on how they should proceed. Similar to adventure games like The Walking Dead, these choices have far-reaching consequences. Although a good portion of This is the Police involves passive management, you'll spend just as much time having an active hand in the outcome of the day.
Conclusion
This is the Police has some really cool ideas and combines them with a gripping story of corrupt cops, political sabotage, and organized crime. While some parts of its story feel a bit cheesy and at worst offensive, there are enough genuinely surprising twists and turns to keep things interesting. From solving the case of a serial killer to organizing raids, you'll do much more than order officers from behind a desk.
7
Luckily, even the base time-management mechanics are engaging, offering a remarkably addictive gameplay loop. If you're interested in a strategy game with some adult themes and harsh consequences, This is the Police is definitely worth your time.
Pros
Unique art style
Player choices have major consequences
Engaging time-management mechanics
Cons
Ineffective shock-factor plot elements
Repetitive presentation
Some missions feel unfair
Download This Is The Police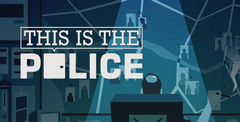 System requirements:
PC compatible
Operating systems: Windows 10/Windows 8/Windows 7/2000/Vista/WinXP
Similar Games
Viewing games 1 to 8