Tomb Raider: Unfinished Business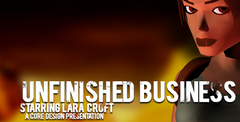 Tomb Raider blew everyone away when it was released in late '96 with its groundbreaking 3D visuals and combined elements of adventure, platform and action gaming. On top of this, the mass of labyrinthine levels took an age to complete. So after spending last Christmas guiding Ms Croft through the superb sequel, it was slightly odd going back to where it all began - and initial impressions were not good. Without the included 3D patch, the graphics are comparatively horrendous - even on a P2-233 it's a jerkathon in hi-res mode. Despite the readme file stating that there are patch drivers for ATi and Trident cards, further inspection reveals an empty directory - great! However, with a 3D card Lara runs, leaps, swims and shoots as smoothly as you could wish for. It's a credit to the programmers that the graphics impress as much today as they did 18 months ago.
Gameplay wise, Tomb Raider is as keyboard-smashingly infuriating and smugly satisfying as ever, and the will to progress once you get into the game is irresistible. For those who have TRII but not the original, Unfinished Business will prove to be money well spent, as not only will you already have a feel for the game, you'll also have mastered the tricky controls (make sure you have a programmable joypad). Gushing praise aside, the body count in the original is seriously lacking, with a lot of running around empty levels, and the auto aim facility still gets on your tits as much as we'd like to get on hers. Still, it's Tomb Raider, and with four extra levels and a Lara Croft desktop calendar, it's excellent value.
Download Tomb Raider: Unfinished Business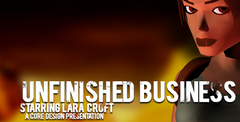 System requirements:
PC compatible
Operating systems: Windows 10/Windows 8/Windows 7/2000/Vista/WinXP
Similar Games
Viewing games 1 to 12