Tour De Thrash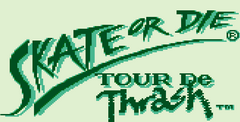 Click the "Install Game" button to initiate the free file download and get compact download launcher. Locate the executable file in your local folder and begin the launcher to install your desired game.
Yo, dude! Skate or Die returns on this GameBoy edition of the Stale Fish Tour featuring the Retro-Rocket Ramp! One or two players can compete with the Game Link cable. You'll face some pretty tough computerized opponents, like CJ, Lester and Rodney, each with their own special moves. You can also choose the wild locations to compete at, from the L.A. Sewerside to the Easter Island Thrash Landing!
People say:
3.0
While the premise behind this game is nothing new, most of the time it has been merely a game-within-the game. There are plenty of moves that you can do in the half-pipe, but when you consider that this is all the game really is, with little graphic or sound support, it appears weaker.
4.0
While Tour de Thrash is not a bad game, it just doesn't offer enough to play against within that game. You skate inside a halfpipe and perform a variety of moves. You skate from one side to the other, skipping over a center divider to break up the repetition. Nothing bad, just not enough.
3.0
Is this all that there is? Tour-de-Thrash starts out nice. Lots of action in a halfpipe setting. Move around and build up speed. Do lots of flips, score lots of points depending on your techniques. Move on the next scene. What!?! No more scenes? Repetitive, repetitive, repetitive.
4.0
In one word, boring. The skateboard event in Epyx's California Games on the Lynx blew Tour de Thrash away! The game is way too repetitive to seriously consider it as a stand alone game. The graphics also lack too much detail so desperately needed in this type of game. Forget it!
Download Tour De Thrash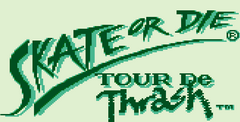 System requirements:
PC compatible
Operating systems: Windows 10/Windows 8/Windows 7/2000/Vista/WinXP
Game Reviews
To most sane people stale fish is a heavy duty turn off. But say "stale fish" to a bunch of skateboarders and they go ballistic! What's it all mean? Electronic Arts has hit the Game Boy scene with Tour De Thrash, the continued adventures of Skate or Die.
Actually Tour De Thrash is more sports cart than action adventure game like the NES S or D carts. Rodney, Bionic Lester, and CJ are still hanging around as coaches. But this time you can tackle an international skater's slalom, go aerial on the Retro-Rocket Ramp, or go wheel-to-wheel with six real-life members of the Santa Cruz Skateboard Team.
Tour De Thrash is a solidly designed cart with good-looking graphics, slick animation, and hard-driving sounds that really get your juices flowing. But you really ought to be a skater to appreciate it.
Go Fish
In thrasher lingo "stale fish" can either be a cool backside grab in mid-air or off a handplant or an outrageous international pro skateboard race. Hence the Stale Fish Tour is a globe-trotting shredfest where you rip through drain pipes and pipelines in 8 unlikely foreign locales such as Chernobyl, Ho Chi Minh City, and Easter Island, and one mythical (waterlogged) mystery stop.
If you have a need for speed, Tour takes you to the max. You guide your skater via a behind the back, full body view. Jump over or swing around assorted walls as you try to go supersonic and beat the clock to the finish the line. But don't miss a beat or you'll splat against the wall flatter than a frisbee.
The Santa Cruz Skate Team
For variety you can bash decks with the Santa Cruz boys. Choose this option and the computer throws another skater onscreen with you. You get a little background on the real life dude you're trying to thrash, then you ride through the same cities trying to bump each other into the walls.
Airborne
If catchin' air is your thing, go for the Retro Rocket Ramp. This section's basically lifted straight out of the other two Skate or Die carts. You get a side view of a hatf-pipe ramp with a small spine in it. Here you can pull 12 radical moves and you try to put together a routine for mucho points. Bragging rights is the main goal, but killer skaters can earn a trip to a hidden mystery round.
Better Shred Than Dead
The real Tour De Thrash fans will be wheelheads who play the Game Boy when they're taking a breather from the real thing. Speed freaks and sports nuts come next. If concrete shreddin's your thing, this cart's got some thrills, plenty of spills, and looks that kill.
See Also
Viewing games 1 to 15