Treasure Of Nadia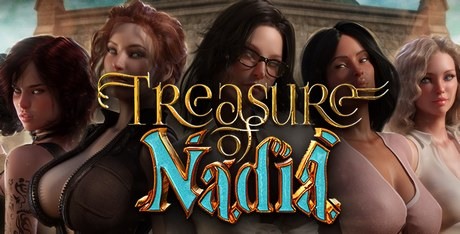 Click the "Install Game" button to initiate the free file download and get compact download launcher. Locate the executable file in your local folder and begin the launcher to install your desired game.
Games that see adventurers search for lost relics and treasures aren't exactly profound or unique. The concept has been done very well in series such as Tomb Raider or the Uncharted series to name but a few. However, it is rare to see an erotic gaming experience that tries to run with this concept, offering a sexually driven experience where the player will search for riches and fame within the treasure hunting world. Treasure of Nadia aims to offer this exact experience, trying to be for the treasure hunting genre what Angelina Jolie was for the Tomb Raider franchise.
Treasure of Nadia plays similarly to games such as Lust Epidemic, Pine Falls, Echoes of Lust, Summertime Saga and Sunrider Academy. The game offers point and click style gameplay, a raunchy treasure hunter narrative and collection heavy gameplay. However, is this game a treasure to behold. Or alternatively, is this title a fake that isn't worth its weight in gold? We find out in our review of Treasure of Nadia
Sexy Spelunking
Firstly, let us give you a general idea of what to expect within the narrative of this title. In this game, you will encounter twelve female characters while you explore the lush jungles and the caves that lie within. Each of these characters will offer their own personality traits, have different physical traits and aesthetics and also have their own stories to tell. So, within this title, you will have to explore Cape Verda, find the treasures that lie within and balance your obsession with riches and fame with your pursuit of sexual encounters.
On paper, it seems like two ideas that would simply clash with one another. However, in action, it works rather well. This is in no small part down to the quality writing that is on show throughout this title. It can be easy to offer too many characters which all blend into one but this game manages to offer unique and varied characters who all feel distinct from one another. Making this game very enjoyable and also adds a certain amount of replayability to the title.
Looks Great, Plays Great
With regards to the visuals on offer throughout this game, Treasure of Nadia takes a much more realistic approach than other titles within the genre. The character models are very well rendered and look excellent in their various sex scenes. Plus, another great feature is that once you have encountered a scene, you can replay them via your smartphone which is a nice touch. We will admit that the audio for this game is forgettable but considering the dialogue is text-based, it isn't a cause for concern.
Then with regards to the gameplay, it's actually much deeper than you would expect. You'll have to win over the twelve women in question through completing missions, gathering soul crystals and also decorating and styling your character and home accordingly. Thanks to this, the game feels like more than a simple point and click adventure and gives the player overall control of their adventure.
The Verdict
Overall, Treasure of Nadia is a surprisingly deep adult gaming experience. While many would have thought that this concept was a novelty that wouldn't work in practice. The game actually manages to deliver a very interactive, replayable and emergent experience that is well worth any adult gaming fans time.
7.5
For those that enjoy much more comprehensive and deeper gameplay, this is the perfect choice for you.
Pros:
Lots of distinct and well-written characters
Lots of interactive gameplay features
A wide variety of sex scenes
Visually appealing
Cons:
Audio is forgettable
Can be a little overwhelming for players new to the genre
Download Treasure Of Nadia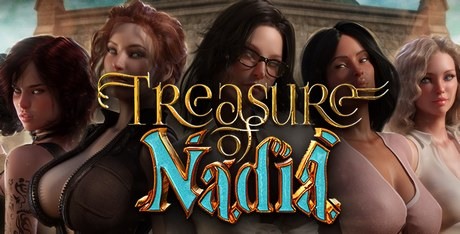 System requirements:
PC compatible
Operating systems: Windows 10/Windows 8/Windows 7/2000/Vista/WinXP
Game Reviews
When I heard that Treasure Of Nadia was a somewhat sequel to Lust Epidemic I knew I was all in. That was a very well made and fun visual novel/RPG that I had an absolute blast with (and I actually gave it a solid 8.5/10) so when I knew they were making another game in the same kind of style I knew that it was a game I had to play.
Forget Indy, This Is A Real Explorer!
The story of the game is great and whereas its predecessor took a kind of Riverdale/Twin Peaks vibe to it. What you are getting with Treasure Of Nadia is a more fantasy kind of vibe with a very blatant nod to Indiana Jones. You see, you have come to a place known as Cape Vedra after your dad has died. He has left you a run-down place to live, a lot of debt and a bad reputation.
So, you decide to change things around and as you are a treasure hunter you know the way to do this is by finding artifacts, selling them and of course banging as many hot chicks as you possibly can along the way.
I See What You Did There
The presentation of this game is fantastic. The game has a top down kind of look to it for the RPG portion of the game, but it is the visual novel and sex scenes that will really blow you away. There are over 10 gorgeous ladies here and they have all the right lumps and bumps in the right places if you know what I am saying. The sex scenes are animated and they do look great. If you want a game that has sex, but some really great looking sex you will struggle to top this.
The only downside to the presentation and this is a bit of a hard one (that is what she said) is the sound. As I write this review not all of the game is voice acted only some parts are. I kind of wish it was all or nothing if I am being honest with you.
Do What You Gotta Do
As far as the gameplay of Treasure Of Nadia goes I found it great from start to end. It is the kind of game that does not take itself too seriously and as a result, it is a lot of fun. You will need to talk to the ladies of course, but there is also a bit of adventure here too. You need to find artifacts that you can sell to then get money which you can use to spruce up your house which is another major part of the game. It does start rather slow, but before long it ramps up and you will find yourself having a great time and wanting to get it on with all the ladies as well as find all kinds of interesting artifacts.
This is one of the better lewd games I have played recently. I would say that I preferred the story of Lust Epidemic better, but overall, this is really just as good a game as that. I think it is very impressive how Treasure Of Nadia manages to have some great and high quality sex stuff in here, but also be a fun game at the same time.
Final Score: 8.5/10
Pros:
It is an interesting story
I liked that there were some fantasy elements
The girls look great
Some very impressively animated sex scenes
Overall, it is a very fun and addictive lewd game
Cons:
It starts off a tad slow
Not fully voice acted
Similar Games
Viewing games 1 to 9