UEFA Euro 2008
Click the "Install Game" button to initiate the file download and get compact download launcher. Locate the executable file in your local folder and begin the launcher to install your desired game.
Before I get started on this one, I have to be honest and say I have minimal experience with any other soccer games out there. I don't purposefully avoid them or anything, nor do I dislike them, but they aren't a part of a genre that I have ever felt heavily invested in. Its been a passive relationship at best, though upon playing UEFA Euro 2008, I have actually gained a bit of respect for these games. Although somewhat different from previous titles, this one stands out because of the flaring feelings of loyalty that it seems to emanate while getting players equally as invested. It is a fine example of what ample technical attention can do for a game like this even if there is nothing especially impressive about it by comparison. It simply hits all the right notes as you traverse various matches in single and multiplayer that make each match interesting.
Path to the Championship
I'm sure that if you're interested in playing this title specifically, you've probably played FIFA 08 (or possibly 09 at this point). If that's the case, I don't know that I could fully recommend this game given the minimal steps forward this title represents in comparison to those two. FIFA 08 was great because it was a solid football experience – it was tweaked in a way that made the gameplay easy/welcoming for newcomers, but still had a learning curve to reckon with. FIFA 09 really expanded on this and created the 'superior' experience for the time. The main problem with UEFA Euro 2008 then is that its right in between both of these.
Compared to FIFA 08, it's a game that's superior in control overall. Passing and scoring are refined with only a few minor movement bugs popping up, while team balance is also well done and given sufficient attention. However, compared to 09, there's not much extra to promote since that title really stepped up a notch in terms of technical performance and appearance. On top of that, UEFA has a relatively limited amount of teams to choose from since it is specifically for that year's championship. These aren't real problems with the game itself, but rather reasons that this specific title is good for diehard soccer/football fans above all else.
On To Great Things
What this game does right is that it is honestly a solid gaming experience. Although 09 does improve upon it greatly, there's something undeniably fun about this game. Maybe it's the atmosphere of it being a championship title, the daring Captain Your Country mode, or the endless fun you can have in multiplayer, but there's a sincere feeling of determination and passion that this game makes you feel while you play.
Bottom Line
Its intense and isn't something that I felt while playing 08 or 09, or even similar 'special' entries like FIFA Street. It's a spectacle to behold that's coupled with solid graphics, controls, and game modes that, while not the absolute best in the series, are still worth checking out.
8
If you're a diehard football fan, love the FIFA games, or are just looking for something new to try out, give UEFA Euro 2008 a chance. Its pretty similar to other FIFA games, but has a vibe all its own.
Pros:
Great controls
Looks and performs well
Many game modes with many player options
Cons:
Relatively limited choice of teams/players
Solid entry, but nothing unique compared to FIFA 08 and 09
Download UEFA Euro 2008
System requirements:
PC compatible
Operating systems: Windows 10/Windows 8/Windows 7/2000/Vista/WinXP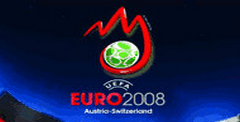 System requirements:
PC compatible
Operating systems: Windows 10/Windows 8/Windows 7/2000/Vista/WinXP
Game Reviews
One of the world's most prestigious championships, the European Football Championship hosted by the Union of European Football Association, or UEFA, is home to the best teams and players in the world. Europe's most prestigious championship is an important milestone for any team trying to participate in the World Cup as the champion gets a guaranteed spot in the next version. That's why EA Vancouver, adapted this huge event into the UEFA Euro 2008 game.
Electronic Arts has made a name by designing and developing the best sports games for the better part of a decade now, with few exceptions. But football isn't one of them, and the FIFA series has been the benchmark for a while, that's why by running in the same engine UEFA Euro 2008 was the best game you could play at the time. While margina, the improvements over FIFA 08 are noticeable throughout gameplay, even if the game is reduced to a smaller escope in terms of players and teams, it feels bigger.
World Biggest Sport
Gameplay wise there is very, very little that has changed inside the field from its predecessor, the biggest changes were probably made to AI, network codes, online match-making, and most obviously the impact of weather in the game. This meant that there were no groundbreaking developments, but instead multiple tweaks and adjustments that were being tested for FIFA 09. For fans of the sport, fortunately 2008 had various legendary players, and amazing teams competing, making this adaptation filled with fierce competition.
While the strategic, more slow-paced, mid-game focused title has been kept, EA Vancouver has done a tremendous job of breathing new life into the game modes. The vast amount of manners which the game can be experienced is by far the most impressive and immersive part of the game.
Make Your Country Proud
The first iteration of the sixteen person online tournaments we still enjoy was first debuted in this game. In actuality a lot of trial and error went through as EA Vancouver tried to compensate for the smaller scope of the championship, with new and unique developments. There are various adaptations from earlier titles, yet the best parts rely on the balances made to AI, and matchmaking.
An adaptation from the career mode, became the Captain Your Country mode, which puts players in the shoes of an upcoming athlete that is trying to qualify his team, earn his place among the best, and perform well enough to become the captain of your country in the leading tournament. This is fun in single-player mode, but makes for fierce competition in online multiplayer mode.
Returning players can expect the Be a Pro Mode, Championship Mode, Qualifier Mode, Online Mode, Quickplay and all the FIFA classics. Still, one of the most unique and fun game modes is the scenario playouts, where players are thrown into the most remarkable scenario of the qualifiers and get to relive, experience and are challenged to make history again.
Summary
UEFA Euro 2008, was the best, most innovative manifestation of football we had at the time. It took the best parts of FIFA and perfected it, while injecting new life through unique game modes.
8.5
For fans of the FIFA Series, Pro Evolution Soccer Series, this is a classic game that allows for younger players to experience some of the best teams - and players - to ever grace the sport.
PROS:
New Game Modes
Matchmaking Balance
Metagame Aspect
AI Improvement
Weather Impact
CONS:
Playstation 3 Screenshots
Similar Games
Viewing games 1 to 8