Big Game Hunter 2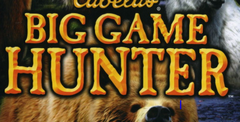 Click the "Install Game" button to initiate the free file download and get compact download launcher. Locate the executable file in your local folder and begin the launcher to install your desired game.
Overview
Shhhhhhhhh ... I think I hear that trophy elk we have been hunting all day. Over there by that stand of trees, was that an elk? Lifting your binoculars you peer into the trees; yep, that's him. You slowly lower your binoculars and lift your rifle, waiting for the elk to close another 20 yards. Ah, there, dead center in your rifle scope. You slowly inhale, hold and squeeze the trigger -- blaaaaaaaaaaammm.
Welcome, my trusty readers, to Big Game Hunter 2. The action-packed hunting simulation is back with new and improved graphics, new hunting regions, and more weapons. What more could a video deer stalker want? I currently own the original Big Game Hunter, so I found the game easy to understand and play, but even if you have no prior video hunting experience you'll still be okay because of the quick start feature in the game. All of you old hands will really appreciate the improvements that have been made to the control interface during the hunt, but will hate the health meter in the game, because you will notice that it is easy to get fatigued during a hunt and then be forced to return to base camp to rest up. Okay, let's stop babbling and get into the meat and bones of this game.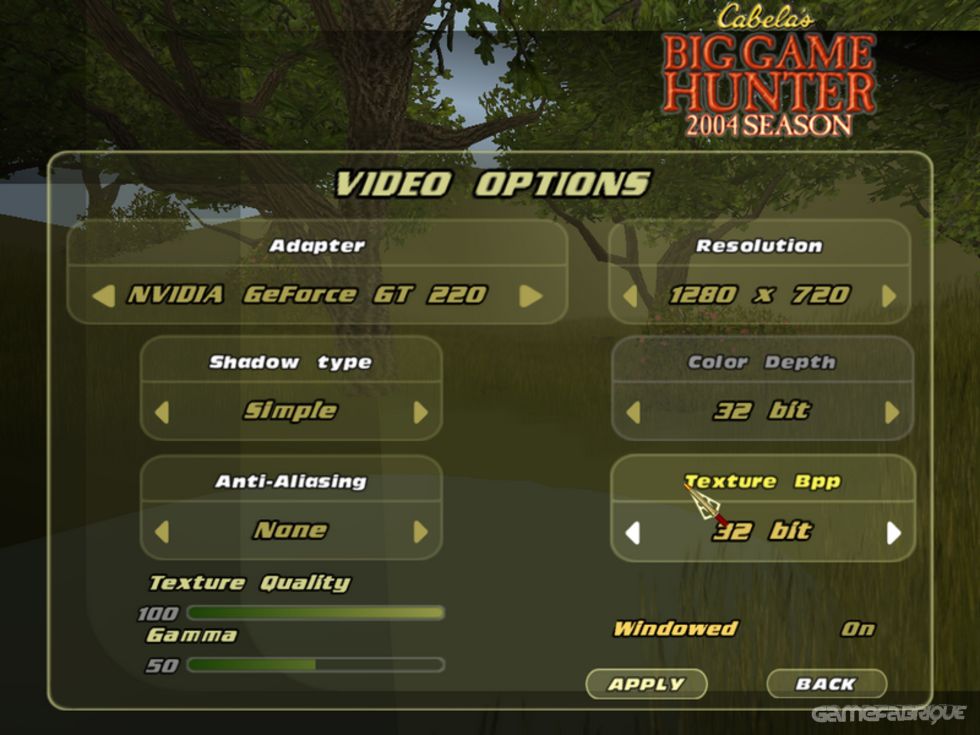 Gameplay, Controls, Interface
Just as in the original, Big Game Hunter 2 is very easy to manipulate. All buttons are clicked with the mouse and are very self-explanatory. I really like the fact that you get to book your hunt with a travel agent, making it feel as though you get to plan your trip right down to socks and underwear. This time around your hunting areas are Alberta, Canada; Colorado; New Mexico; and an African safari hunt. Once you fly to your hunting area, you will be responsible for purchasing hunting tags for the various different animals; then you get to purchase all of your hunting goods such as boots, pants, animal calls, tents, first aid and, last but not least, ammunition. After you have grabbed all your goodies, you can check in with the hunting guide.
He will tell you about your upcoming hunt and what types of animals you will be hunting. You then must pick a base camp from which to hunt. One new thing is that the game now tells you how much travel time between hunting spots. Once you have picked your hunting spot, the graphics change to a first-person view from the hunting stand. You now proceed to scan in 360 degrees, looking for game going from stand of trees to stand of trees. You have at your disposal several calls and animal scents to attract the game you are hunting. One thing that really bugs me is that the game becomes quite predictable when it comes to the animals; very early on you learn that the animals run from one group of trees to the next. Another stupid thing is the little animal that runs between the trees; it resembles a stick figure, if you ask me. Once you put your crosshairs over the little stick figure, a full-blown video of the animal pops up. The actual video footage is what sets Big Game Hunter 2 apart from the rest of the hunting videos out there. Instead of shooting at computer-animated animals, you get to shoot at actual video footage which makes it a whole lot more fun and realistic.
Graphics
If I sit down and compare the graphics from the first game to the second, I would have to say that overall they made some improvements. But some of those improvements hurt the game in ways that the old graphics didn't. One thing that they messed up on is the improved terrain; why do they have to make the animals run from bush to bush? In the old version, you scanned the terrain and if you picked up something, you would raise your rifle for a shot. In the new version you have this stick-figure animal run from bush to bush that you have to put your crosshairs on in order to raise your rifle. Overall, I would give them a C for effort.
Audio
I will pull no punches. The audio is repetitive, boring and utterly useless. Your hunting guide will tell you that you missed your shot, or there was too much wind, etc, etc. If you're bad and shoot an endangered animal, the Game Warden gives you a stern little lecture and threatens to throw you in jail if you continue to misbehave. The travel agent tells you how much money he is going to suck out of you. In this day and age of computer games, I highly suggest that companies think about how important a role audio plays in a game.
System Requirements
Pentium 133 MHz, Win 95/98, 16 MB RAM, 2X CD-ROM drive, DirectX, 25 MB hard drive
Documentation
Two thumbs up for the simple and very small instruction manual. The manual is a quick and easy read that will get you up and playing in less than a half-hour. It covers everything from installation to picking supplies and the actual hunt. Slap in the CD and let it rip.
Bottom Line
If you already own the first version of Big Game Hunter, I really don't recommend going out and buying the new one; there just isn't enough cool stuff to make it worth it. If you own other hunting games and are looking for a change, then definitely go out and pick it up. One thing that disgusted me was the African safari hunt. Why the heck should we be hunting in a country that has been ravaged by poaching? The first thing that comes to mind when I think of the African hunt is nothing but trophy hunting. So there you have it, gentle reader. It didn't set my shorts on fire, but it didn't make me want to fall asleep either. On that note, I am giving the game a score of 65.
Download Big Game Hunter 2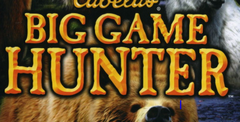 System requirements:
PC compatible
Operating systems: Windows 10/Windows 8/Windows 7/2000/Vista/WinXP
See Also
Viewing games 1 to 8