Delta Force: Black Hawk Down – Team Sabre
Click the "Install Game" button to initiate the file download and get compact download launcher. Locate the executable file in your local folder and begin the launcher to install your desired game.
"LADIES and gentlemen - we got him." The proclaimed war on terror has taken some dramatic turns in recent weeks, but as we're constantly reminded, it's never over. This also holds true for the world of games, as this timely reminder looks set to prove. The original Delta Force: Black Hawk Down concentrated on the USA's 1993 incursion in Somalia, and it was an unexceptional yet playable addition to the FPS stable. Our major complaint was the very linear, arcade tone of the game, which had about as much tactical depth as Pong and all the novelty of a Tetris clone. As such, when the Team Sabre expansion pack was announced back in June, we have to admit our excitement was wholly controllable - it was akin to us learning that Graham Norton is to have a new show.
However, our interest was recently piqued by the news that development responsibilities have now fallen to Dallasbased veteran Ritual Entertainment, who's been knocking out high-quality shooters for years, including the likes of SiN and Star Trek: Elite Force II. Ritual itself was also quite excited at the news, with hirsute level designer Richard 'Levelord' Gray reportedly "delighted" at the prospect. Let's hope Ritual can redeem itself for its workmanlike efforts on Counter-Strike: Condition Zero.
Colombia Necktie
Reflecting the online focus of the Delta Force series, Team Sabre offers a whopping 30 new multiplayer maps and a modest ten solo outings, the latter split into two self-contained campaigns. Taking your boys to the hypothetical near-future flashpoints of Colombia and Iran, the single-player missions are set to offer more pseudo-tactical action, concentrating even more on vehicular combat. We've been dabbling with some of these and have come away mildly impressed. The Colombian episode predictably involves hunting down drug-runners, and while the extreme body count does seem a little harsh for the sake of a bit of sniff, it's an intense affair with many different approaches.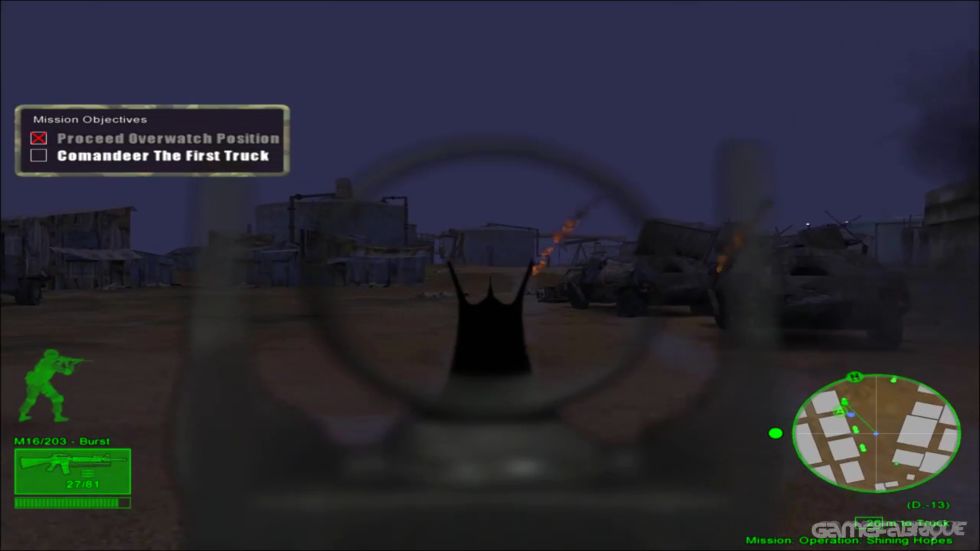 For instance, in the first mission you can commandeer a riverboat by killing the drug-runners and threatening the captain. However, attack it too vehemently and it'll sink, leaving you with a long walk through some dense foliage, where you'll need particularly keen eyesight to spot the enemy. As for the Persian Gulf, it's suitably sandy, with the wide-open spaces offering little in the way of cover. As in the original game, you're generally accompanied by three squadmates (until they get killed) and can bark rudimentary orders at them. Some of the more glaring Al issues seem to have been ironed out, with enemies showing a bit more in the way of self-preservation.
There's still plenty of work to be done here, but Ritual has been around long enough to know what its doing. Team Sabre may be aimed primarily at multiplayer fans, but if Ritual pulls its finger out, it could well prove to be a reason to buy the original game.
Download Delta Force: Black Hawk Down – Team Sabre
System requirements:
PC compatible
Operating systems: Windows 10/Windows 8/Windows 7/2000/Vista/WinXP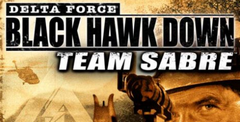 System requirements:
PC compatible
Operating systems: Windows 10/Windows 8/Windows 7/2000/Vista/WinXP
Game Reviews
Despite the chaos in our lives, it's heartening to know there are still things we can rely on to keep us grounded. The sun setting, the relegation of at least two newly-promoted Premiership clubs and the unalterable truth that Delta Force games have never really pushed out any gameplay boundaries.
Despite this fact though, hundreds of thousands of people still buy the annual upgrade. The problem is, there's usually very little to differentiate one Delta Force release from the next, so what is there here to compel you to buy this game?
Old Hat
It's not the graphics, as once again the 3D engine looks about three years behind the times. Neither is it the setting, which has been done to death a squillion times - not only by other games, but by previous Delta Force efforts too. The multiplayer games, though, are a lot of fun - and the game's simplicity make them a joy to play. But if you're a hardcore military nut, Operation Flashpoint may be more your thing. And if you like squad-level action, why not try Ghost Recon?
In comparison to these two games, Team Sabre does look a bit cheap, with its cliched characters and overly dramatic action. However, we're always willing to judge each game on its individual merits, and despite the shortcomings here, there's still a fair amount of fun to be had in Team Sabre. Although the Iranbased missions are at times on the drab side, the jungle encounters are enjoyably camp and sometimes even quite tense.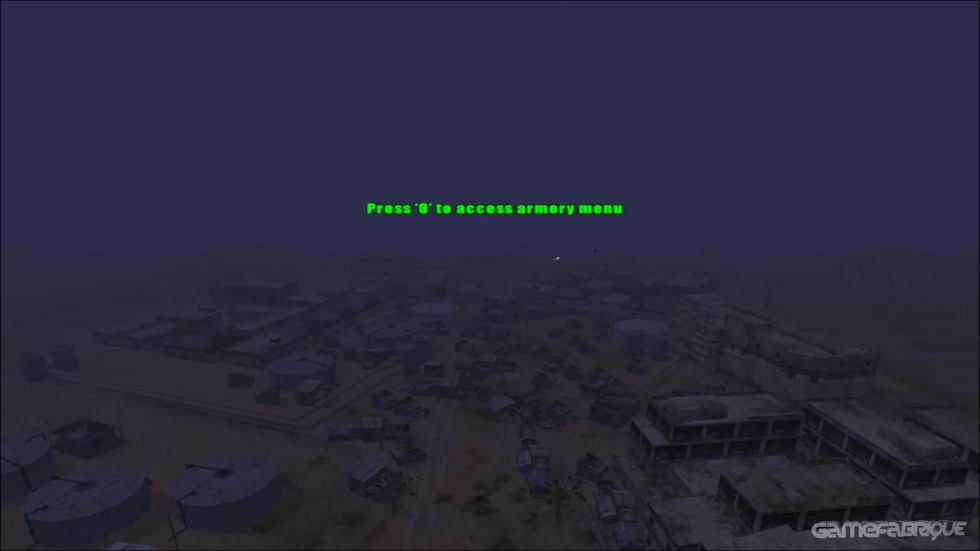 In one mission in particular, I was ordered to help secure a base as enemy soldiers advanced on all sides. Instead, I bounded off screaming into the undergrowth, heavy machinegun spitting cases of fiery death. And as the body count rose, my speakers read my thoughts and blurted out to any enemy Al who might be listening: You wanna piece of me?!' Brilliant.
Not that we're suggesting you go out and buy Team Sabre, you understand. But if you're already a fan with a copy of Black Hawk Down, then you'll be sure to enjoy this add-on. Can't say we're that impressed with the new weapons or the overhiked price tag, but the missions - multiplayer especially - are numerous and sporadically fun.
Nothing To See Here...
If, on the other hand, your experiences with Delta Force have turned you on to bigger and better games, then be aware there's absolutely nothing here that would cause you to shift your allegiance. Despite the addition of Team Sabre, Delta Force still remains inferior to many of the deeper, more complex and better-looking competitors out there.
Playstation 2 Screenshots
Similar Games
Viewing games 1 to 12