Evil Dead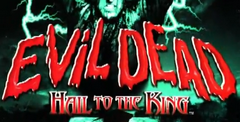 Click the "Install Game" button to initiate the free file download and get compact download launcher. Locate the executable file in your local folder and begin the launcher to install your desired game.
The Evil Dead film series was a massive horror hit in the 80s and 90s, paving the way for the classic "cabin in the woods" horror tropes we know today. Even if you weren't around in the 80s, you might've seen the recent Evil Dead remake film that released in 2013. Either way, there's no denying the impact that the Evil Dead movie franchise has had on both the industry and audiences alike, so it only made sense that a video game adaptation would pop up before long. Originally released in 2000, this Evil Dead adaptation is shockingly similar to games like Resident Evil and Dino Crisis, making it an interesting albeit slightly frustrating supernatural romp.
Main Game Features
Original story set after the third film
Intense puzzle-solving and combat gameplay
Creepy and unique environments
Story
This Evil Dead game is set nearly a decade after the events of The Army of Darkness, the third movie in the Evil Dead film franchise. Despite regaining his supermarket job and trying to return to a life of normalcy, protagonist Ash Williams still reels from nightmares caused by his adventures against the Deadites.
In an effort to cure these sleep terrors and quell his fear of the past, Ash and his co-worker Jenny head back to the old cabin in the woods to put his demons to rest. Unfortunately, almost as soon as they arrive, things take a turn for the worst as undead monstrosities start to overtake the cabin.
Despite the game's clunky control and aged graphics, Evil Dead manages to produce a story and atmosphere that feels consistent with the movies and their constant dark humor. Characters and enemies feel larger than life in both personality and design, resulting in an over-the-top adventure that's equal parts thrilling and silly. Don't get things confused; Evil Dead is definitely a game for adults. But it's wild charm and tongue-in-cheek storytelling make it a sillier experience than something you'd see in Resident Evil. Gameplay
Speaking of Resident Evil, if you've ever played that PlayStation classic, you'll be right at home with Evil Dead. The games control very similar in nature, as both use tank-like character controls, have a focus on puzzle-solving, and prioritize suspense and fear more than action. As you move Ash through the cabin and attempt to solve its various puzzles, you'll do battle with a slew of recognizable baddies from the film franchise. You'll slay Deadites, skeletons, and plenty of other silly yet surprisingly effective abominations.
Despite the game's charm and overall great job of adapting the tone of the original movies, there are a few problems with it. The graphics can grow exceptionally bland and basic, especially as the hours wear on. You might die a few times from the messy controls, or get stuck on a few frustrating puzzles. While these issues aren't annoying enough to completely ruin the experience, they might cause some significant frustration. That aside, Evil Dead is still plenty of fun to play, but it'll take a bit of practice to get over the hurdles.
Conclusion
Although the Evil Dead game might not scare your pants off in the way that the movies or games like Resident Evil have, horror fans will still enjoy what it has to offer. As long as you are willing to become proficient with tank-like controls and okay with a few frustrating moments, you'll likely have a great time with Evil Dead. If you haven't seen the movies, this game probably won't be as effective as other popular horror titles, but for die-hard and casual fans alike, the Evil Dead game does a good job bringing the magic of the movies to an interactive format.
Pros
Memorable characters and enemies from movies
Effective dark humor
Unique puzzles
Cons
Controls feel clunky
Not very scary
Download Evil Dead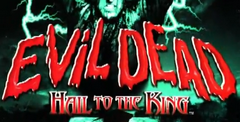 System requirements:
PC compatible
Operating systems: Windows 10/Windows 8/Windows 7/2000/Vista/WinXP
Game Reviews
What's the deal?
Hey, it ain't just the Tanaka boys who are psyched that developer Heavy Iron is giving Sam Raimi's Evil Dead flicks the survival-horror-game treatment. Even the boomstick-wielding main man himself thinks the whole experience is gonna be groovy. "It's fun to play the same character without having to be covered in blood and go through all that nightmare," said Bruce Campbell, who's reprising his role as average-Joe-turned-bloodsoaked-hero Ash for this PlayStation and Dreamcast game. "I can sit in a nice, clean, air-conditioned booth and go, 'Ooh! Ah! Ow! Oh!' instead of actually having to be there."
Heavy Iron and publisher THQ have enlisted the aid of both Campbell and Raimi to tweak the game's script for the hardcore fans. After all, nobody knows Evil Dead better than these guys. Dead-heads should expect an authentic Ash experience. "Rather than doing a character that's sort of like Ash, I'm actually going to be Ash," said Campbell--who has done the voice of Pitfall Harry and other game characters. "A lot of times when I do the other games, people are like, 'Well, you should have sort of an attitude like Ash, but not Ash.' So I try not to cough up all the old lines. I save them for this."
So why is it a must-get game?
With weapons, deadites, locations--even the wild camera style--yanked from all three movies, who wouldn't want to come get some when Evil Dead hits this Halloween?
Similar Games
Viewing games 1 to 6