Freedom Fighters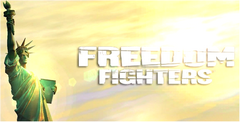 a game by
IO Interactive
Genre:
Action
Platform:

GameCube

Editor Rating:

6

/

10

, based on

1

review
User Rating:

6.0

/

10

-

1

vote
Rate this game:
Better Ready Than Red
Ready to rumble with the Russkies in the most outdated future since The Jetsons? Then try out these single-and multiplayer tactics. Those Soviets will be cogs in the capitalist machine in no time, watching American sitcoms and purchasing quality electronics equipment at rock-bottom prices.
Avoid Frontal Assaults
A strategically placed truck may otter a way around a Soviet kill zone. Almost all primary objectives are well defended--the Soviets expect you to make a direct trontal assault on their positions., and be killed betore you can even reach the concrete barricades. But in most cases, you can find an alternate way to reach an objective that either bypasses the Soviet defensive positions or allows you to attack the flanks, avoiding their mounted machine guns. When you see a Soviet defensive position, look around for an open window or door, a hole in a wall, or even crates or a vehicle that will boost you over a wall or into an upper level. There's almost always an easier way.
Attack at a Distance
Sniper rifles are great for thinning the enemy ranks before a big assault. If there's no way around a defensive position, engage at long range if you can. Molotov cocktails and frag grenades work well for hitting enemies behind cover. If the enemy has snipers, try to sneak up behind them, kill 'em, and use their sniper rifles against their comrades. Also use aimed fire with assault rifles, pistols, or other weapons and target foes as they peek out from cover. By picking off one enemy at a time, you can clear out a position before you even get near it.
Use of Cover
Cover is vital. Running down the middle of the street is the quickest way to get yourself killed. Instead, crouch down and hide behind crates, dumpsters, and low walls. Avoid using cars and trucks as cover--if they take enough damage they'll explode, killing or wounding anyone nearby. If you must move across an open area, run; you're harder to hit when in motion. Don't stop to return fire until you're in a (relatively) safe spot.
Leadership
Leadership plays an important role in tactics. You'll command up to 12 lighters, and with a little practice, you can almost complete missions without firing a shot.
Though you can give only three commands, they accomplish a number of tasks. The Follow order instructs your teammates to stay with you, like bodyguards, but they'll still engage the enemy. If you want them to stay put, especially behind cover, issue the Defend order. You can also use the Defend order to have one of your soldiers man a machine gun--aim at the gun and give the Defend order. The Attack/Scout order is extremely useful; while aiming, order your team to move to a point under your reticule to scout that area. Scouting is vital to prevent ambushes--send a single fighter ahead, around a corner, or into a building to scope out the scene. You can then recall the fighter (with the Follow command) or order the rest of your team in to fight. Keep at least one fighter with you for protection, especially if you are concentrating on ordering your team around (after giving your team an order, just tap the Follow button and one fighter will return to stay with you). For all commands, tapping the button issues the order to a single fighter, while holding it down orders your entire team.
Multiplayer Tactics
If you want to win, practice. Start off by learning the maps. Plug in a second controller, start up a multiplayer game by yourself, and then explore. Note where weapons are hidden, the quickest routes to bunkers, and passages or cover that will allow you to approach bunkers from the rear. Once you know the lay of the land, become proficient at commanding your team. Try ordering them to take control of a bunker while you are at another location. With this tactic, you can send half your team to capture one bunker while you go for another or the flagpole. Finally, practice using the weapons. Knowing how to accurately throw Molotov cocktails and grenades is vital and allows you to attack without exposing yourself to enemy fire.
Download Freedom Fighters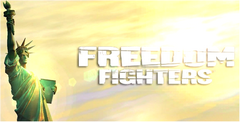 System requirements:
PC compatible
Operating systems: Windows 10/Windows 8/Windows 7/2000/Vista/WinXP
Other Games by IO Interactive