Guitar Hero World Tour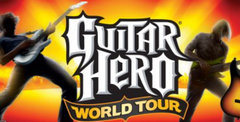 Click the "Install Game" button to initiate the file download and get compact download launcher. Locate the executable file in your local folder and begin the launcher to install your desired game.
Are you ready to shred? Are you ready to be infuriated by the fact you are a real musician and can actually play a guitar but this game is nothing like that and it frustrates you that you can't play it as well? Oh, just me then. Tune down to drop C and try to remember where you put that plectrum for Guitar Hero World Tour by Neversoft.
Gameplay
If you've ever played Guitar Hero before then you know exactly what this game is about. For those who haven't, I'll try to make it simple. Using either a specific guitar port controller, or a normal one, you play along to the rhythm of a song of your choice. You get a multiplier for the more notes you hit and either you, or your rock team, will succeed or fail based on how well you all performed.
This is Guitar Hero's answer to the popular Rock Band with the introduction of the greater band and the vocals and drums becoming playable instruments. You rack up star power as a team and then activate it as an impressive multiplier that kicks your whole score through the roof. There's multiple difficulties ranging in not fun because it's too easy, to fun and then to not fun because it's too hard; a sentiment that anyone who's played these games knows all too well.
Game Modes
There's a fair few game modes available in this, the primary being a single player career mode, where you can play as whichever member of the band you want to be but let's be honest, its lead guitar because why wouldn't it be? You play gig after gig and progress through with an occasional boss battle thrown in but there is no real story to this. No rags to riches plot where we ever really get to feel anything for the characters.
There's quick play as well which is probably the best option. Set up a set list of up to six songs and shred away while earning in game money for the quality of performance. There's also a battle mode where you can duke it out with a guitar battle with a friend, which adds a very pleasant amount of replayability.
Character customisation
With the introduction of other band members and an attempt at a more versatile game in general, they elected to allow us to create our own characters but they always kind of look the same no matter what you do. I love a good character customization screen, I had a phase where I would only buy games that let you customize you character and this one keeps everyone to the same aesthetic level but that means it also lacks a nice diversity that it could have had.
7
Guitar Hero games have a special place in everyone's heart as a brilliant party game and that is what it will always be; never really one to strive for more and I appreciate that humble attitude. Looking for a laugh? Test your skill on a harder difficulty and see how you fare.
Pros
A brilliant party game
Introduction of new instruments
Cons
Poor character customisation
Controls aren't as responsive as they probably should be
Download Guitar Hero World Tour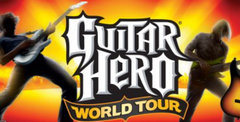 System requirements:
PC compatible
Operating systems: Windows 10/Windows 8/Windows 7/2000/Vista/WinXP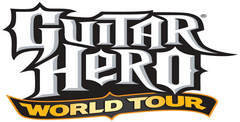 System requirements:
PC compatible
Operating systems: Windows 10/Windows 8/Windows 7/2000/Vista/WinXP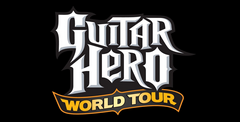 System requirements:
PC compatible
Operating systems: Windows 10/Windows 8/Windows 7/2000/Vista/WinXP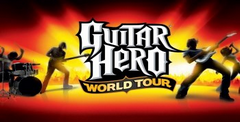 System requirements:
PC compatible
Operating systems: Windows 10/Windows 8/Windows 7/2000/Vista/WinXP
Playstation 3 Screenshots
Playstation 2 Screenshots
Similar Games
Viewing games 1 to 10