Harry Potter And The Chamber of Secrets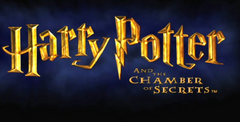 a game by
Eurocom
Genre:
Action
Platforms:

GameCube,

Playstation 2,

GameBoy Color,

GBA
Editor Rating:

8

/

10

, based on

2

reviews
User Rating:

7.3

/

10

-

14

votes
Rate this game:
See also:
Harry Potter Games
Return to Hogwarts for a second term of magical mayhem as wizarding wunderkind Harry Potter. This Zelda-inspired adventure closely follows the thrilling plot of the superior second book/movie, so it should easily best last year's ho-hum PSi romp. If you're hip to Harry's scene, you'll scream with glee for the improved Quidditch play, magic duels and gnome-bashing minigames. Of course, the labyrinthine castle corridors, bizarre magical sweets and unforgettable characters from the first game all reappear as well, so get ready for another Harry Potter-packed holiday season.
Download Harry Potter And The Chamber of Secrets
Game Reviews
I kept saying to myself...just wait 'til next year, then they'll see." That's how EA product manager David Lee consoled himself last fall as the mediocre reviews poured in for his game Harry Potter and the Sorcerer's Stone. This November, just in time for the next Potter feature film, comes his chance at redemption: Harry Potter and the Chamber of Secrets.
So where exactly did the last game go wrong, and how is EA planning on making it right in the sequel? Well first of all, a lot more gamers will get the chance to play it. Unlike the PSi-only Sorcerer's Stone, Secrets' development began early enough that all three of the next-gen home consoles will be getting a version of the game simultaneously.
And where last year's Potter game had to construct an action-adventure from the mostly action-free first book and movie, the plot of Chamber lends itself more easily to a game. All of the cool scenes are here, such as Harry and Ron hijacking the flying car, fighting the creepy Aragog spider-monsters, and exploring the forbidden Chamber of Secrets. The story's darker, horror-tinged elements also afford the game a sense of spooky dread that helps propel it onward. Something's turning Harry's classmates into stone, and it's your job to solve the mystery. Those of you who've read the book know just how well the dramatic climax could work as a game--just wait until you see it here.
Harry's gameplay draws heavy inspiration from the Nintendo 64 Zelda titles: He walks, runs and auto-jumps just like Link and can lock onto enemies to attack with magic. Speaking of which, Harry learns a variety of spiffy spells as he progresses through the game, each with different casting methods. For example, the normal attack spell, Flippendo, can be fired as small blasts by tapping the button or charged up for one massive bolt by holding the button down. Hold it for too long, however, and the charged spell will blow up in Harry's face in a seriously embarrassing Wile E. Coyote fashion. Harry's magic gets quite a workout too, since the developers have stuffed the game with a gaggle of challenging boss encounters.
Of course, Harry's not always pelting monsters with oddly named spells. Sometimes, he has to actually do stuff at the Hogwarts School of Witchcraft and Wizardry. Aside from attending classes to learn spells and playing on the Quiddtich team (see sidebar), Harry also joins the Dueling Club. Here, he faces off against other students in dramatic, one-on-one magical battles. Mastering spell deflection and timing is invaluable for actual combat, so you can sneak up to the roof of Hogwarts late at night and practice dueling to your heart's content.
Graphically, every location in the game looks just like the ornate, imaginative sets from the film. Meandering through the bizarre shops in Diagon Alley and catacombs beneath Hogwarts truly brings the Harry Potter experience to life. The audio isn't quite so faithful, as most of the actual voice actors from the film couldn't squeeze in time for the game. The sound-alikes perform admirably, though.
EA claims that Harry Potter has already become its largest worldwide brand, and that popularity stemmed from last year's slightly disappointing lineup. Now that they've got a much more respectable game coming to the next-gen consoles, we expect the Potter franchise to take off like a Nimbus 2000 (that's a flying broom to all non-magic users). Oh, by the way, the PSi, GBA and even GBC will be getting Secrets in November as well.
GameBoy Color Screenshots
Playstation 2 Screenshots
Similar Games
Viewing games 1 to 10