Job Simulator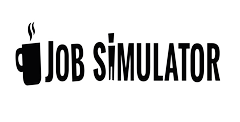 Click the "Install Game" button to initiate the free file download and get compact download launcher. Locate the executable file in your local folder and begin the launcher to install your desired game.
Job Simulator is a virtual reality game that takes place in the near-future, when robots have completely dominated the human workforce. Playing as a visitor in a museum run by robots, you'll experience four unique human jobs, spread out across dozens of small mini-games. Guided by the museum curator, you'll spend a handful of hilarious hours filling in at four different human jobs. As you experience the ins and outs of human life, you'll learn some fun (if factually inaccurate) stats about our workforce. By offering players easy-to-understand gameplay with a dose of colorful visuals and funny characters, Job Simulator is easily one of the best VR games you can buy.
Main Game Features
4 occupations presented in bite-sized activities
Offbeat humor and dialogue
Highly replayable levels
Story
Job Simulator takes place in the futuristic year of 2050, in a reality where robots are the only working-class left. Playing as a nameless robot, you can visit four unique virtual exhibits, where you step into the shoes of a common human worker.
Standing behind the counter or desk at your chosen workplace, you'll complete a variety of tasks deemed appropriate for your position. Throughout each of the jobs, other robots act as your co-workers and management, providing some context for the life of an employee.
Apart from some funny jokes and a few gags, the story content in Job Simulator is simply the window-dressing for the entertaining VR gameplay. While the jobs themselves feel very distinct from each other, there's nothing exceptionally unique about Job Simulator's narrative. Don't expect some riveting sci-fi tale about the downfall of mankind, as this is simply not The Terminator franchise. Instead, you should expect a leisurely adventure with a few chuckles along the way.
Gameplay
In terms of raw gameplay mechanics, there's not a ton of complexity to Job Simulator. Regardless of the job you're performing, your character has limited mobility and function. You can push, pull, and interact with nearly every item and piece of scenery you can touch, but you won't be exploring any levels or slashing any swords. Instead, Job Simulator is more about tinkering with the tools in front of you per your instruction, while simultaneously screwing around and having fun.
There are four jobs to complete, placing you in the shoes of a chef, a cashier, a car mechanic, and an office worker. While the controls stay the same throughout, each job will have you performing dozens of small actions.
For example, working as a cashier will see you scanning lottery tickets, heating up hotdogs, and counting change. As the office worker, you'll have to make some hiring decisions, check your email, and even do a bit of chatting by the water cooler. Generally speaking, the gameplay in Job Simulator is never challenging, offering a relaxed and silly trip through time.
8
Job Simulator might be a bit short and lack depth in both its story and gameplay, but the gleeful attitude and funny writing makes up for it. Whether you're a seasoned gamer or a complete newbie, Job Simulator has easy-to-learn controls and offers simplistic activities that are entertaining as can be. If you're new to the world of virtual reality, Job Simulator is also a great game for getting your "VR legs", as the experience is slow-paced and easily played in short bursts. By offering a slew of fun interactions and silly objectives, Job Simulator ends up being an irreverent and offbeat adventure that's totally worth experiencing.
Pros
Hilarious writing
Great concept
Lots of interactivity
Cons
Not enough levels
Gameplay lacks depth
Download Job Simulator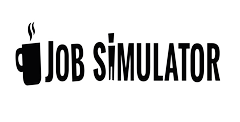 System requirements:
PC compatible
Operating systems: Windows 10/Windows 8/Windows 7/2000/Vista/WinXP
Game Reviews
Job Simulator is a comedic and aloof virtual reality game where you work at seemingly normal jobs, viewed through the eyes of a futuristic species of robots. You'll take up the job of a convenience store clerk, a mechanic, and several more as you explore the idle life of humans. The game is broken up into easy-to-understand segments, which challenge you to perform simple tasks to get the job done. With an ample amount of humor, fun gameplay, and a nice amount of replayability, Job Simulator establishes itself as a must-play title for any new VR owner.
Main Game Features
4 unique jobs to complete
Hilarious voice lines
Unlockable gameplay modifiers
Story
In Job Simulator, you play as a robot visiting the museum of humanity, run by goofy-looking robots with a hefty interest in the now-extinct human race. Along with your tour guide, you can check out four unique jobs, experiencing everyday life as a human across a variety of roles. Told from the perspective of the ignorant but excitable robots, you get to live out your wildest fantasies of working in an office, checking out customers at a gas station, and more. While the story isn't the focal part of Job Simulator, there's a lot of humor and heart to be found. The characters are voiced well, with effective writing full of laugh-out-loud moments. As the robots attempt to simulate human life, they make some silly mistakes, resulting in plenty of gags and goofs. Job Simulator might not be the strongest narrative in VR gaming, but it's still lighthearted and enjoyable.
Gameplay
If there's one thing that Job Simulator excels at, it's variety. There are four main jobs to experience, including a cashier, a car mechanic, a standard desk job, and a restaurant cook. Each job is broken up into bite-sized tasks, encouraging the player to interact with their environment and figure out the next step. For example, the office worker job will see you logging onto the internet, using a printer, eating a doughnut, and much more. Alternatively, your life as a mechanic involves rotating tires, changing headlights, and even decorating the dashboard. None of these tasks are designed to be tough, but instead offer the player a funny and laid-back playground to have fun in. Many of the tasks have multiple ways of completing them, so you'll never get a game over or fail a mission for being too curious. Once you've completed the four main jobs, you unlock extra gameplay modifiers that shake up the experience. These include an anti-gravity mode, tiny object mode, and more.
Conclusion
With its irreverent comedy, off-beat depictions of everyday life, and a surprisingly satisfying gameplay loop, Job Simulator stays fun throughout the entire experience. If anything, Job Simulator is a bit too short, and can easily be completed in a few hours.
8
That said, you can spend as long as you want tinkering and experimenting within each job space, so curious minds will find a bit more to do. If you're new to virtual reality and you want a polished, fun game that's not too complex, Job Simulator is an excellent choice.
Pros:
Effective jokes
Fun and interactive level design
Great for new VR owners
Cons:
Occasional tracking issues
Not enough levels
Simplistic gameplay
Similar Games
Viewing games 1 to 8