Pippa Funnell: Take the Reins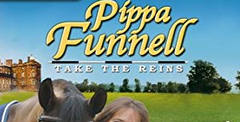 Click the "Install Game" button to initiate the free file download and get compact download launcher. Locate the executable file in your local folder and begin the launcher to install your desired game.
Pippa Funnell: Take the Reins might very well be the strangest name for a game I have ever come across. Ok, so full disclosure here, you could write what I know about horses, horse care, and horse riding on the back of a postage stamp. Still, I was willing to give the one the old college try. It might be worth noting that this game was re-released later as Horsez and is part of a long-running series now.
I Know What You Did Last Summer
You know how I just said that Pippa Funnell: Take the Reins had a strange name? Well, the story of the game is even weirder. You play as a girl called Jade who is going to this very prestigious riding school in Scotland.
The cast of characters is so odd, it is like the people making the game wanted to be like a Harry Potter or like I Know What You Did Last Summer which is ok, but there is no fantasy stuff or any kind of horror stuff. It is like a teenage drama thing without the actual drama! Add to this the very dated visuals and you have an overall strange story and presentation that is very unappealing.
Cleaning Up Horse Poop
The gameplay on offer here is best described as a pet sim. Hey, I have played some very fun pet sim games over the years, but this is not one of them. I will admit that I do feel like they tried with Pippa Funnell: Take the Reins to give players a lot to do. You are basically working towards making yourself and your horse great at three different horse events. These are dressage, showjumping, and cross country.
To do this you need to train your horse and you do this by doing various activities. You have to care for your horse, train your horse, ride your horse and so on. There really is a lot to do with your horse and if you are into horse riding then you may enjoy this. There are also other activities where you can change your clothes, make friends become popular and so on. It is this aspect that makes the game feel like it wants to be some kind of Disney Channel after school special, but they never quite go all-in with it.
5
I have to be honest and say that Pippa Funnell: Take the Reins is a game that is not for me at all. The whole game from the name to the visuals, to the story, was just super weird to me. Perhaps if I were a pre-teen or a teenage girl or even if I had the slightest interest in horses, I might have gotten more out of this. With that being said. If you are into horses or a teenage girl then perhaps there is something here that you may find fun.
Pros:
There are lots of ways to bond with your horses
Plenty of horses to choose from
It is endorsed by Pippa Funnell (even though I have no clue who she is!)
Lots of teenager activities to do
You can customize your character
Cons:
The game is just very, very dull
These visuals looked outdated 20 years ago!
Download Pippa Funnell: Take the Reins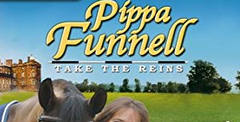 System requirements:
PC compatible
Operating systems: Windows 10/Windows 8/Windows 7/2000/Vista/WinXP
Game Reviews
You Can Tell a game's going to be dire when the publisher refuses to send you a copy: Pippa Funnell's second outing on PC is just such an example. You play as a young girl who's been sent to a posh horsey college, where your arrival is welcomed with a dodgy cut-scene akin to a Harry Potter movie, but without any of the characters, settings or magic that makes that series entertaining.
Once you've settled in, the game revolves around filling your day with four activities. These mostly fall into two camps: teeth-gnashingly bad adventure-style proceedings with dated 3D environments and a bunch of annoying teenagers who look like they've just been sacked from a low-budget teen horror flick; and actual horse-based content such as grooming your horse, practising one of the events on offer and shovelling shit. While the riding events provide simple entertainment, the other tasks are so tedious and repetitive, you soon find yourself wondering if you could make a profit from turning your precious nag into Pedigree Chum and Superglue.
The game also squeezes in other girly content of dubious value such as taking photos, buying clothes and making yourself more popular, thus providing extra squealing content for the young lady of today without adding anything to the gameplay.
If you're looking to buy a present for a daughter or niece, you're much better off with Beyond Good & Evil or Psychonauts. Or you could just cough up the cash for an iPod Nano. After all, I bet the Bratz have one.
See Also
Viewing games 1 to 8