Pokémon Puzzle League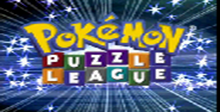 Click the "Install Game" button to initiate the free file download and get compact download launcher. Locate the executable file in your local folder and begin the launcher to install your desired game.
Those Pokemon have got their tentacles into practically every market and now they're taking it one step further with Pokemon Puzzle League. The gameplay is like most other puzzlers: simple! Basically the idea is to match three blocks of the same colour to make them disappear. Of course the complexity comes when you start going for combos but the fun and basic gameplay should make this game a sure fire hit with Pokemon fans of all ages.
First Impressions
Come on... read between the lines! Pokemon Puzzle League is nothing more than a variation on Tetris, only with Pokemon graphics slapped on it! We've all seen the game before, but once you start playing you just get hooked all over again! The game is particularly playable as a two-player battle.
Download Pokémon Puzzle League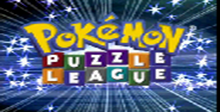 System requirements:
PC compatible
Operating systems: Windows 10/Windows 8/Windows 7/2000/Vista/WinXP
Game Reviews
People say:
9
Forget the fact that this game's got the Pokemon characters and is a nearly spot-on update of the SNES puzzle classic Tetris Attack (a game so addictive that at one time it was banned from our offices). Quite simply, this is the best two-player puzzle game I've ever played. It takes really mastering the game to understand the nuances of the combo and chain system. But watching two experienced players face-off can be a knuckle-biting experience. Even if you're a beginner, it's an incredibly addictive game. The only flaw in this new version are the annoyingly repetitive voice samples ("I'm gonna win!"). There's an option to turn off all sound effects, but that includes voices, Pokemon sounds and the sounds that indicate a particularly devastating combo is headed your way (which is usually the only way you know you're about to be hit with a huge amount of garbage blocks). The 3D mode is a nice addition, although there's almost too much to think about and you can lose track of how close you are to the top very easily. It's too bad it doesn't utilize its association with Pokemon more; perhaps it could've used a mode where you "captured" more Pokemon to use. Puzzle League's got an amazing amount of options and modes--you can even edit your own puzzles and save them to challenge others. To ignore this game because of its Pokemon facade would be a crime. Excellent work NST.
9
If you've never heard of Tetris Attack-the SNES game Puzzle League is based on--you should buy this game without question. It's one of the most ingenious, original and downright addictive puzzle games since, well, the original Tetris itself. Puzzle League does a nice job of updating everything with the Pokemon license--fans will appreciate all the characters Nintendo packed in from the cartoon, plus the voices and even some FMV. There's a great complement of different modes as welt, including the all-important training (for newbies) and puzzle mode (for single-player). But beware: the two-player vs. game may take over your life.
9
I've learned two things: I really missed a lot when I missed Tetris Attack on the SNES and CJ can kick my butt any day of the week and twice on Sunday. This game is great, almost on the same level as Tetris DX when it comes to sheer fun. Of course, the battle mode is the only way to play if you want the full experience. Using the popular characters and their associated Pokemon from the hit show to revive a classic like this is a stroke of pure genius, though I could do with a bit more variety on the voices. I swear I've heard Ash say, "I'm gonna win!" about a thousand times, and that was just today. No matter, this review only requires three words: Buy this now.
Nintendo 64/N64 Screenshots
Similar Games
Viewing games 1 to 4