Pokémon Puzzle League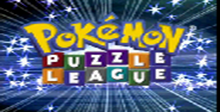 Those Pokemon have got their tentacles into practically every market and now they're taking it one step further with Pokemon Puzzle League. The gameplay is like most other puzzlers: simple! Basically the idea is to match three blocks of the same colour to make them disappear. Of course the complexity comes when you start going for combos but the fun and basic gameplay should make this game a sure fire hit with Pokemon fans of all ages.
First Impressions
Come on... read between the lines! Pokemon Puzzle League is nothing more than a variation on Tetris, only with Pokemon graphics slapped on it! We've all seen the game before, but once you start playing you just get hooked all over again! The game is particularly playable as a two-player battle.
Download Pokémon Puzzle League
Nintendo 64/N64 Screenshots
Similar Games
Viewing games 1 to 4