Sims 4 Cats and Dogs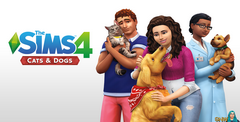 Download Sims 4: Cats and Dogs and fill your virtual world with furry friends! Create, customize, and care for your pets while experiencing the joys and challenges of pet ownership. Unleash your love for animals and play now!
Sims 4: Cats & Dogs is an expansion pack for the ever popular game, The Sims 4. The expansion pack adds the joy of pet ownership to the game, along with many of the same intricacies as with real pets. It also has a few features that make virtual pet ownership even more fun.
The game starts out by letting you choose from hundreds of different breeds of dogs and cats, as well as the option to hand paint your pet with the designs of your choice. If you're not much of an artist but still want custom markings, you can change it up by using stencils to help make your markings look just right. This feature alone is enough to spend hours of your time, but of course, there's more to pet ownership in The Sims than painting your pup.
Welcome to Brindleton Bay
The expansion adds a new neighborhood to the Sims world, "Brindleton Bay." This neighborhood is pet central, with plenty of opportunities for your Sims to interact with their pets. The new neighborhood has dog parks to take your pet to, a new career option for your sims (veterinarian) and allows you to interact with your pet in different ways. Pets can't be micromanaged like Sims can, but they do respond as a typical pet might to basic care. This leads to a minor problem in game play. Although pets have needs much like real pets, the only way to find out what the pet needs is essentially to go up and ask it.
Without a clear need bar, it can quickly become tedious to follow the pet around and attempt to balance care. Other minor glitches that sometimes occur in the game including dogs with a strong "fear" personality being afraid of absolutely everything in the home, and animals panicking in the vet and never calming down.
Other features
The new veterinarian job also gives your sims new things to do. The new career allows you to match up the right medicine for sick pets, provide surgeries to pets through a "surgery machine" and other fun mini games.
If you already have the Back to Work expansion, you may not find this as spectacular as some of the other career options, but if you don't, you'll be delighted by operating the vet clinic. The new expansion also adds thousands of new items to the game, making it one of the most valuable expansions available.
8
It's hard to imagine a life simulator without pets in it. The Sims 4: Cats & Dogs fills in that missing piece. Beyond just having pets to interact with, this expansion adds a lot to the game with its mini games, new items, and new locations. Although there are some flaws here and there, overall this expansion does a great job of filling in the gaps and providing your sim people the joy of pet ownership.
Pros:
Lots of new items added
Very detailed pet editor
Plenty of game play options
Cons:
Download Sims 4 Cats and Dogs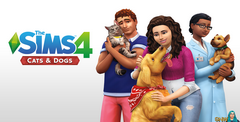 System requirements:
PC compatible
Operating systems: Windows 10/Windows 8/Windows 7/2000/Vista/WinXP
See Also
Viewing games 1 to 8