Stunt Race FX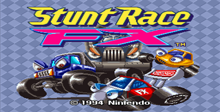 Click the "Install Game" button to initiate the free file download and get compact download launcher. Locate the executable file in your local folder and begin the launcher to install your desired game.
Nintendo's long-awaited FX racing game has finally appeared. Does it take the checkered flag over Sega's high-profile Virtua Racing? Nope. But Stunt Race FX doesn't really try to win that race -- it only tries to charm you, and in that, it pretty much succeeds.
Slow, Speed Racer, Slow!
In some ways, Stunt Race FX is better than Sega's VR. You get more tracks (l 6) and three different vehicles (including a wheelie-popping four-wheel- drive truck). The racing presents you with challenges you'll never see in VR, such as bouncy ramps and other stunt driving. And when you wreck your car, it flies apart and gradually reassembles itself while you still move, an interesting effect that you won't soon tire of.
ProTip: Want an extra challenge? Hit Select to zoom in behind your car or into the cockpit for a rapid ride. (Hey, that billboard looks familiar!)
It's all cute, but you can't have too much fun because the controls get in your way. Unresponsive and ineffective, they lead to lots of fun wrecks and lots of poor lap times. Our advice: Just hook up with a pal for the two-player race and beat each other's brains out on the track without worrying about setting a course record.
Stunt Fox FX
The graphics are entertaining but not dazzling. You'll see a real resemblance to last year's Star Fox, which isn't surprising since Stunt Race uses a revised Super FX chip and the same kind of polygon-based graphics seen in that space shooter. Stunt Race isn't as smooth as VR on the Genesis, but you do get a much wider variety of backgrounds and racing conditions, including water-logged tracks and darkened tunnels. You can also instantly zoom your views from an aerial perspective to right inside the cockpit.
The best part of the game is the sound. While the music may be too cartoonish for hard rockers, at least it changes for each level, and you hear great revving engines and squealing tires.
Stunt and Deliver
Okay, so it's not a serious racing game, but it doesn't try for that, which you'll know right away from the eyeball headlights. It still delivers a good time, especially if you're not old enough to drive.
Don't slam on the brakes if you're about to hit the wall. Ease toward the track and ride out the collision.
Stay close to competitors. You'll either bump them out of the way, or they might even bump you farther ahead!
Download Stunt Race FX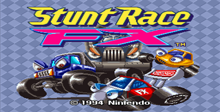 System requirements:
PC compatible
Operating systems: Windows 10/Windows 8/Windows 7/2000/Vista/WinXP
Pentium II (or equivalent) 266MHz (500MHz recommended), RAM: 64MB (128MB recommended), DirectX v8.0a or later must be installed
Game Reviews
MANUFACTURER--NINTENDO
CARTRIDGE SIZE--8 meg
RELEASE DATE--July
# OF PLAYERS--1 or 2
HONK! HONK! GET THE #@$ OFF THE @$# ROAD!!!
Hey sports fans! Get ready to see the new FX chip at work. Stunt Race FX has great new features that take advantage of the FX chip.
First of all, the rotation and scrolling of the graphics are too cool to be missed. Fast-paced racing will keep your heart pumping around those sharp corners, and your stomach creeping up on upcoming hills. The sounds are decent; you can hear every shriek of your tires on those S-turns. Even hear the cars from behind pacing your distance. If you want a racing game with a comical twist, this one's for you. You've got to see it to believe it!
Talk about some stunt racing, this game packs in a feature that enables you to race through stunt tracks. The tracks can be crazy, with many turns and hills for you to ride on. Collect as many stars as you can while avoiding the obstacles in your way. If you finish early and have collected a lot of stars, you may set a new track record. So hold onto your seat, it's going to be a bumpy ride.
Machine: SNES
Manufacturer: Nintendo of America.
A good-looking, fast-moving racing game that will take time learning how to control. All the practice will be worth it. when you get to race those tracks behind the wheel of an 18-wheeler! Bum rubber!
Machine: SNES;
Manufacturer: Nintendo of America;
Nintendo has a unique way of making people eat their words. Take Stunt Race FX, for example. When Stunt Race was originally shown at last year's summer CES in Chicago, the game was sluggish and incomplete. Stunts was all but forgotten at the latest CES - largely due to the 32-meg monkey a few feet away. Then, a week ago, after a whole year of redesign and hardware refinement (which included an upgraded version of the Super FX chip that runs 30% faster than its predecessor), a final version of Stunt Race FX graced my desk.
At first glance Stunt Race FX hadn't changed much; the controls were still difficult to use and the cartoony, unrealistic cars were still as unappetizing as they were at CES. So, just to be fair, I took the game home over the weekend to get better acquainted with it. When I returned to work on Monday morning, I ate a whole lot of humble pie. This isn't just another polygon-laden video game, this is full throttle, heart stopping excitement!
Like Nintendo's previous ventures into the driving category (i.e. Mario Kart and F-Zero), it takes more than just the gas button and control pad to drive the car. Because the cars are so difficult to learn to drive, it's easy to get frustrated before the fun even begins. However, after learning the controls and the nuances of Stunt Race FX, the game opens up into an incredible ride.
If Virtua had attitude, then Stunt Race FX has it beat in personality and playability. It's the difference between playing a game and being part of it. True, Stunt Race FX has difficult controls - but stay with it because it's worth it.
Manufacturer: NINTENDO
# of players: 1 OR 2
Difficulty: MODERATE
Available: JULY 1994
No. of Levels: 20+
Theme: RACING
Ever since StarFox came out for the Super NES, people have been screaming for a new Super FX game. Now it becomes a reality with the introduction of Stunt Race FX. Originally titled FX Trax, this cart takes racing to a new height with the Super FX. First, the cars (which look like goofy cartoons) are made up of different sprites; the wheels, eyes, and body are segmented and separate from each other. There are also quite a few races you can try out for times and try to beat the previous records - similar to the style of F-Zero. There are also stunt tracks that you can try your skills on. 3-D racing at its best!
# of players: 1 OR 2
Difficulty: AVERAGE
Available: 2ND QTR. '94
Theme: Racing
After the incredible success of last year's smash hit StarFox, Nintendo has unveiled their latest FX Chip masterpiece. Stunt Race FX is the next step in a technological progression toward unparalleled realism in home video games.
Driven by a new and vastly improved chip called the FX2, Stunt Race FX is a sight to behold. The FX2 chip handles the graphic challenges presented to it by using the latest RISC technology. This architecture allows the chip to enhance the graphical definition of the game in a way that until recently, was unheard of.
There are four different modes of play: Free, Stunt, Battle and Speed. Each of these modes presents a set of new objectives for the players. In addition, for the first time in an FX, game players are able to play two-players simultaneously! This is a tremendously cool option which always improves the replay value of any arid all games.
Keep your eyes peeled for this one folks! Stunt Race FX promises to be one of the most anticipated games of '94!
SNES/Super Nintendo/Super Famicom Screenshots