Supercar Street Challenge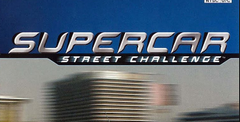 Click the "Install Game" button to initiate the free file download and get compact download launcher. Locate the executable file in your local folder and begin the launcher to install your desired game.
Another day, another driving game, this one following the current trend of setting the action within the confines of an actual city. However, Supercar Street Challenge features not just one city, but a veritable septet, namely London, Los Angeles, Rome, Turin, Munich, Monaco, and Paris. So are they all perfectly replicated? I don't know, I've never been to Turin. The rest bear a passable resemblance to their real life counterparts though, taking the usual path of throwing the major landmarks around with gay abandon. The obvious reference point is Metropolis Street Racer on the Dreamcast, although it has to be said that this comes nowhere near the subtlety and originality of that game. The racing is an uninspiring affair, with very little attention seemingly paid to the handling of the cars. It's a turgid experience, with no real sense of speed or excitement.
As well as the default vehicles, there's an option to design your own car, but it's fairly superficial and does little to lift the game out of the mire. Supercar Street Challenges just about playable, and while it may offer some appeal to a first time gamer, ultimately you can't help wishing they hadn't bothered.
Download Supercar Street Challenge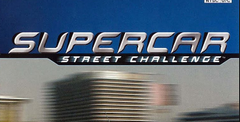 System requirements:
PC compatible
Operating systems: Windows 10/Windows 8/Windows 7/2000/Vista/WinXP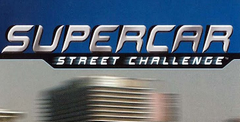 System requirements:
PC compatible
Operating systems: Windows 10/Windows 8/Windows 7/2000/Vista/WinXP
Game Reviews
Overview
Who hasn't fantasized about racing around on streets like the local pretty boy, racing around in cool cars and giving your opponents nothing but taillights and exhaust? Only about five times a day since my conception. Problems abound; I'm short on talent, Mavericks only beat junkier Mavericks, and my pretty boy looks aren't too pretty. Supercar Street Challenge solves two of the three problems. You guess which two.
Sampling the new generation of supercars in some of the most exotic locations in the world (and Los Angeles) sounds like a good foundation for a game. You've seen pictures of the speedy Saleen S7, with its 7.0 liter V-8 and athletic bodywork; how about driving it to its limits against rivals in equally fast cars. Monte Carlo, Monaco offers high stakes gambling and sunny beaches that line the Mediterranean. How about if we drive like Bo and Luke Duke down its streets and enjoy the fancy scenery. You can do that too. Cars you'll never be able to drive, places you'll probably never go to, all in the comfort of your mom's basement.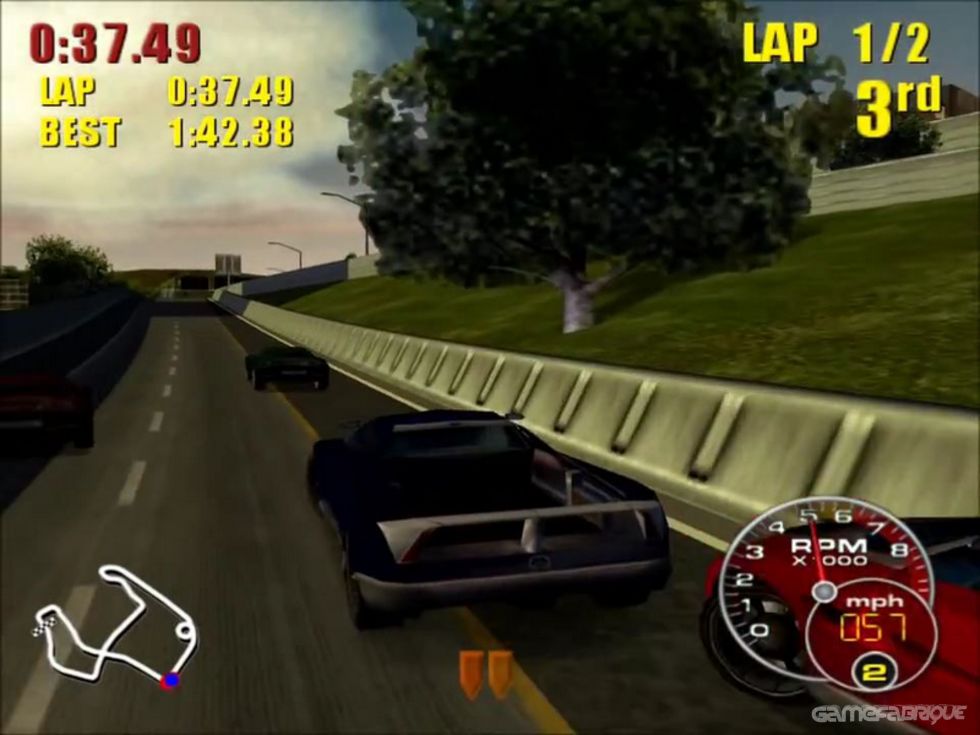 Gameplay, Controls, Interface
Supercar Street Challenge was a difficult game to like. The premise isn't original -- it was barely existent for that matter; race around city streets in cool cars and unlock more of both. Pathetically, there is no storyline or direction to speak of. The game, ultimately, is poorly designed and terribly executed. The game structure is typical; you can run a quick race, time trial or a championship series. When you opt for the championship series, you're offered the choice of designer cup or manufacturers cup. The first (designer cup) is the arena in which you race a car you have customized in the styling studio. The second (manufacturers cup) you simply use a stock game car as opposed to a customizable car. When choosing the manufacturers cup, you must next pick a category drift, grip or balance which dictates the models of cars for you'll be racing. If you place well enough in the races, you unlock faster cars and more tracks. Everything you unlock can also be used in the other game modes. Again, fine, though unoriginal.
Exaktent designed some shortcuts into SSC. They're somewhat novel to explore and can be used to gain an advantage while racing, though that typically gets tiresome in a short period of time. The game screen has all the vital information one needs, like speedometer, tachometer, track map, lap timer and so on. You can, to an extent, control what appears on your "HUD"; so if you're a minimalist, you can just show what you think is critical. One on-screen feature that was helpful (though unrealistic) was the opponent whereabouts indicator or whatever it's called. It takes the place of the rear view mirror by placing little pointers at the bottom or your screen. If an opponent is close behind you on your left an orange arrow appears on the bottom left of your screen. As they get even closer, it turns more reddish in hue and as you're being passed, it kind of crawls up the side of your screen until the car is actually in view. It's easier than a rear view mirror, but unrealistic.
I can only conclude that this game is a port of Night Driver because the driving dynamics are laughable. Activision's website claims "state-of-the-art" game engine. Errrr... okay. I suspect Activision substituted driving physics with some other natural science, maybe biology, because this game is crap. It's like a first year programming exercise for Computer Science curriculum. No sense of speed or realism is created at all. The only reason you will suspect you're going faster is that the geometric shapes that substitute for buildings slide down your screen faster. You point your car down the street and press the accelerator. If you fail to slow at all for turns, you'll probably still make the turn. You can make turns at absurdly fast speeds (so says the speedometer). Turn right going 120mph; okay, no problem. Doesn't look that fast anyway so maybe the speedometer just needed recalibrating (either that, or I'm racing in Canada and those are kilometers). The first time I tried to apply the brakes, I thought I was using the emergency brake because I just skidded. Soon I realized you skid every time you apply the brakes. The problem is, of course, when you try to turn while skidding you encounter gross understeer and simply slide out of control. The only effective way to slow for a turn in SSC is while you're still going straight which lacks realism. Most games manage to create a sense of linear braking by "decelerating" harder the longer you depress the button. When braking, the obligatory skid marks appear behind your car but they are just two stripes that are darker gray than the street, no variation. Some of the better games create skid marks that are irregular and blotchy, depending on the driving surface or conditions. The reverse is true when driving in the rain. Light gray stripes trail your car representing, well, I don't know what exactly. They're just lighter.
Despite their exotic locations, the tracks are utterly uninspiring. No variance is designed into them; they just turn different directions and appear somewhat different. Some games have roads that crown, interactive roadsides (e.g. bushes you can squish) or run-off areas that have less traction. Not here though. You are either driving on the flat featureless street or running into something immovable because, of course, you're skidding. The cities represented aren't done justice either. You can drive by some known landmarks such as Staples Center in L.A. but that hardly makes the game worth playing.
The primary theme, of course, is driving supercars. The array of supercars here is an odd list indeed. The Saleen S7 is gaining familiarity in racing circles and among regular folk as a true American supercar and I've read about the Pagini Zonda and the Callaway C12, but the Vision CTEK K/2? What the hell is that!?! Though I shouldn't second-guess the rationale of choices, something occurred to me. Brands like Porsche, Ferrari, Lamborghini and the like are, more or less, household names as far as famous cars go. They probably exact a pretty hefty licensing fee or already have near exclusive agreements with other game developers or publishers. It was probably far less costly to use these concept cars than to write large checks to well known carmakers. Nothing more than speculative drivel on my part, you understand. One note of interest: when driving the Rinspeed E-Go, which is an open cockpit car, no driver was ever displayed. It's just a funny looking driverless car, skidding into things.
Reading the literature and press release, the coolest feature sounds like the ability to make your own supercar. I'll presume that it's quite a programming feat to allow a player to "Customize your own Supercar" and actually race it. It's somewhat misleading though. You start with a car, add pre-designed body elements and customize them along prescribed axis. For example, you mix car front 1 with car rear 3 add rear wing 2 and disfigure (sorry, "morph") them slightly to your liking. It was very limited in scope; typically only three choices for each body element and there aren't that many elements.
Graphics
Perhaps the low point of the game was the graphics. They were crude, unattractive and didn't convey information well. For example, the Rinspeed E-Go, which is a tumultuous relationship of curves and arches, is strangely angular in SSC. When you drive down a street, building fronts seem to be on the same plane and are very two dimensional. The cars don't have any body roll when making abrupt direction changes. At one point, I crashed into two buildings that were next to each other. I was literally butted up against then and noticed that one was in focus while the other appeared blurry. If you opt for the driving view that situates your car directly in front of you, there is peculiar Pole Position quality to it. The opening scene and cut -cenes were far better than the game. But they weren't very interesting.
Audio
I was playing SSC upstairs and kept hearing strange brappppy vacuumy sound I thought was outside my house. Couldn't even hazard a guess what it was. Go around another lap and I hear it again. Soon I realized it was the game generating an engine noise as I drove down a particular street. I suppose it's good that the game's audio reflects your surroundings on the track but the drawback is that it really didn't sound very car-like. As I mentioned above when you apply the brakes, you skid. When you skid, the skidding noise asserts itself but doesn't fluctuate depending on road surface or driving conditions. Different engines did generate different noises but none to impressive. Like the graphics, the sound didn't convey any useful information. The audio was on par for the game as a whole. I don't even recall music, it was that bad.
Bottom Line
Creating a good racing game is like being given the task of making water wetter. Titles abound and all the great ones are household names. The Need for Speeds, the innumerable Formula 1 sims, the worshipped Gran Turismo series and NASCAR June 2001, soon followed by NASCAR July 2001 which barely ships before NASCAR August 2001 is ready; and they're all pretty good to boot. To stand out in this field, you not only have to have KISS's make-up but Led Zeppelin's talent. A tall order to fill. Supercar Street Challenge fails pretty dramatically on several counts. To summarize; don't buy this. In fact, I wouldn't accept it as a gift.
Overview
In the world of racing games, we're normally treated to the rush of adrenaline in a NASCAR event, or the tight control and handling of a street vehicle on a brutal and twisted urban course. With the different approaches one can choose for a race title, there is usually little that is left out, as developers cover everything from Formula One racing to insane cabbies on the streets of New York. One subgenre of racing that has received little attention is concept car racing, which just happens to be the heart of Supercar Street Challenge. With high speed vehicles that feature bizarre, next generation car designs and performance measured to extreme tolerance,Supercar Street Challenge seeks to give you the best of the concept car performance, from the design and modification of your vehicle to the pure speed they put out once on the track.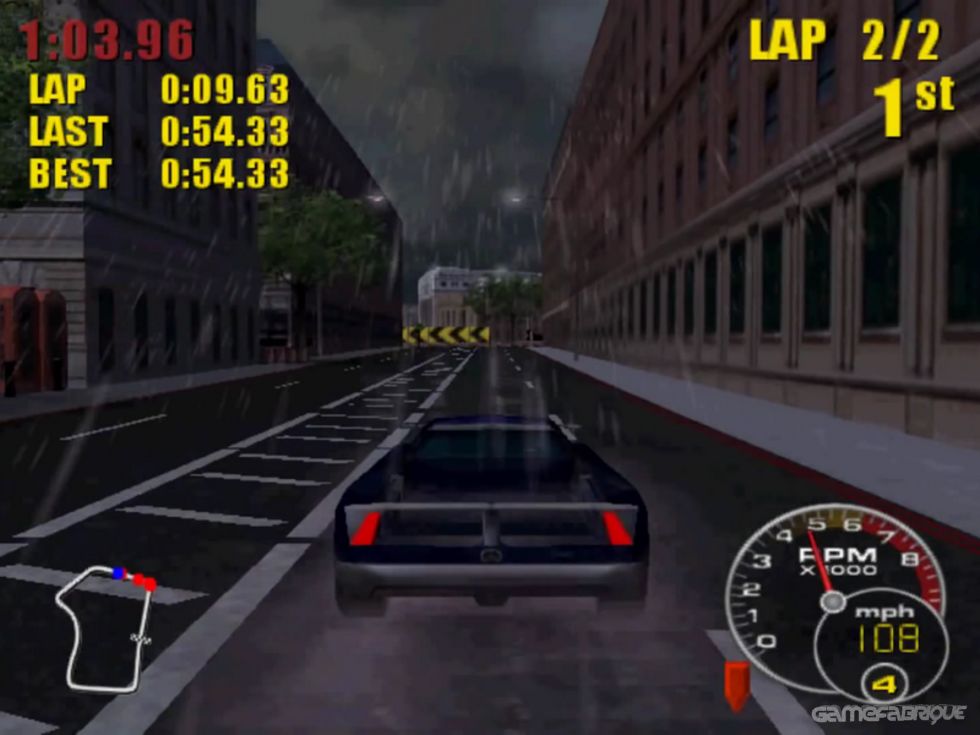 Gameplay, Controls, Interface
Exotic cars are the name of the game and Supercar Street Challenge is packed with them. Either concept, prototype, or just plain super, these cars represent some of the most advanced vehicle engineering techniques of our time. Designed to get ultimate performance with exquisite style, each car is practically a work of art in and of itself. You can pilot the Lotus Concept Vehicle M220, the Callaway C12, and even the Saleen S7. Most of these vehicles aren't famous to the layman, but they should be recognizable to a car aficionado.
To complement these designs, the styling studio lets you manage your vehicle, adjusting its many features. You can alter the body shape, front and back, to give the car a distinctive look, and even adjust the strength of the shape you're using. Pick a strange front end, give it 10% strength, and it will appear to be only slightly modified from stock. Increase that to 90%, and the front end will very closely resemble the replacement you've chosen, but will still have a slightly familiar look. This studio also lets you adjust other features like the color of the car, rim style, and even your headlights. While interesting, the studio is somewhat simplistic, only letting you modify Handling, Brakes, Acceleration, and Top Speed, and even then, only with an abstract point value. You can unlock more body styles as you progress through the championship, but never enough to make this feature really fun to muck around with, in this reviewer's opinion. Supercar Street Challenge lets you race single player, with Championship, Quick Race, and Time Attack modes, or a head-to-head multiplayer that lets you race split-screen against your friends. All of these are standard fare for the racing genre and they're all simple, A-B style races. There are seven different areas to race in, from Munich to London to Rome. Each area has a few different courses to race on and, while some of them have small shortcuts or secret areas, that doesn't stop them from being run of the mill.
The gameplay in SSC is somewhat unusual, especially if you're used to playing other, more realistic racing titles, like the Formula One simulators, or perhaps a NASCAR title. First, it plays in a very arcade-like style. You pretty much hit the gas and go, with little regard to regulating your speed around corners and the like. If you're used to more realisitic settings, like I was, this might catch you off guard, and you'll probably find it quite difficult to play until you adjust to the simple methods it uses. This wouldn't be horrible, if it weren't for a completely unrealistic physics model that doesn't even handle handbrake turns well. Second, there is next to no illusion of speed. I can live with it having absolutely no damage simulation (like I said, very arcade like) and poor physics that let you stop on a dime at 200mph, but when I race, I want to feel like I'm moving really fast. It's why Wipeout was cool, and it's one of the most important things I look for in a racer. It isn't here and I'm disappointed by that.
Graphics
Although it is for the PS2, I was suitably unimpressed with both the graphics and soundtrack of SSC. The cities, while of a decent racing size, usually cut off the field of vision, leaving much to the imagination. There's so little in the way of chances to deviate from the main course that we never get to see a significant part of the city. The overall quality of the graphics are poor, with a significant jagged edge problem, as well as simple and boring textures in the background and on the cars themselves. When it comes down to it, the design of the cars was the only thing I truly enjoyed, as these concept cars can get to looking pretty bizarre.
Audio
I wouldn't think much about the audio if I weren't reviewing this title, which I am, so I can't avoid it. The soundtrack features mostly techno, as is apt for a racing title, but suffers from lack of what might be considered coherent design talent. Without a doubt, this is yet another title that has poor background music. I must admit though, it's good for putting you to sleep.
Bottom Line
There's a lot of potential in a game like this. Just the idea of racing supercars is neat and could've stood as just as valid a gimmick as the Kudos system from Project Gotham Racing. Still, interesting ideas don't merit awards without the hard work needed to make a fun and interesting game. Supercar Street Challenge definitely falls flat on its face with simplistic, arcade style gameplay and a lack of decent execution. Most certainly a bargain bin title, I wouldn't even rent this one if I had the chance. Oh, one more thing. Bring a book the first time you sit down to play SSC, as this thing takes forever to load.
Playstation 2 Screenshots