Surf Ninjas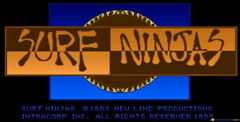 Click the "Install Game" button to initiate the free file download and get compact download launcher. Locate the executable file in your local folder and begin the launcher to install your desired game.
It's been a big sum-mer for movies with video game connections. First there was Super Mario Bros., then Jurassic Park and Last Action Hero. Now comes Surf Ninjas, a movie coming soon to a drive-in near you and Sega's newest side-scrolling martial arts fighter for the Game Gear. Unfortunately, these video ninjas can't keep up with the summer's big hitters.
Johnny on the Spot
Considering that surfing's in the title, you'd expect a little wave action somewhere. No way, dude. The closest you get to riding the surf is reading your hero's bio: He's Johnny McQuinn, a California surf rat who discovers he's related to royalty. You play as Prince Johnny, who unfortunately has been targeted by the power-mad Colonel Chi. Chi's assassins engage Johnny in six action-packed levels that go from a fancy restaurant to island jungles to Chi's fortress.
Graphics and sounds are up and down, respectively. Happily, the bright, crisp screens are pleasing, with large, detailed sprites. Sadly, the sounds are unimaginative, just pulsing music and splatting punches.
Slicin'and Dicin'
Johnny's no wimp. He knows the ninja skills of the ancients, everything from Double Spin Jumps to Jumping High Kicks. He also commands four weapons: Fire, armor-piercing Shurikens, Death Stars, and razor-edged Katana Swords. Unfortunately, the method for changing weapons is cumbersome. (Who wants to escape to an option screen in the heat of battle?)
Surf's Down
Like its title, the game promises more than it delivers. Johnny is capable of lots of ninja moves, but the controls aren't responsive enough to quickly call them forth. While you're punching buttons frantically to execute a Body Throw, an assassin is already punching you senseless.
Sega had a nifty idea of putting Came Gears on-screen as power-ups. Plus, it's clever having little brother Adam give hints via his own Game Gear, which he holds up for you to read. Unfortunately, his advice isn't always helpful. At times, he even tells you he has no advice. Gee, thanks a lot, bro.
Surf Ninjas' biggest drag is that the villains are too easy to beat. You might blast right through the early bosses without even knowing your moves and weapons yet. A great fighting game needs great fighting villains. (Imagine Street Fighter II with a bunch of baby bosses-ugh!)
Ninja Kids
Any game you can whip in under an hour on your first try might not be worth the investment, unless you're a beginner. Maybe that's Surf Ninjas' true audience. If so, the kids could do worse than this mildly entertaining game. But they could do a whole lot better, too.
ProTips:
Don't let Johnny linger behind obstacles. He'll be obscured from view and vulnerable to attack.
When your back's up against the edge of Level 2's dock, let your enemy come close and try to fling him over your head by pressing Button 1. When it works, he'll dive out of your life forever.
Download Surf Ninjas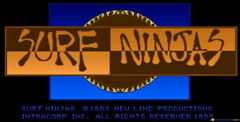 System requirements:
PC compatible
Operating systems: Windows 10/Windows 8/Windows 7/2000/Vista/WinXP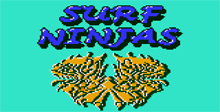 System requirements:
PC compatible
Operating systems: Windows 10/Windows 8/Windows 7/2000/Vista/WinXP
Similar Games
Viewing games 1 to 5