Fisti-Fluffs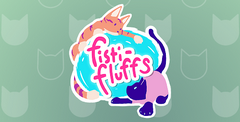 Click the "Install Game" button to initiate the free file download and get compact download launcher. Locate the executable file in your local folder and begin the launcher to install your desired game.
What do you call it when cats use violence to settle a dispute - Fisti-Fluffs! Yes, that sounds like a bad joke found on the back of a candy bar wrapper. But nope, Fisti-Fluffs is a game that brings a comical angle to cat conflict. And before anyone says it - no, there is no violence involved - just a lot of humorous wrestling.
So if cat arguments when the way of a royal rumble, you'd have Fisti-Fluffs. The game looks as ridiculous as the title - yet has some sort of heartwarming, comedy feel to it at the same time. You wonder if this game was made just to showcase cats if there is some revolutionary aspect added to the art of feline warfare. Whatever the case, we are prepared for Fisti-Fluffs!
Ready, Set, Meow!
The only way to explain Fisti-Fluffs is how the developers describe it. It's a fast-paced physics-based cat tussling action game where up to 4-cats will battle for dominance in a chosen arena. That battleground being a garden, kitchen, living room, or any other home location where you'd likely find a domestic cat.
The relief to the game is there isn't really any malice or concerning violence involved. Players will control their cats by jumping around, causing as much damage to other players and the surrounding assets as possible. It's one of those games that you can jump into - yet you may have to control your spasms when laughing at the output.
The screen is filled with a variety of cats doing ridiculous things. You can tell that the developers had the aim of just making a funny cat game - and yes, they have succeeded. Not much has really been put into any narrative, lore, or ultimate objectives. Fisti-Fluffs is a party game that provides some good old royal rumble fun - with cats!
Get 4 of your friends involved and watch the mayhem ensue with 6-different game modes, paired with cat customization to make sure you stand out amongst the rest. It's a silly game and enjoyable if you can enjoy a lighthearted approach to gaming. Without any story mode or clear-cut objectives, you probably won't be playing for hundreds of hours.
Feline Fumble
Fisti-Fluffs offers the rumble potential of Super Smash Bros. while delivering the silliness of Fall Guys: Ultimate Knockout. That would seem like a match made in heaven, right? Are you up for a casual gaming session with your friends? Nothing suits you more than this feline frolic. However, nobody will really feel a sense of achievement when seriously delving into gameplay.
8
It's a little too liberal with its controls, leaving no room to master the game to your advantage. While that may frustrate some more competitive gamers, many others will take joy in that fact. Fisti-Fluffs was made for players' pure enjoyment - and it accomplishes that feat. You can't really ask for much more!
Pros:
Hilarious and cute casual game
Cat customization is a lot of fun
Fully destructible environments bring another comedic edge to gameplay
Cons:
Doesn't go beyond the core rumble gameplay
Not much room for fully competitive battles
Download Fisti-Fluffs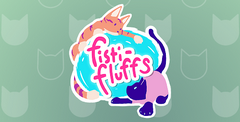 System requirements:
PC compatible
Operating systems: Windows 10/Windows 8/Windows 7/2000/Vista/WinXP
Game Reviews
Fisti-Fluffs is a colorful sports simulation game with fun battles involving pets.
They are not bored at home alone
When you enter the game, the first thing you do is create your own cat, or kitten. You can choose the color of fur, tail length, muzzle expression and decorate your character with cute clothes and accessories. Colorful drawn graphics and addictive beat-em-up gameplay make the project stand out among the similar games - Brutal: Paws of Fury, Very Very Valet and Overgrowth. But in the game there will be not only cats - rats, dogs, rabbits can join your team, or vice versa become your opponents.
Cat fights
The game was digitized the movements of real cats, so all the movements look very realistic. There are 5 modes available, where you can compete for the title of best cat in the area or defend your food bowl to the last drop of blood. What weapons can our furry friends use?
8
Anything you can get your clawed paw on! Toss, flail, and smash - before the owners get home!
Pros:
The game is great for party fun
No age limit
Destroyable environment
Colorful graphics and crazy atmosphere.
Cons:
If you are not a fan of animals, you might want to look for another version of the battle royale
Similar Games
Viewing games 1 to 7