Front Page Sports Ski Racing
Click the "Install Game" button to initiate the free file download and get compact download launcher. Locate the executable file in your local folder and begin the launcher to install your desired game.
a game by
Sierra
Platform:
PC
Editor Rating:

6

/

10

, based on

1

review
User Rating:

7.3

/

10

-

3

votes
Rate this game:
See also:
Winter Sports Games
Overview
For a long time I have been amazed at the courage it takes to put two boards on your feet and rush down a mountain at speeds of up to 90 mph. Talent and courage both play a big role, as these people take their lives in their hands every time they attempt to conquer a mountain. Imagine the rush of flying down a mountain at those speeds, trees looking like blurs, knowing that one slip could cost you an arm and a leg -- or as we have learned recently (Sonny Bono, Michael Kennedy), your life.
Front Page Sports, the up-and-coming sports division of Sierra, wants to bring that experience to your PC -- and with a few exceptions, they have done a very good job. Missing, of course are the bumps and bruises, as well as the high cost of keeping up your equipment, but as you read on you will see that there are a few more areas that need to be (and are being) addressed by Sierra.
Picabo Street -- the gold medal winner in the Nagano, Japan Olympics -- is your host, guide and teacher in this game, and she really adds life to the game (and help where help is needed). I don't think they could have picked a better host or teacher, as she is full of wisdom and encouragement. The advice she gives will greatly reduce the learning curve and will make this very hard game a better experience. So, with all that said, let's hit the slopes.
IMPORTANT: READ THE GRAPHICS SECTION FOR COMPATIBILITY ISSUES.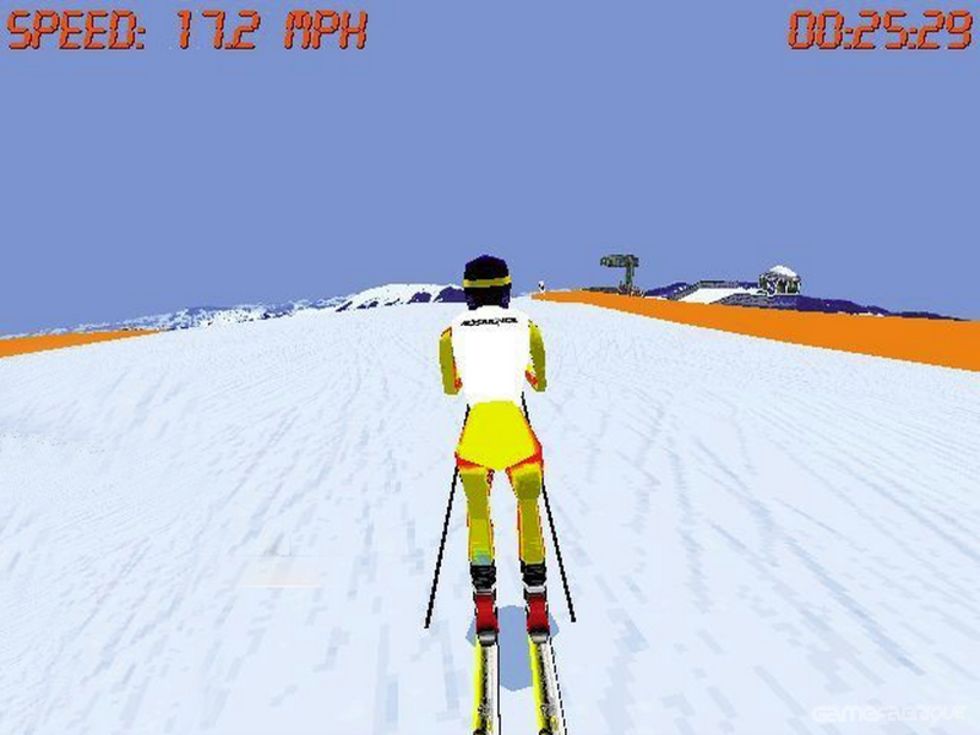 Gameplay
I will admit, although I have admired downhill racers from a distance, the only skiing I have tried myself is the ski machine at the local fitness center. I may not be the best authority on skiing, but after playing this game for two weeks I've gotten very good playing this game and feel that I have a better appreciation for the sport. I would put the learning curve on this game at around 3 hours, assuming you use the tutorial and follow the steps given by Picabo. Sound hard? It is. In fact, of all the games I've played recently, this one was the hardest. But once I mastered the controls on one setting, I found out that I could change the weather and such, and challenge myself again.
You are treated to videos of Picabo Street explaining the best and easiest way to make it down the hill alive. Mixed with her videos are videos of the game as you should see it. Use the tutorial; it is there for a reason. Pay attention to the verbal encouragements and the hints as you race; they will be useful later on. Well, now that you have mastered the tutorial to your liking, let's try to ski.
A feature that I hope will become a trend is all the advertising involved in this game. When you begin to create your own skier, you are are given a choice of male or female, and a selection of skis, boots, shirts, and helmets, all of which are top name brands. This only made this game seem more realistic for me. I put on my Dynamix snow suit, Rossignol 9x9.3 Dual Tec boots, used the Atomic ARC 24 220cm skis and got Scott to sponsor me. I had no idea if these would work together, but hey, I looked funky! As long as I'm shooting for the stars and pretending to be a great downhill racer, I might as well have the right equipment. It would have been nice, though, if I had to earn the sponsorship and the right to wear this equipment. I mean, starting off with the good stuff is cool, but if you are into skiing you know that you have to win frequently or at least place high to be offered this equipment. After you choose the Novice option for your skier, you are ready to rock.
You have choices of five different kinds of racing: Slalom, Giant Slalom, Super-G, Downhill and All-Around. You can control the difficulty of the courses by changing the weather and the snow conditions. Pretty cool. You also have six choices of courses to ski on: Whistler, Aspen Mountain, Vail, Mt. Bachelor, Val d'lsere and Garmisch. All of you who wish you could ski down these slopes now have the chance, if only a virtual one. The courses themselves vary in shape and size.
I used my Force Feedback Pro at first, but found that it was easier to turn off the effects and in some cases just use my trusty four-button game pad. Once I got the hang of it, though, the feedback option felt great, as I could feel the bumps and the air beneath my skis. Missing (?) from this game is Internet play and/or modem-to-modem play. What is here is the "Hotseat" challenge, where you can get up to seven of your friends on the same computer and the best skier is the one left sitting in front of the PC. Sounds okay to me, but the only skiers I know are miles away, and I am having a hard time getting them to come over and try it out. There should be an option for long-distance play. Or you can play solo and challenge yourself over and over again. It might sound boring to some, and in a way I did find it a little mundane, but just trying to beat my best time was a good enough thrill for me.
Graphics
Missing from this game is its advertised support for Rendition and Voodoo Rush cards. Apparently when the boxes were printed up, Sierra had every intention of including support for these cards, but because of delays on both cards they were not included. My gripe with this (perhaps along with many of you) is that Sierra has not made much of an effort to let consumers know this support is missing before they buy the game. Instead, you will be able to read about it in the readme file after you purchase the game. So consider this your warning. Make sure you contact Sierra's Web site under the bulletin board section to see if there are any known conflicts with your video card before you buy the game. If you don't check, you may run into road blocks. According to Sierra's support team, there is a patch in the works, but they will not comment on what the patch addresses or when it will be released.
If you can get it to work on your system, this game is graphically one of the best sports sims available. I used my backup card, an STB Velocity 128 in an AGP slot (the Diamond Viper 330 had some problems...), and the game worked great. With the exception of the cookie-cutter trees, the game really had the ski racing feel to it. The skiers looked very good, as your custom outfit, skis and helmet all are very clear and visible. I even noticed the bottom of my skis when I crashed into a wall. The multiple camera angles are both a plus and a distraction. You can choose the first-person shooter camera (ala Quake), an over-the-shoulder view, a view from 20 feet above your shoulder, or the TV cam, which bounces from angle to angle (not for the amateur). Also included is the VCR function, that lets you tape, save, and replay your favorite downhill runs. I used this feature to see why I kept falling in the same spot all the time, and it helped me remedy the situation.
As far as the courses, they all have a three-dimensional feel to them (except the trees and the mountains in the distance), and what looks like a bump actually feels like a bump. The skiers are not silly little stick figures; instead, they are polygon-type skiers and have very fluid movements to them. There are also little arrows in the air between the gates, letting you know where to ski. This is very helpful, because at very fast speeds the gates seem to blend together.
Audio
The audio is very well done, although it can be annoying when you are just starting out. I usually turn down the volume at first until I get warmed up, and then blast that sucker and listen to the jams as I fly.
Documentation
It is a good manual, but not as helpful as the actual tutorial. What was helpful was the included reference card.
System Requirements
Pentium 90, 16 MB RAM, 4X CD-ROM drive, mouse, Windows compatible sound card, 640x480, 256 colors, 75 MB hard drive space + 50 free after install.
I used a Pentium II 266, 64 MB RAM, 24X CD-ROM drive, Awe 64 sound card, 640x480 16 million, Force Feedback Pro, and an STB Velocity 128.
Bottom Line
I wish I would have been able to use all the bells and whistles advertised for this game, but I still had fun with what I had. If Sierra could have gotten these enhancements in on time, I would have had an even better experience. So keeping in mind all of you who can't play it yet, I only gave it a 75, but with a bullet. If Sierra addresses the problems, they have a winner on their hands, a sure-fire bet for newcomer of the year in the sports sim category. My conclusion? Wait and see what the patch addresses. Otherwise, stick your PC on the back porch, bundle it up, and get the only feel the game cannot simulate -- freezing cold temperatures.
Download Front Page Sports Ski Racing
System requirements:
PC compatible
Operating systems: Windows 10/Windows 8/Windows 7/2000/Vista/WinXP
Similar Games
Viewing games 1 to 11