Ghost Recon Breakpoint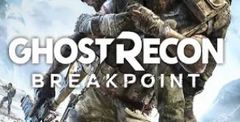 Download Ghost Recon Breakpoint and join the elite Ghosts in a fight for survival! Infiltrate the mysterious island of Auroa, confront the rogue Wolves, and use advanced tactics to complete your mission. Load up and play now!
In a way, Tom Clancy's Ghost Recon Breakpoint is the culmination of Ubisoft's modern open-world formula. There are lots of missions to tackle, some collectathon elements scattered here and there, and yet, it feels like you've played this game hundreds of times before.
That said, there's still lots of fun to be had in this third-person shooter, especially if this is your first foray into the Tom Clancy's Ghost Recon series. However, for veteran players, things might feel a bit too familiar in some places, for better or worse.
Pacific Ocean Operations
Like its predecessor, Ghost Recon Breakpoint is a tactical shooter meant to be played in multiplayer mode. However, unlike Ghost Recon Wildlands, Breakpoint includes heavier weaponry to go with the game's technologically advanced setting. Speaking of setting, Breakpoint takes place on a fictional island in the Pacific Ocean, the beautiful Auroa.
Set six years after the events of Ghost Recon Wildlands, Breakpoint sees the characters from the previous game returning to face a former ally. The island of Auroa is considered to be the "World 2.0," featuring an impressive collection of biomes from all over the world.
However, a group of rogue soldiers takes control of Auroa and its war machines, becoming a threat to America and the rest of the world.
Companions and Gadgets
Unlike Wildlands, Breakpoint focuses more on character progression and multiplayer. Initially, the game had no AI companions: a staple of the Ghost Recon series. Thankfully, this has since been remedied with the inclusion of AI squadmates that help players who prefer to go solo.
Even if you choose to play alone, be ready to remain always online. Breakpoint's single-character progression system forces players to remain connected to the internet, a situation that didn't happen in Wildlands. While this might sound like a minor annoyance, some players prefer to play offline, and they simply can't do that in Ghost Recon Breakpoint.
New to the game are rocket launchers and heavy combat drones. These weapons will help players to stand against the heavily-armed Skell forces, and will also give them a fighting chance against the unforgiving lands of Auroa.
Survival of the Fittest
Compared to the previous game, Breakpoint places more emphasis on the survival aspect of combat. Against overpowering enemies and harsh climates, relying on your teammates and your survival skill might as well be the only chance you've got.
Crafting bandages and grenades allow players to brave each enemy encounter. While there's a regenerating health system in Breakpoint, grave injuries will require first-aid attention, as they affect things like the player's stamina or how they aim.
A feature that makes a surprising comeback from Assassin's Creed Odyssey is the Exploration mode. With this setting enabled, quest markers will instead direct the player towards a general location where their objective might be located, forcing them to locate what they're looking for by themselves.
Sadly, the game's objectives can get repetitive too quickly. Not even the Exploration mode can make Breakpoint feel less like a chore, as Ubisoft seems to be getting too comfortable re-skinning their open-world games.
6
Tom Clancy's Ghost Recon Breakpoint might be too repetitive for long-time fans of the franchise. The lack of an offline single-player mode can also put a damper on what should be a fun tactical shooter.
Pros:
Tons of activities to do
Great gunplay
Gorgeous visuals
Cons:
Repetitive gameplay
Always online, even for singleplayer
Lackluster AI
The game's world feels a bit lifeless
Download Ghost Recon Breakpoint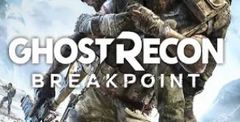 System requirements:
PC compatible
Operating systems: Windows 10/Windows 8/Windows 7/2000/Vista/WinXP
Game Reviews
Squad up with your friends and use your stealth and survival skills to achieve victory in this cooperative and solo open-world game! Tom Clancy's Ghost Recon Breakpoint follows the footsteps of the franchise, offering tactical shooter gameplay with immersive level design. It's a game that's best played with friends, providing realistic combat that's perfect for coordinated teams. There are some frustrating parts of the design, but Tom Clancy's Ghost Recon Breakpoint is still a pretty solid sequel.
Main Game Features
Third-person action and stealth gameplay
Four different character classes
Open-world map structure
Story
Tom Clancy's Ghost Recon Breakpoint is a sequel to Tom Clancy's Ghost Recon Wildlands, picking up the story six years in the future. In the game, you control the tactical Nomad squad, who are sent to a lavish island to investigate a mysterious ship sinking. The island is controlled by a billionaire and drone manufacturer, Jace Skell, who has rocky relations with most groups. Under Jace's wing is the cruel Colonel Cole Walker, a once-army officer who has abandoned his company in favor of working with Skell. When Nomad's sneaky infiltration goes wrong and the team is left to survive on the island, things get dicey fast.
The overall plot and concept of Tom Clancy's Ghost Recon Breakpoint is good, and touches on some interesting subjects surrounding technology, military use of AI, and more. Unfortunately, many of the characters are pretty weak and the missions don't reflect the themes of the story. Nomad team's time is more spent doing random side objectives than digging into the Skell conspiracy or confronting Colonel Cole Walker. Although it has some problems, it still beats a mindless run-and-gun story.
Gameplay
Tom Clancy's Ghost Recon Breakpoint takes cues from games like Splinter Cell and Metal Gear Solid 3: Snake Eater, putting together an experience that is part stealth, part shooting, and part survival. At the beginning of the game, you and your team are dropped onto Auroa Island and must find ways to survive, since your communications are cut off and supplies are dwindling. To do so, you'll need to bunker down in a base, fortify your defenses, and make sure you get better gear. Your guns, armor, and stats can all be upgraded by finding new items in the environment.
The game supports both single-player and four-player cooperative sessions, but it is obvious the game was designed with groups in mind. There are four different character classes to choose from, which work very well together when acting as a team, so it's optimal to have a full party. It's lots of fun to work in tandem with your squad, knocking down multiple enemies at once and clearing areas with precision. The side missions can be repetitive, but it's fun enough with friends.
Conclusion
If you have a few friends who enjoy tactical shooting and visiting a tropical island sounds fun, Tom Clancy's Ghost Recon Breakpoint should be a fun choice for your next download.
6
It mixes survival and shooting elements together with some cool gear grinding, so you and your pals can keep playing for many hours without getting bored!
Pros
Less punishing than previous Ghost Recon games
Co-op is fun with friends
Guns feel good to shoot
Cons
Some unnecessary gameplay mechanics
Repetitive mission design
Survival gameplay is thin
See Also
Viewing games 1 to 8