Golf It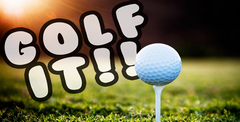 Download Golf It and tee off in this fun and challenging minigolf game! Create your own custom courses, compete against friends, and test your skills on a variety of unique holes. Grab your putter and play now!
Golf It is a multiplayer game with dynamic, creative, and fun gameplay, where the player can show off his marksmanship against real players on maps he has designed himself. You heard right, the gameplay involves creating your own locations and playing against users around the world. Do you like watching golf? Professional athletes deftly hitting the ball and hitting the hole. Many will say that there is not much spectacle in this sport, but I disagree. It is a pleasure to watch as a powerful stroke players accurately hit the target. A small ball will fly a great distance.
Locations
Golf It also contains ready to play courses:
Winterland
Grassland
Graveyard
Jade Temple
Pirates Cove
Mines
Each map has sixteen holes. Choose any cherished hole and compete for supremacy. Show who is the most accurate, agile and calculating. Each map has unique gameplay features and different aesthetics. As for the map constructor, there are 2,300 placeable objects waiting for the young engineer! Build a paradise for yourself and play with your friends.
Ball Game
To more accurately capture the experience of an athlete playing golf, the players used a ball hitting system based on mouse speed. The faster you swing the mouse, the harder you hit the ball. It takes more experience and practice to hit that hole every time.
The player must consider many different factors:
Range to target (if the hole is far away, put more force into the shot)
Landscape. Terrain is made up with its peaks, valleys and different coverage - there is an opportunity to play on the ice
Obstacles. Extraneous objects on the map can prevent you from reaching the goal. Stone houses and mills, wooden fences and concrete fountains - a whole wonderful city
There is no character model on the screen in front of the player - only a putter hovering in the air.
10
Golf It allows you to create a fairytale location, invite your friends there and compete to see who can hit the hole faster. Recommended for fans of Fall Guys and Golf Battle.
Download Golf It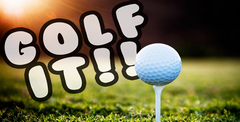 System requirements:
PC compatible
Operating systems: Windows 10/Windows 8/Windows 7/2000/Vista/WinXP
Game Reviews
There is no shortage of mini golf games out there, but I feel that Golf It does more than enough to make it stand out. Mini golf is always a fun time, no matter if you are at your local mini-golf place or if you are playing it virtually. It is a "sport" that 99/100 translates very well to video games and this is no exception. Please note that as I write this review the game is still technically in early access.
Courses For Days
For me, a game based around mini-golf has to have a decent selection of courses and that is the case here. As of writing 6 18-hole courses are on offer for you in Golf It and they are as you would expect. You have courses based on grass, pirates, sand, and a few more imaginative ones based on an ancient temple and a creepy graveyard. The graveyard one is by a mile my favorite course to play on with the pirate one being just behind it.
The Mouse In The House
I would say that most mini-golf games I have played tend to use a power meter when it comes to making your shot. This is a system that even the Tiger Woods (or whatever the heck they are called these days) have used over the years. Golf It is going for a different approach in that you control the whole game with your mouse. I will not lie; this does take a while to get used to and your first 10 or so matches will be a bust until you get it down. However, once you do it makes this a far more skill-based game.
The faster you move the mouse the stronger your shot will be. You still get to aim your shot, but getting the right power can be the real difference in making it past some of the tricky hazards that are on the courses. It is a system that I really like, but I will admit that it took me more than a few games to get the hang of this system.
Your Course, Your Club, Your Way!
Like most other modern mini-golf games, you have a golf course editor that you can play around with. You can mix assets from all of the available courses have which is a lot of fun. This is very easy to do and as I write this there are over 1000 player made courses for you to use. The game has many different options for you to tinker with, but the main one to talk about is the ball collision.
With ball collision turned off, when you hit your ball it is possible to hit another player's ball! This works in two ways; one it is funny as hell and ads to the humor and competitiveness. Two, it will make you very mad, frustrated, and want to beat up your friend!
I have had a great time with this game and I say that as someone who has played a ton of mini-golf games. Golf It is a great deal of fun and the perfect multiplayer game if you are looking for something simple and fun to play with your buddies. I like how the mouse-based shot system adds a tad more skill to the game and the course editor is a great way to have fun and ensure you have plenty of courses to play on.
Pros:
The default courses in the game are a lot of fun
That graveyard course is awesome!
Using the mouse to make your shots is interesting
Tons of courses for you to download
It is a fun game to play with your friends
Cons:
There are no special game modes in addition to standard mini-golf
The mouse-based shot takes a while to get the hang of
See Also
Viewing games 1 to 8