Ironsword: Wizards & Warriors 2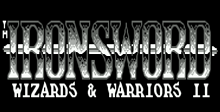 Click the "Install Game" button to initiate the file download and get compact download launcher. Locate the executable file in your local folder and begin the launcher to install your desired game.
a game by
Acclaim
Genres:
Action, Adventure/RPG
Platform:
NES
Editor Rating:

7.9

/

10

, based on

5

reviews
User Rating:

9.0

/

10

-

2

votes
Rate this game:
See also:
Wizards and Warriors Series
Type: Action/Adv
Levels of Play:
Release: 08/01/1989
Difficulty: Avg.
Kuros is back in this sequel to the award-winning action/quest adventure, Wizards and Warriors. This time the challenge is even greater, with more evil creatures, hidden spells and potions, and danger lurking around every corner. Search for bonus rooms packed with surprises, find the keys, and advance to the next level. But first you have to deal with that Boss...
Ironsword: Wizards and Warriors II goes beyond the original with new characters, password features, and plenty of adventure.
People say:
8
I liked Ironsword a lot! Even though the game requires the same precise jumps that I hated from the original, Ironsword is so big, and has so much to offer, most of the competition pales by comparison. Absolutely fantastic graphics and heaps of action make Ironsword a must have!
8
A worthy sequel that fortunately is better than the original. Ironsword is longer, harder, more involving, and deeper, with some very different features that make it exceptional. There are more spells, weapons, and better music and graphics. Better than the original in very way.
7
Ironsword is a very good game with nice graphics highlighting an involving adventure theme. The game requires precise movements that detract from play in several areas - but it is definitely an above-average title.
7
I have nothing bad to say about Ironsword. The graphics are great, even better than the first! There are more spells, weapons, and a Passcode that makes the whole thing play more like a quest game while retaining the actions elements. If you liked Wizards and Warriors, you'll love Ironsword.
Download Ironsword: Wizards & Warriors 2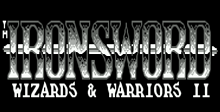 System requirements:
PC compatible
Operating systems: Windows 10/Windows 8/Windows 7/2000/Vista/WinXP
P-200, 32 MB RAM
Game Reviews
Manufacturer: Acclaim
Machine: NES
2 joysticks
If you're having trouble getting Kuros through this tough contest, try this. Input your password as you normally would, but place an "N" in the fifth position. This new code will automatically give you three lives to start the game with! Experiment with other letters for different results.
Join Kuros the knight warrior in the newest installment of the Wizards & Warriors saga. All new villains await you as you now have the ability to change into 4 different roles.
Traditionally, the most popular home video games are usually adapted from arcade super-hits or have million dollar names attached to them. Although these games cost the company more, they're almost always a sure thing, especially if the game has the high profile of a Double Dragon or After Burner.
Occasionally a game will appear, however, that is totally unique both in theme and execution. It may borrow from more well-known games, but instead of copying previous programs, the new game expands on the concept to create a completely original delight. Mega Man 2 is a good example of a game that, on the surface, resembles a dozen other action/adventure battles. It isn't until the game is examined closer that it truly shines.
One of the most successful original titles to ever debut on the Nintendo Entertainment System was Acclaim's Wizards and Warriors. Combining play elements from both from different fantasy and action/adventure titles, Wizards and Warriors masterfully molded the two gaming genres into one outstanding cart. There were always plenty of nasty enemies to contend with, and a different quest (find the specially colored key) to be solved in each round.
For its time, Wizards and Warriors had exceptional graphics, animation, and sounds and it still stands as one of the most challenging games available for the Nintendo. So it didn't come as much of a surprise when we discovered that Acclaim, together with Rare and Coin-It, the designers of Wizards and Warriors, had developed an all-new sequel to their swords and sorcery epic.
Entitled Ironsword: Wizards and Warriors 2, the follow-up to the original blockbuster continues the adventures of Kuros, the brave knight who rescued the kingdom's kidnapped Princesses in the first game. This time around Kuros must battle more than just monsters - he must take on the four elements of Wind, Water, Fire, and Earth! Each of the game's four levels are built around these themes and conclude with climatic confrontations with the elements themselves! Before you can battle these super Bosses, you must first traverse an assortment of rooms and catacombs. Your quest will not be easy! You must not only collect the treasures and gold to build up your score, you have to find the armor, helmets, and swords that increase your fighting strength. Some of the treasures include magical spells that can be used against the enemy and to help find the correct way through the game's enormous play area.
Each level also contains a special character who helps you along in your adventure. These friends give you various incentives and assist you in locating the objects that you need to complete each round.
Ironsword leads up to a confrontation with a group of flying apparitions that possess quick moves and powerful abilities. Make it through each of the elements and you'll find yourself looking the Big Bosses in the face! You must rely on all of the powers you have collected through the first four levels if you are to successfully eliminate the threat of the final Boss and return peace to the land once again.
In addition to boasting game play that is superior to the original Wizards and Warriors (and even better than many other recent action/adventure games like Simon's Quest), Ironsword has several supporting features that are equally outstanding! The graphics in Kuros' second outing have been slightly fine-timed and look even better than before!
The background graphics are sharp and defined, with extra attention going into the construction of each level. Ironsword also has new characters, like the Bosses and Friends, that, despite being very large, are well drawn and animated. Even Kuros himself is more detailed!
The music and sound effects pack a dandy punch as well! To add atmosphere to the game, the new background music is constantly changing and has an eerie tone that sets the mood for the whole game.
Ironsword is rounded out with a status/select subscreen that gives you instant access to all of the weapons and spells that Kuros has collected. It also maintains scores and passwords in a separate area that doesn't intrude on the rest of the game.
Ironsword: Wizards and Warriors 2 is an excellent sequel that captures the charm and adventure of its predecessor and expands upon its positive virtues to include brand new features like armor and weapon power-ups, spell casting, passwords and more! All of these features, combined with the enhanced graphics and sounds, make Ironsword one of the most welcome Nintendo Entertainment System games in a long time. Kuros looks better than ever in this terrific follow-up to Wizards and Warriors - a game definitely deserving of the U.S. National Video Game Team's "Players Seal of Approval"!
A fantasy adventure game, IronSword is the sequel to Wizards and Warriors. The game begins where the original Wizards and Warriors concludes. Although Kuros, the knight warrior, defeated the evil Wizard Malkil in the original game, the Wizard returns in IronSword in the form of the four elementals: Earth, Air, Fire and Water. Armed with a map, sword, shield and magic, Kuros journeys through enchanted forests, attempting to obtain the power of IronSword, the only weapon feared by Malkil. IronSword features more than 100 different characters, horizontal and vertical gameplay, twenty different screens and five completely unique lands.
NES/Famicom/Dendy Screenshots
Similar Games
Viewing games 1 to 2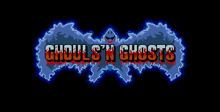 Ghouls 'N Ghosts
It's a platform game/run and gun developed by Capcom. It is the sequel to Ghosts 'n Goblins, and prequel to the Super Ghouls 'n Ghosts.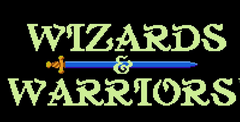 Wizards & Warriors
In the enchanted realm of Gael Serran an evil Pharaoh has overcome a curse and returned to a world that is unready to defend against him.