Mario Party 4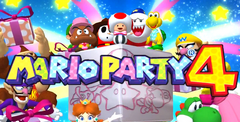 Click the "Install Game" button to initiate the free file download and get compact download launcher. Locate the executable file in your local folder and begin the launcher to install your desired game.
For a series that is about to go four-deep, Mario Party is still--surprisingly--full of cool, new ideas. With nearly every new mini-game as fun and inventive as the last, we wonder how Hudson's developers do it. Think about it: Arcade games in the '80s could've survived on the premise of one of /HP's mini-games alone. And how many mini-games does Mario Party 4 pack in? Fifty. And not the enhanced, repurposed and recycled mini-games of Mario Partys past, either; all 50 games are brand new. Although some of these find you mashing buttons Track and Field-style, others take finesse and precision timing to master. Thankfully, each game leads off with a detailed description of the controls, as well as the option of taking it for a practice run--giving newbies a fair shot at keeping up with Mario Party mastas!
Starting a game is as easy as selecting from the party-hearty crew of Donkey Kong, Daisy, Princess Peach, Mario, Yoshi, Waluigi and Wario (among others). Once the who's who has been settled, you're ready to hit the boards. In case you're new to the MP experience, the game essentially takes one to four players around a Chutes Ladders-style board--rolling the dice and unlocking mini-games along the way. It's a simple yet effective formula that's lasted the whole series.
While this is all well and good, nothing tells Mario Party 4's tale better than putting it to the test, and that's exactly what we did. All it took was a few rolls of the six-siders, and soon we were subjected to the cruel twists of fate fans of the series know and love. There were twists that robbed us of as many coins as we had won, twists that found us slipping on banana peels to determine our path (Medic!), and twists that got us stomped-on by a suddenly enlarged opponent. But when the dice rolled in our favor, it brought us into a wonderful world of mini-games. It is in honor (not really) of our experience that we offer but a small handful of the minigames we've unlocked.
Blame It On The Crane--This Milli Vanilli-inspired (in name, at least) mini-game gives you a time limit in which to catch a certain number of Nintendo characters. Complicating matters are the hordes of Shy Guys littering the joint. This one calls for superb eye-hand coordination.
Take A Breather--This simple contest pits four characters against each other to see who can hold his breath the longest. The person who mashes the button the fastest for the duration of the competition will surface as the blue-faced victor.
Bomb-omb Breakers--This Tetris-y block-dropper challenges gamers to see who can connect three like shapes the fastest. The twist here is that you can enter your opponent's territory and clutter his stack with junk or use some of his pre-combo stackage to finish your own combos. They should rename this game "Getting Jacked By Your Homies."
Right Oar Left--By far one of the most difficult games in MP4, Right Oar Left forces two teams of two players each to work in tandem--to see who can steer a small kayak through a roaring-rapids race. The difficulty lies in knowing which direction to spin your paddle and how that will affect the direction of your boat. Word to the wise: The computer never seems to screw this one up, so you'd better practice your stroke.
Revers-A-Bomb-- Revers-A-Bomb will remind older gamers of the classic arcade hit, Tapper. Only this time you're not sending back beer glasses; you're sending back bombs! The goal is to reverse the direction of any bombs walking your way and make them detonate on your opponents' side. This frantic slap-a-thon requires quick reflexes and a fast finger. Ka-boom? Ka-boom! Long Claw of the Law- In this touchy-feely finger-fest, you're trying to grab little Goombas out of the windows in which they appear. Just like a shooting-gallery game, Long Claw of the Law offers up false alarms to distract you from the true targets. To temper over-eager trigger fingers, there's a slight delay between the button press and your control of the Goomba-grabbing claw.
Hide & Go Boom-The odds are in your favor in this amusing bit of fireworks. Your opponents scramble for "shelter" in cannons, and you're given three chances to light and launch your opponents out of hiding. You must find all three cloistered characters in order to win the match, but since they often double-up in a cannon, it's like killing two birds with one stone.
So, will Mario Party 4 keep our attention when Nintendo's blockbuster titles like Metroid Prime and The Legend of Zelda roll around? Probably not, but we'll have fun with this while we're waiting.
Download Mario Party 4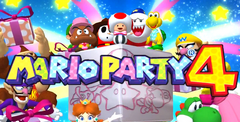 System requirements:
PC compatible
Operating systems: Windows 10/Windows 8/Windows 7/2000/Vista/WinXP
Game Reviews
Video gaming's premier party-game franchise is back, with sharper graphics and 50 all-new events that are sure to give your GameCube controller its biggest workout since Super Smash Bros. Melee.
The early demo of MP4 we tested showed the gameplay hasn't changed much from its Nintendo 64 predecessors. Of course, you'll get new boards and minigames, but you basically play MP4 like you've played the others: Roll a die, move your character around the board, then beat your opponents by being the better butt stomper, button masher or coin collector. Some of the new games drew lots of shrieks and laughter from participants at E3, like one where players are sitting inside a giant storybook while pages turn to crush them (you have to find the cut-out holes to make it past the collapsing pages).
Other Games by Hudson Soft