Simcity 4 - Rush Hour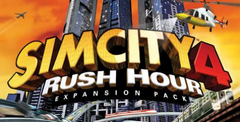 If there's one thing we can be sure about the most popular simulation game franchise that EA has to offer is that they love expanding their games through countless expansions. And they make sure this stays true even for their city simulation game. Even though it's no longer around, it used to be one of the biggest, and pretty much the best, city simulation game around. Today we're going to be talking about one of these expansions, one released in 2003 for the fourth installment of EA's really successful city simulator game created by Will Wright, We are talking about Sim City 4 - Rush Hour.
Going by the name alone you probably have already guessed what is the main content of this expansion. But as is usual in this series of games, every single expansion adds a reasonable amount of content. So, what's this game all about and what kind of content do we get? Well, let's talk about it!
About the game
Sim City 4 Rush Hour, tries to delve a little deeper into the way we manage our city. This issue is addressed from several points, but undoubtedly the idea that has been most emphasized is the transport and traffic in our city. To begin with, we have a transport map and a route assistant in which we can see all the transport infrastructure that connects your cities globally and how each of our roads, bus lines, or subway lines work locally respectively.
We can focus our attention on a particular building and see how our Sims reach it and what means they use to do so. You can click on a transportation network for example, and see the number of Sims using it and their method of transportation. Thanks to all this we will be able to solve the transport problems that plague our city.
Traffic is the obvious result that emerges from all this equation proposed by the transport tools. To control it, we are offered the traffic data report, with which we can locate the areas of greatest congestion in our city to improve them with the aforementioned transport infrastructures.
But there's more!
But the novelties do not end here, we have several levels of difficulty now to develop our city, two new disasters that we can also drive, the UFO and the Autosaurus Rex, we have at our disposal a tool to create signs and name the streets and we can even choose the architectural style of our city; the Chicago of 1890, New York in 1940, Houston 1990 and today's Europe.
And now we come to the great novelty of this expansion, the Driving Missions. Thanks to these Missions (there are more than 80), we can simply drive around our city quietly in the different vehicles that we win or participate in some small jobs in the style of Driver or Grand Theft Auto.
8
Sim City 4 Rush Hour is an incredible expansion of the incredible game we already had, and making a great game even better is the main goal any additional content for a game should have. The driving missions are a really nice touch, especially because they show us that the gameplay does not only depend on the simulation of the city, but that also the management of other aspects like transport and traffic is equally important to our success.
Pros:
Great content
Excellent extra missions
A lot of fun
Cons:
Content focused solely on traffic
Download Simcity 4 - Rush Hour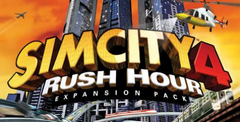 System requirements:
PC compatible
Operating systems: Windows 10/Windows 8/Windows 7/2000/Vista/WinXP
Similar Games
Viewing games 1 to 8