The Invisible Hand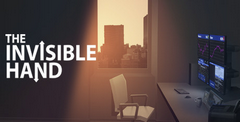 Click the "Install Game" button to initiate the file download and get compact download launcher. Locate the executable file in your local folder and begin the launcher to install your desired game.
Get rich at any cost is the slogan for The Invisible Hand which is an indie game based around the rough and tumble high-steaks world of the stock market. Other games have dabbled in the world of the stock market, but this is perhaps the first one to truly embrace the heartless and brutal world that this line of work is. Hey, it doesn't matter if old people lose their pension, as long as you meet today's goals and make some money in the process, that is all that matters.
Welcome To FERIOS
The story of the game has you playing as a young hotshot stock market whizz that has just landed their dream job with the money-making machine that is called FERIOS. The Invisible Hand has a bit of story as you play as you will be talking to other characters. You get a real sense that this is a pretty shady company that would literally step on anyone or screw someone over in a heartbeat if it resulted in an extra buck.
What I think is pretty clever about the premise of this game is the way that it tugs pretty damn hard on your moral compass. You have the opportunity in the game to do things that are very, very wrong and will cause a lot of people major financial problems, but at the end of the day, this is your job and you want to swim with the sharks so you know you have to bend and break the rules to make it happen.
Buy, Buy, Buy, Sell, Sell, Sell!
The idea of the game is all about buying and selling stocks. You want to buy low and sell high, trying to make as much profit as you can. At first, things seem normal enough. You buy a stock here, sell it for a bit of profit and then move onto the next one. Before long your targets and your lifestyle increase and now you are playing with the big boys!
Here you need to use other means such as screwing with a company's stock so that it plummets, mess with a country so that their currency can tank which can put more money in your own pocket! There are many different things that you can do in The Invisible Hand and it likes to point out that it is only illegal if you actually get caught. You can be on a major role, but one wrong decision can derail everything, and these guys at FERIOS are not too hesitant to pull the trigger and fire your butt!
The Grim World Of Stock Trading
While making and losing money in The Invisible Hand can be very exciting, the presentation of the game is not. It has an awesome trailer, but much of the game is made up by news reports, stock screens, and various charts that show you your progress.
The times you do see characters, the office, or even a courthouse it all has a very basic kind of style that is very unappealing.
8
If you like to dabble in the stock market then I am sure you are going to find what is on offer here in The Invisible Hand a lot of fun. It is the kind of game that can become very addicting and I do like the way it has a bit of a moral thing going on where it really pushes you to make some pretty big scumbag moves that deep down you know are wrong. While the visuals are not anything to brag about, the gameplay and premise are very solid.
Pros:
It is awesome when you make a big deal
I liked how you could decorate your desk
The game has a lot of pressure and it can make you excited and nervous
Nailing a huge deal and making a ton of cash in the process is great
Cons:
This is not a good-looking game at all
It can be frustrating when a small wrong move has massive consequences
Download The Invisible Hand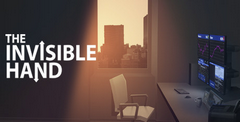 System requirements:
PC compatible
Operating systems: Windows 10/Windows 8/Windows 7/2000/Vista/WinXP
Similar Games
Viewing games 1 to 8