The Legend of Zelda: Ocarina of Time 3D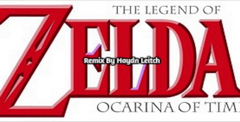 Click the "Install Game" button to initiate the file download and get compact download launcher. Locate the executable file in your local folder and begin the launcher to install your desired game.
The Legend of Zelda: Ocarina of Time 3D was the first must buy game for the Nintendo 3DS for me. The amount of time I spent with the original was just insane and getting it for Christmas 1998 is a memory I will cherish forever. This is a very well done remaster and in all honesty, if a younger gamer was wanting to try out this legendary game for the first time, I would always recommend that they play this one over the original.
The Hero Of Time
There are no changes to the story of Legend of Zelda: Ocarina of Time 3D over the Nintendo 64 original. At the time this game was released it was the most story driven and cinematic Zelda game that we had seen up to this point. We have a young Link who is thrust into an adventure that sees him having to stop the evil Ganondorf from getting his hands on the Triforce. The time travel mechanic at play here adds a lot to the story and it makes things much more epic in my opinion.
One Of The Greatest Games Of All Time
To say that Legend of Zelda: Ocarina of Time 3D was a game changer when it was first released is a massive understatement. This well and truly changed the game and for years, many games would try and copy what Nintendo did here. This holds up very well and it plays the same as it did on the Nintendo 64, but there are some new additions here. You can hit stones to get hints if you get stuck. You can use the gyro controls the 3DS has to do things like shoot your bow (standard controls are also available) you can use the bottom screen for your map, selecting items, and playing the ocarina. While they have not fundamentally changed anything, this just feels tighter and better than the original.
The 3D Effect!
I have to be honest while I played this original on a launch Nintendo 3DS, most of my time with the Legend of Zelda: Ocarina of Time 3D has been spent on my 2DS XL. This is a great looking game and Nintendo has polished things up to make them much smoother and more "modern" than the jaggy visuals that the Nintendo 64 had. I think that they did as good a job as they could here without remaking the entire game from scratch.
The Master Quest!
One cool addition to The Legend of Zelda: Ocarina of Time 3D is that you get to play the Master Quest mode as well and there are also two new boss rush modes. There is a standard boss rush and a Master Quest boss rush mode as well. The base game is massive and will take you a very long time to get through, but these extra modes ensure that this is a game that will give you a lot of bang for your buck.
9.5
What more can I say about the Legend of Zelda: Ocarina of Time 3D that has not already been said? There is a reason why nearly 25 years later that this game still appears on many greatest games of all time lists. I think that this is the best way that you can experience this classic, it is an absolute must own title no matter what version of the Nintendo 2DS or 3DS you have.
Pros:
The new visuals really make the game seem more epic
This truly is one of the greatest games of all time
There is no better way to experience Ocarina of Time right now
I like all of the extra content that is included here
Cons:
The Water Temple is still a pain in the ass!
Why has this not been ported to the Nintendo Switch yet???
Download The Legend of Zelda: Ocarina of Time 3D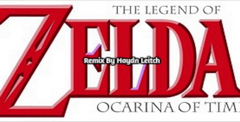 System requirements:
PC compatible
Operating systems: Windows 10/Windows 8/Windows 7/2000/Vista/WinXP
Game Reviews
The Legend of Zelda: Ocarina of Time 3D takes one of the most beloved games in the entire medium and adds a graphical flare, with remastered visuals, new gameplay balancing, and more. Playing as Link, the Hero of Time, you'll embark on a masterful journey through the fantasy land of Hyrule in order to free it from the control of an evil sorcerer named Ganondorf. Starting as a young boy raised in the forest, you'll go on an epic adventure to reclaim your home for the forces of good. With easy-to-learn controls, some awesome elemental dungeons, and tons of secrets to discover, The Legend of Zelda: Ocarina of Time 3D offers an amazing gaming experience for a new generation.
Main Game Features
Groundbreaking 3D fantasy action
Solve tricky puzzles in themed dungeons
Travel through time and become a hero
Story
In The Legend of Zelda: Ocarina of Time 3D, you play as Link, a young boy growing up in the dense forest of the kingdom of Hyrule. One day, he is awoken by Navi, a whimsical fairy who warns him of pressure mounting in the royal city. Braving the new world and stepping out of the forest for the first time in his life, Link takes a trip to Hyrule Castle, where he meets Princess Zelda, who is troubled by the recent appearance of a sorcerer named Ganondorf. Worried that her father, the King of Hyrule, has fallen prey to Ganondorf's schemes, she requests the help of Link to protect the Temple of Time and ensure that good prevails. Unfortunately, after falling into a multi-year slumber, Link wakes up to a ravaged Hyrule, forcing him to track down the seven mystical sages who will help him vanquish the evil for good. Full of classic themes of good versus evil and packed with interesting characters and locations, the story of The Legend of Zelda: Ocarina of Time 3D is an unforgettable coming-of-age tale and one of the best in gaming.
Gameplay
The Legend of Zelda: Ocarina of Time 3D is a ground-up remake of the classic Nintendo 64 game, The Legend of Zelda: Ocarina of Time. This entry takes the storied franchise into the realm of 3D gaming, offering a huge rollercoaster of action that sets the bar for all subsequent adventure games. Similar to previous games in the series, such as The Legend of Zelda: A Link To The Past, you must explore the vast landscape of Hyrule and take on a list of themed dungeons known as temples, where deadly creatures and perplexing puzzles await. Although you start the game as Young Link, who is limited in his ability, you'll eventually age into an adult, awarding you with new gears and more strength. However, certain puzzles will make you travel back in time, altering the world so you can proceed with puzzles.
After a few hours of play, you'll have earned a trusty sword, shield, and slingshot, as well as a handful of useful items like torches and bombs. Most temples have unique items to discover, which are required to progress in the game. For example, after finding the hook-shot, players can reach previously inaccessible areas, opening up new paths. You can also find more powerful weapons and items by completing sidequests or visiting merchants, where you can spend the Hyrulean currency called rupees. Link can also learn and play songs on his ocarina instrument, which have a variety of effects that can aid in your adventure. With its catchy music, wonderful remastered graphics, and a handful of modern gameplay adjustments, The Legend of Zelda: Ocarina of Time 3D is an excellent remake.
Conclusion
There's no denying that The Legend of Zelda: Ocarina of Time 3D is one of the most celebrated games of all time, with its magical world and satisfying game features. Not only is it an engaging story with cool bosses and fun characters, but the combat is tight and the puzzles are well-designed.
10
Earning new items and figuring out the path forward is always entertaining, with minimal points of frustration. If you want to explore one of the best games ever made but you don't want to deal with aged graphics, check out The Legend of Zelda: Ocarina of Time 3D!
Pros
Amazing dungeon design
Excellent puzzles
Combat is simple but exciting
Cons
Some dungeons are hard to figure out
The map isn't all that useful
Only a few sections require time-travel
Similar Games
Viewing games 1 to 8