Chernobyl Liquidators Simulator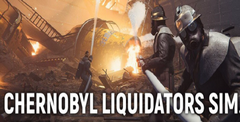 Chernobyl Liquidators Simulator provides a realistic take on the Chernobyl disaster of 1986, putting you in the shoes of a Chernobyl Liquidator. Back in 1986, liquidators were tasked with helping displaced citizens, clearing debris, and doing all sorts of other tasks to help contain the radiation from the disaster, which is what you see in this game. If you're interested in experiencing a real post-apocalyptic environment first-hand, then be sure to download Chernobyl Liquidators Simulator and try it out for yourself.
A variety of tasks to carry out
In Chernobyl Liquidators Simulator, you get to perform all sorts of tasks to help with cleaning up in the aftermath of the disaster. There are a bunch of tools you'll have access to such as fire hoses, axes, and shovels, all of which you'll learn to use throughout the game at different points. I guarantee you won't get bored easily with how much variety in gameplay there is on offer here. Just be careful to avoid contamination and other dangers while you perform your tasks, as you could easily get yourself killed if something goes wrong.
Choose how you want to play
One of the cool things about Chernobyl Liquidators Simulator is that you get some choice when it comes to the tasks you're supposed to perform. It's a tough time for everyone and some of the orders you get will be morally questionable, so it's up to you to decide whether you want to carry them out or not. The freedom to make your own choices is akin to what you see in games like Firewatch, but the decisions you have to make here are a lot tougher.
Authentic environments
How the Chernobyl Nuclear Power Plant and the surrounding area looked in the aftermath of the disaster has been faithfully recreated in this game to give you as authentic an experience as possible as a Chernobyl Liquidator. You'll get to explore a variety of devastated areas, and your journey will even take you further out towards the city of Pripyat, so get ready to experience what it was truly like out there back in 1986.
Also, I'd just like to mention how fantastic the graphics look in this game. Top-tier visuals are crucial for making first-person simulation games feel realistic, and Chernobyl Liquidators Simulator really hits the nail on the head in this regard, so well done to the developers. The eerily beautiful environments you get to walk through truly do look incredible.
9
If you're a history buff and a simulation game enthusiast, then Chernobyl Liquidators Simulator is a game that should definitely be on your list of games to try out. It's well-made, enjoyable, and gives a genuine glimpse into the responsibilities of Chernobyl Liquidators that a lot of people may not be aware of.
Pros:
Great graphics with a lot of attention to detail
There are a variety of tasks and jobs to perform throughout the game
A lot of decision-making is involved in the game, giving you the freedom to do what you think is right
Cons:
There are some creepy moments in the game, which may put certain people off
The pacing in the game is quite slow, so don't expect any high-action gameplay
There aren't any mutants or monsters to fight, as the game is intended to be realistic, so if you're expecting that kind of thing then you may be disappointed
Download Chernobyl Liquidators Simulator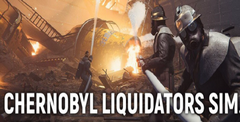 System requirements:
PC compatible
Operating systems: Windows 10/Windows 8/Windows 7/2000/Vista/WinXP
Similar Games
Viewing games 1 to 8