NHL Eastside Hockey Manager 2005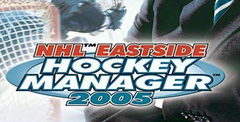 | | |
| --- | --- |
| a game by | Sports Interactive Limited |
| Platform: | PC |
| Rate this game: | |
| See also: | Hockey Games |
It's A Glowing journalistic tradition for American sports management games to be given to a bloke with a slight knowledge of the game, treated with slight disdain, concluded with words along the line of if you like ice hockey you'll probably like it and given a hazy score around the 70 per cent mark with an oh-so-humorous flying puck gag. So it is then, that I (a sometime fan of the Carolina Hurricanes) was given this year's task of umming, ahhing and trying to fathom out how tactics work when there isn't a 4-4-2 formation or an option labelled long ball'. In short, if there is a better ice hockey management game on the market then we're not aware of it. It lags behind Football Manager by a few generations (the match engine specifically is really quite basic compared to the ebbs and flows of the Si's flagship game's engine), but the hypnotic attraction of its pages of stats remains just as powerful.
It's impossible to recommend to a casual player, of course, since while a basic knowledge of football and its key figures is ingrained into the British national consciousness, ice hockey remains very much an unknown quantity. The expected unfathomable depths of information are ready and waiting to be (pleasantly) drowned in, but it definitely isn't a lightweight affair.
If, however, you're a fan of large ugly Canadians delivering biffs on the face to each other upon a frozen surface then this is a streamlined and efficient game that more than does justice to the noble art of slamming padded men into advertising hoardings. Anglo ice-buffs will be pleased to hear that British teams are again featured in all their (slightly insignificant) glory. And the score? Well obviously the aforementioned Jolly Hockey Sticks crowd can stick a good 15 per cent on top of it, but the vast proportion of people won't give a flying puck.
Download NHL Eastside Hockey Manager 2005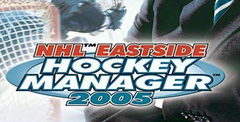 System requirements:
PC compatible
Operating systems: Windows 10/Windows 8/Windows 7/2000/Vista/WinXP
Similar Games
Viewing games 1 to 10