Premier Manager 2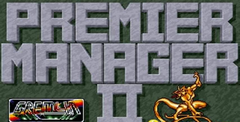 Click the "Install Game" button to initiate the free file download and get compact download launcher. Locate the executable file in your local folder and begin the launcher to install your desired game.
The original Premier Manager got an iffy review in Issue Five, because there wasn't enough to do in the game and doing it was too easy. Now it's back, with more feature and a stepped-up difficulty level.
Financial matters are even less appealing than before. You now have sponsors for all four sides of the ground and the roof to worry about. How much does a manager really have to do with placing advertising around the ground anyway? It doesn't cheer you when advertisers are queueing up for one side, but not want anything to do with another, either.
The 'transfer market' is as idiosyncratic as ever. Transfers still depend upon your initiation: few people are bought or sold unless you start things moving by clicking on them, and once they're sold they're not replaced by others until that season's end. It's as packed with soap-style incident as ever: my star defender, Bergomi (alright, I admit I re-named him) scored a gamesaving goal, then slipped a disk and was out of the team for 30 weeks. So far I've been fined $25,000 by the fa for lack of safety precautions at the ground, (considering it's only a field with two goals in it I was a bit surprised by this - the crowd can run away in any direction they want) and $12,500 for poor hygiene (even though we used a fresh roll-on deodorant on the pies every week). Let me tell you, these sums are a lot to a club whose average attendance is about 17.
Injuries plague you. When your entire midfield and defence are out for 16-30 weeks, you can't get any money to buy replacements, can't sell anyone to raise money because you won't have enough valid players left and can't even afford to send the injured to a specialist, the entertainment value rapidly wears off. It becomes a slog.
On the positive side, there are more features to tinker with. Team tackling strength can be adjusted to cater for the different referees, who judge these matters according to their tastes: passing can be high, normal or low - assuming you don't have a team of dwarves, in which case that would presumably be high, low or low: marking can be zonal, nearest man or man-to-man; and shooting can be short range, medium or long-range. I'm not sure what the snob's option is with this. The great teams don't preclude shooting on sight (otherwise why does everyone shout 'Rivelino!' when they do it in the park?) but on the other hand, is there an implication that classy teams walk the ball into the net? Anyway, you can also choose a playing style (sweeper, long ball, etc) and a host of formations, from 4-4-2 to the more eclectic 6-2-2 and even 6-1-3. Another good new feature is that players can approach you for a job in the team. You give them a ring and they tell you what they want, and from there it's up to you. One unique feature appears to be some kind of freak weather generator, a meteorological marvel that manages to make it cold and sunny at a game in Charlton, warm and cloudy at Crystal Palace and a heatwave at Millwall. Graphically it's the ugliest game. Premier Challenge may be starker, but at least it lias a utile, Windows look.
Although a lot has been done to improve the game, many of the new features are extremely 'Championship Manager-y,' but without the effect. For example, pre-season friendlies are included, but serve no practical purpose - especially since the whole aim of the game is undermined by the sentence 'don't expect to win if you play the same formation and tactics week in and week out.' So what's the point, then? Most management games are about developing a cohesive team and style that gets the team to play well together.
This 'difficulty through sheer bloody-mindedness' increases the-emphasis on shuffling advertising hoardings around and building a stadium. The greater difficulty means, obviously, it's harder to succeed in the Conference and therefore even longer before you can take charge of a decent team. Hven then you can't pick any team you want, so you're stuck, which isn't a lot of fun. Having to 'earn' the right to a better team subtracts from its appeal, especially now there are even more games that offer complete freedom in these matters.
Download Premier Manager 2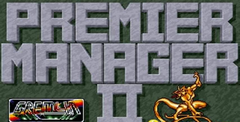 System requirements:
PC compatible
Operating systems: Windows 10/Windows 8/Windows 7/2000/Vista/WinXP
Similar Games
Viewing games 1 to 8