The Visitor Returns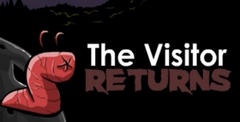 Download The Visitor Returns and guide a terrifying alien creature in this point-and-click horror adventure! Solve puzzles, devour your prey, and unleash chaos in this spine-chilling experience. Embrace your dark side and play now!
The Visitor Returns is a fun gore fest of a game that may be over way too quickly, but it is a hell of a lot of fun while it lasts. This is actually a series of games and I think that this one here may be the very best. I really enjoyed my time with this one and so far all of the people I have turned onto it have gotten a real big kick out of the gross, bloody, and funny shtick that the game is offering/
The Thing!
There is not much in the way of story in The Visitor Returns. It is about this alien slug type creature that wants to kill humans and animals and as it is so weak at first, it has to be sneaky about the way it goes about this! I love the premise here; it has a very sci-fi horror kind of feel to it like The Thing or to a lesser extent something like The Faculty or Invasion of the Body Snatchers. I just wish we got a bit more information about what the heck this alien creature was and what it really wants.
Clicking Them to Death
I think that the best way you can describe The Visitor Returns is as a point and click adventure style of game. Each screen of the trailer park that you are in will have something that you need to kill to move on to the next part of the game. If you just go straight in for the kill, you will be spotted and killed yourself. You have to think about how to distract them and get them to be in a vulnerable position so that you are able to strike when the time is right. To be honest with you, it is mainly a whole lot of trial and error, but it is still fun and it does not overstay its welcome either.
Pixelated Blood and Guts
I love the whole presentation that The Visitor Returns has going on! This game is very gory and bloody and that is something that greatly appeals to me. The Visitor can learn new things as you progress through the game and that ultimately leads to more gruesome ways to kill people. The pixel art they have here is fantastic and the chunky blood and guts that you will be seeing is a lot of fun. The game also has a very fitting soundtrack and I was pleasantly surprised by the level of voice acting too which greatly helped with the general atmosphere of the game.
8.5
Even though this was not a very long game, I still had a great time with The Visitor Returns. I played through it twice and the initial playthrough was full of me laughing, wincing, and just having a whole lot of fun. If you like sci-fi horror movies and you love a lot of over-the-top blood, guts, and gore in your movies and game, you are going to have a whole lot of fun with this game!
Pros:
I like the whole premise of the game
The pixelated gore is some of the best I have ever seen
I enjoyed the trial and error style gameplay that was on offer
The game has some very good voice acting
Cons:
I do wish that it was a little longer
If they make another one of these, I really want to know what the heck these things actually are
Download The Visitor Returns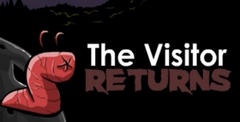 System requirements:
PC compatible
Operating systems: Windows 10/Windows 8/Windows 7/2000/Vista/WinXP
See Also
Viewing games 1 to 8