Legacy Of Kain-Defiance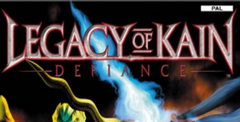 a game by
Crystal Dynamics, Inc.
Genre:
Action
Platform:

Playstation 2

Editor Rating:

8

/

10

, based on

1

review
Rate this game:
WHAT IS IT?
Defiance continues the tale of two vampires, Raziel and Kain. These sanguinary heroes have quite a twisty history, spanning Raziel's two Soul Reaver games, Kain's two Blood Omen titles, and five systems (PS1, DC. PS2, Xbox, and GC). Together, their tales weave a dense fabric with more than a few loose ends-understandably daunting to the uninitiated (or easily confused).
But fear not. Eager for new bjood, the developers are keen to make Defiance accessible to neophytes. In fact, now is a good time to get acquainted with the series. Rather than rehashing four games' worth of zigs and zags, Defiance briefly illustrates the lay of the labyrinth, then begins a new chapter of the story. This episode delves into the underlying mythology of Nosgoth, the dark and velvety (and, yes, gothic) world where the action takes place.
WHY SHOULD WE CARE?
We should say, Nosgoth is the world where a lot more action takes place. Combat is the linchpin of Defiance. Both Raziel and Kain have a variety of melee moves, including opponent-lifting uppercuts and aerial attacks reminiscent of Devil May Cry. In the early version we saw, eight human soldiers surrounded Kain. He began by dispatching three at once with his sword; then he raised another with an underhand stroke before jumping up to the hapless human and kicking him off a cliff. He was already dicing two more soldiers as the falling fellow's scream reached their ears. And of course, Kain drank blood from the last warrior's neck and walked away from the tussle with full health.
In Defiance, players control Raziel and Kain in alternating chapters of the story. As the tale progresses, both characters will gain new abilities-some shared and some unique to each. For example, we saw Kain float gently down a 200-foot drop, while Raziel quickly scaled a sheer wall with his claws. Both characters have telekinesis, which they can use hurl enemies onto spikes or smash them into each other-or to break the humans' furniture out of spite.
Our early look at the game showed few puzzles, no boss fights, and zero story details, but what we did see was intriguing.
Download Legacy Of Kain-Defiance
Playstation 2 Screenshots
Similar Games
Viewing games 1 to 7