Mobile Suit Gundam: Federation vs. Zeon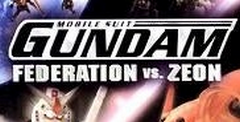 Download Mobile Suit Gundam: Federation vs. Zeon and pilot legendary mechs in epic battles! Choose your side, master powerful weapons, and experience intense combat in the iconic Gundam universe. Are you ready to join the fight? Play now!
Gundam games have been all the rage within asian culture for some time and arguably, they saw the most success in the PS2 era. Games were popping up left, right and centre allowing fans of this game genre to jump into huge mechs and cause all kinds of chaos in huge metropolis settings. So much so that it became difficult to stand out from the pack. However, this didn't stop developers from trying and Mobile Suit Gundam: Federation vs Zeon, a game inspired by the anime series, aimed to offer something fresh to the saturated genre.
This game plays like other mech and gundam games such as Armored Core, Dynasty Warriors Gundam, Gundam Versus, Gundam Breaker 3 and Gundam Battle Assault 2. This game offers destruction, huge robots and a world of wonder to explore. However, how does this game compare to the volumes of other gundam content out there? We find out in our review of Mobile Suit Gundam: Federation vs Zeon.
Gundam Fundam
Firstly, let's begin with the visual stylings of this title. The game has the same visual overlays and overall graphical detail that we had come to expect from the Armoured Core series in the mid-2000s. Which is high praise as this game series was essentially the market leader at the time. This game offered a variety of different gundam designs, enemy models, new environments and biomes to explore and you can even take off to space for an intergalactic gundam battle which is about as epic as it gets in our book.
Then as for the gameplay, it's exactly as you would expect. You have a variety of open areas to explore and your goal is to whittle down the army of the opposing team. You do this through melee and firearms and the range of combat abilities are plentiful, meaning you will rarely be at a loss as to how to defeat your foe. You can be tactical or go in all guns blazing, it's up to you. Think of it like Star Wars: Battlefront with giant robots.
Then lastly, we have the story. This game follows the events of the anime through the Federation vs Zeon chapter of this series. This allows players to relive the action of the anime through an interactive medium and feel like part of the story. Which is all anime fans really want from a video game tie-in with reference to narrative, so once again, this game hits the mark.
The Verdict
Overall, we have to say that this game, for the era it released, is right up there with the Gundam games of the period. The gameplay is varied, tactical and rich with content. The narrative allows players to be part of the MSG story from the anime.
8
Plus, the graphics are great for the era. The only real downside to this game is that while its brimming with quality, it doesn't really do anything new within the space. However, if you want quintessential gundam action, this one is great.
Pros
Great story that ties into the events of the anime
Varied and tactical gameplay
Great visuals
Cons
Doesn't do anything new within the space
Download Mobile Suit Gundam: Federation vs. Zeon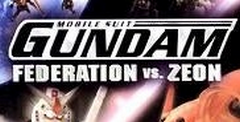 System requirements:
PC compatible
Operating systems: Windows 10/Windows 8/Windows 7/2000/Vista/WinXP
Playstation 2 Screenshots
See Also
Viewing games 1 to 10