Peter Jackson's King Kong
a game by
Ubisoft
Platforms:

XBox 360,

GameCube

Editor Rating:

7.2

/

10

, based on

3

reviews
User Rating:

8.8

/

10

-

8

votes
Rate this game:
We ran a full review of King Kong's PS2 and XB outings in last month's issue, and after playing through this next-gen version, we can say that it's the same great game, just slightly prettier. Except when it's not--though we didn't run into issues ourselves, Ubisoft President Yves Guillemot told BBC.co.uk, "We have a problem on the 360. The screen is dark on some TVs and it totally changes the experience." Furthermore, the U.S. branch of Ubi is "actively investigating isolated reports of resolution issues on specific plasma screens," according to a spokesperson.
Download Peter Jackson's King Kong
System requirements:
PC compatible
Operating systems: Windows 10/Windows 8/Windows 7/2000/Vista/WinXP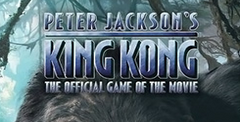 System requirements:
PC compatible
Operating systems: Windows 10/Windows 8/Windows 7/2000/Vista/WinXP
Game Reviews
Kong, Kong! I think that filmmakers responsible for the original King Kong would've been floored that not only was their film being remade by one of this era's greatest directors, but that it'd also accomplished one of the most difficult o all things. King Kong has been made into a good video game, something nigh-unheard of for a franchise game. Joining few other titles, this is a franchise title that isn't just fantastic, it's a movie with video game legs. Light in some parts, and generally sparse in ways you wouldn't expect, this game survives on the strength of its narrative feel, and the sheer beauty of the visuals of this game.
Set almost entirely on the fearsome Skull Island from the motion picture, King Kong is a game of survival, both as human and as beast. The interesting part of this game isn't so much that you'll play through an interesting FPS, but rather that you're walking through a story that parallels the film in a way that makes the game enjoyable. There's actually very little narrative in the game, not a whole lot happens in terms of story; when the game plays through each scripted scene, it is stunningly entertaining. And in addition, getting the chance to play Kong is perhaps the most fun I've had in a very long time. By portraying him as a playable character, it makes him such a strong protagonist. It gives him the personality, the empathy that you need to tell his story so well. And make no mistake, this is Kong's story.
I cannot overstate that this game is beautiful on a level rarely seen in video games. The only drawback to this game's graphics are the human character modes, and even when they don't quite match the rest of the visuals, they're still quite excellent. Kong himself looks stunning, and the first time you see Skull Island during a storm, you'll wonder when you bought a ticket to the film. There's one scene, where Ann first gets taken by Kong, that shows light streaming through a sky thick with smoke, and it's simply beautiful. Let me put it another way. This game looks so good, I frequently mistake the beginning of a level for concept art. Paired with this is a stunning soundtrack, Hollywood quality voice acting, and several incredible roars delivered by the Ape Wonder of the World.
This game is beautiful, and sad, if only for the ending of the story itself. It doesn't offer much additional gameplay, has no multiplayer, and in exchange, a small smattering of bonus features. But then again, this game is like having a good burger. It might not be quite a meal in and of itself, but done well, it is truly one of the best things you could have. Definitely worth purchasing, if you're looking for a good Xbox 360 game.
Giant monsters getting modern-day makeovers--it happened to Godzilla and Anna Nicole Smith, and now it's King Kong's turn. Director Peter Jackson (the Lord of the Rings trilogy) is bringing the big ape from the 1933 and 1976 flicks back to the big screen this December, and Michel Ancel (Beyond Good & Evil) is doing the honors on the videogame adaptation. You play part of the game as Jack Driscoll, a squishable human (Adrien Brody in the flick) exploring King Kong's crib, Skull Island, a land lost in time. When you're not first-person shooting and adventuring as Jack, you're third-person pounding and smashing as Kong himself.
Awesome! We're as tired of movie-to-game lameness as you guys, but this one's different. The first-person bits were exciting and tense...with a sense of dread as you and your human companions are running through the dark jungle, escaping toothy dinosaurs, giant centipedes, and other lost-world dangers. But you're not just shooting anything big that moves. Rampaging Tyrannosaurus rexes nipping at your ass? Light a grassy field on fire with your spear torch to reroute them...or drop a juicy pterodactyl to get them to stop and chow, buying you a few precious moments. You're constantly thinking about the situation around you, because pure force isn't going to help you survive on Skull Island. Playing as King Kong could've been a game-design disaster, but when he's smashing through skyscraping wooden doors, lifting massive stone pillars, or tearing a velociraptor's two jaws apart, you really feel the raw sense of power and strength surging from the TV screen to your controller.