Shoppe Keep 2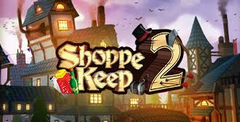 Throughout the years there have been countless RPG games with epic adventures, amazing characters, new and exciting experiences everywhere. Medieval lands, fantasy worlds beyond your wildest dreams. No matter where this adventure takes place, there's one thing they all have in common. There are stores and shops in each one of them, and that's what Shoppe Keep 2 is all about. Developed by Strange Fire Studios and published by Excalibur Games this title is a very original take on the genre
About the game
As you've probably guessed by now, in Shoppe Keep 2 you don't really go and explore faraway lands into an adventure. Here you are actually the owner of a store where both adventurers and villagers go-to for getting whatever it is your shop sells. Here you will be the guy that stands behind the corner serving the clients, selling the items and managing your own store.
You get to spend a lot of time restocking your store, accommodating everything on the shelves, sell items, gathering new stuff to sell and paying taxes. While working on your store you get to choose how to treat your clients and upgrade your business by leveling up your skill tree. Sometimes you'll even have to defend your store from the attacks of bandits, skeletons and more evil-doers. Stay Staying safe and working hard is what this game is all about.
The more taxes you pay and the more you level up your store, the more customers you'll get. More customers mean more money, and then the whole process starts again, all this while even enhancing the town thanks to the bigger income. As your business gets bigger, then you can start exploring the island you live in. On this island you'll find enemies, materials to gather and even mysteries to solve. So don't worry, the game world expands beyond the doors of your store.
Is there anything like this?
Even though the game pretends to be a simulation, it's mostly an RPG hidden behind a sim. Sure, the game has you restocking your store, organizing shelves, cleaning the floor, and doing other common tasks like paying taxes. But leveling up, gathering resources and even fighting the enemies that will attack your store definitely makes it more of an RPG and less of a sim.
Finding other games like this one is hard, but if you're more into the store owning the simulation part, you can check out a game called Winkeltje. That title takes you to a medieval land and puts you in charge of your own store, it is more simple, but it is also more of a sim game too.
Review
In many ways, this title feels a lot like an unfinished game. The mechanics are there, but they don't feel very polished. If there wasn't more to it than the managing simulator, the game would be a complete mess. But thanks to that imaginative twist it is actually a cool new experience. The game really does go beyond what you'd expect based on how it looks at first sight, and that's what's great about it.
Graphics and visuals: For a game released in 2019 for PC and current-gen consoles, the visual aspect of the game are terrible. Many indie games out there excel in the imaginative visuals to compensate for the lack of graphic power. But this title does none of those rights. It simply looks horrible

Gameplay: The nice ideas it presents are hardly represented in the gameplay. Overly complicated mechanics and boring first hours into the game end up making the player lose interest. You have to endure hours of boring gameplay to get to a better part of the game.

Sound: The soundtrack is actually surprisingly good, given how the game looks and feels. The themes sound pretty medieval and fantasy-like. It's nice to work in your shop while listening to this comfy soundtrack
Download Shoppe Keep 2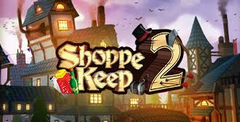 System requirements:
PC compatible
Operating systems: Windows 10/Windows 8/Windows 7/2000/Vista/WinXP
Similar Games
Viewing games 1 to 9