Fat Baby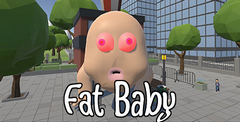 Download Fat Baby and help this adorable character navigate a world full of challenges and obstacles! Collect tasty treats, avoid dangers, and guide Fat Baby through an endearing adventure. Roll into the fun and play now!
With a name like Fat Baby, you're probably going to imagine that this game is filled with humorous surprises. If so, you're exactly right because seeing babies crawl around destroying the city is the sort of nightmare fuel that keeps on giving.
Story and Setting
Fat Baby is a game that is pretty self-explanatory. In this comical action game, you're playing as a giant baby that holds every weapon in his toddler-sized arsenal to rain death and destruction upon any poor souls who dare cross its path. While traversing in Fat Baby, you're going to need to watch out for any potential danger. At the same time, the objective is to leave as much destruction as possible in your wake, and it sure is fun to do that!
Gameplay
Fat Baby doesn't just throw a sense of direction out the window… it completely abandons it! This game comes with the ability to fight other fat babies around you as you use the power of your pukes and potty diapers to attack and defend at will.
In order to improve your amazing skills, you'll need to increase your fat and become a bigger, fatter baby, wreaking havoc over the other babies in your vicinity.
Your main objective in Fat Baby essentially revolves around exploring the map, fending off danger and fighting against other players that might choose to pop up and disturb your peace. The indie sandbox setting is truly impressive at creating what is perhaps the most off-the-wall video game you've ever seen.
Potential ideas to try out during gameplay
While Fat Baby has a simple premise, the game still holds a lot of potential for the most creative gamers to explore. If you've ever tried titles like Garry's Mod and Goat Simulator, you'll have an idea of just how wild things can get in Fat Baby. In Fat Baby, the giant metropolitan setting is the perfect utopia for your most devious escapades. If you thought wreaking havoc in GTA was villainous, then you should be excited to see what a game like Fat Baby has in store!
From taking down cops, to farming points off of screaming citizens, the road to upgrades in Fat Baby is paved in a lot of messy takedowns. You can use your fat to buy new abilities. With these abilities, you will be able to creatively explore new ways to make the poor AI townspeople run and scream in fear.
Verdict
Eating is a good way to get fat, so you should always be crawling around in search of your next big meal because it is never really far away. While you may think that eating simply means baby food or cupcakes, you're sorely mistaken. No… in Fat Baby, you get the chance to even eat some cars!
5
Fat Baby is the sort of game that you play when you're on a very desperate stint of games. It can get some genuine laughs at the start, but the joy fizzles out just as quick.
Pros
Amazing concept
Fun destruction
Cons
Bad graphics
Gets repetitive quickly
Download Fat Baby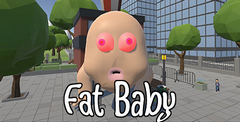 System requirements:
PC compatible
Operating systems: Windows 10/Windows 8/Windows 7/2000/Vista/WinXP
See Also
Viewing games 1 to 8